Meet Omron's Danny Cervantes, featured in MICHauto's "Discover Auto: You Drive the Future" Campaign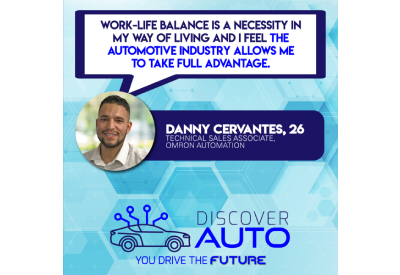 January 20, 2022
Many of today's high school students know little to nothing about automotive plants, and they often have a wrong impression of the high-tech, modernized industry. They also might assume engineering is the only type of career that's relevant to automotive, when in fact there are job opportunities in everything from a skilled trade to marketing and sales.
Since automotive manufacturing is anticipated to not only grow significantly over the next few years, but also undergo dramatic changes, it's essential to encourage interest in an automotive career among today's young people. That's why Omron is teaming up with organizations like MICHauto to educate high schoolers and college-age students about the industry.
Danny Cervantes, a technical sales associate with Omron, tried out a variety of college majors before settling on a mechanical engineering degree. His story is featured on MICHauto's "Discover Auto: You Drive the Future" website, where the organization highlights Danny's career path and his experiences during a typical workday.
An interest in cars strengthened by a visit to a manufacturing plant
Growing up, Danny thought the automotive industry was dominated by old-fashioned factory technologies. He always had an interest in cars but never had a chance to see the inside of a modern-day manufacturing facility.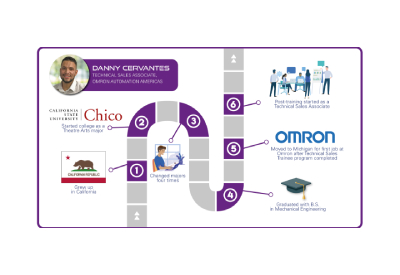 The opportunity came when he went through Omron's engineering trainee program and visited Detroit, where he toured automotive plants and saw the manufacturing process firsthand. Discovering what goes into designing, manufacturing, and inspecting each vehicle part cemented his interest in the field, and he moved to Detroit for a full-time position with Omron.
An indirect path towards the automotive industry
Danny was not initially considering a career in industrial automation – in fact, he started out as a theatre arts major. But after switching to mechanical engineering with a minor in anthropology, he realized the opportunities were boundless, spanning not only technical positions but also business management, sales, and much more.
Omron was Danny's first job after college, and he has now been in the technical sales associate position for over a year. He work involves advancing sales for Omron's safety, sensors, and components product classes in Metro Detroit. Danny works hard to solve problems and bring together people who have the right specialties and product knowledge.
A typical workday consists of meeting in person with customers at their facilities or at the Detroit Proof of Concept Center to educate customers on Omron solutions and introduce them to application engineers who can provide specific expertise.
Danny wants high school students to know that automotive is so much more than just engineering. No matter a person's skill set, there is a path in the automotive industry for them to make use of their unique strengths.
Watch Danny's video below!