Pilz Is A "Brand of The Century"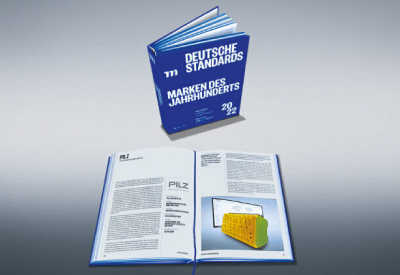 March 31, 2022
Pilz has been listed in the "Control technology" category in the latest edition of the renowned compendium "Brands of the century", from the DIE ZEIT publishing group. This reference work only includes companies selected by an independent jury, based on an evaluation. Dr. Florian Langenscheidt, publisher of "Brands of the century 2022ˮ, recognises Pilz as a technology leader in safe automation. The prize has been awarded for more than 20 years; the DIE ZEIT publishing group took it over three years ago.
An extract from the compendium's entry on Pilz: "As a technology leader, Pilz is currently one of the most important brands in safe automation." The family business has "written industrial history" with its PNOZ safety relay. "It is the world's most widely used safety relay: open any control cabinet and in all probability there will be a PNOZ installed."
This award places Pilz among the ranks of other German brands such as Gräger, Meissen Porzellan or TÜV.