Thought Pollination Networking Event: A Showcase Of Innovation And ABB Canada's Young Talent
ABB Canada interns unveil new perspectives in a series of engaging talks during thought pollination event
August 22, 2023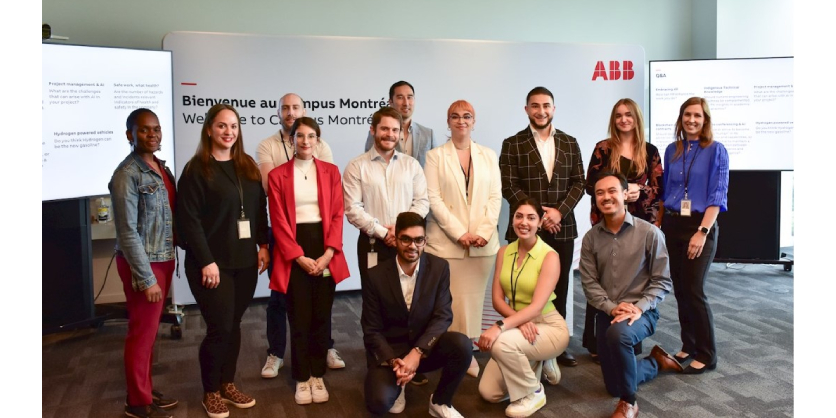 A vibrant display of unconstrained thinking and ingenuity unfolded at ABB Canada's Thought Pollination networking event, where seven interns took center stage, presenting their ideas to employees and the leadership team. The event captivated a multi-generational audience of nearly 100 employees on August 3rd, 2023, at ABB Canada's headquarters in Montreal, Quebec.
Thought Pollination embraced ABB's core values of courage, care, curiosity, and collaboration as our youngest employees led discussions harmonious with ABB's future-oriented vision.
The event fostered a cross-pollination of ideas to advance intergenerational collaboration playing on the metaphor of bees pollinating in nature. Through a "bottom-up" approach, the interns had the opportunity to embody ABB's "Thought Leadership" mantle.
"The event was a unique opportunity to get insights on new industry trends and technology from our younger generation. It was refreshing to hear different perspectives that sparked a dialogue among the audience and the presenters," said Vince Pesce, Country Holding Officer at ABB Canada. "The bottom-up thought leadership piqued the interest of all generations in the organization."

Vince Pesce, Country Holding Officer at ABB Canada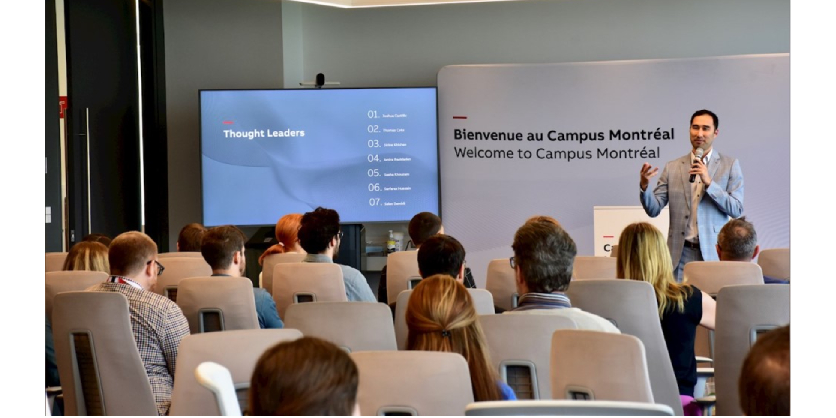 Thematic highlights from the talks
Alain Quintal, Vice President and General Manager, ABB Installation Products Division notes: "What stood out is the speakers genuine concern and passion towards new technologies, whether that is decarbonization or AI. All discussed with ease thanks to their close ties to the subject matter – and it truly transpired through the quality of their presentations."
The topics included: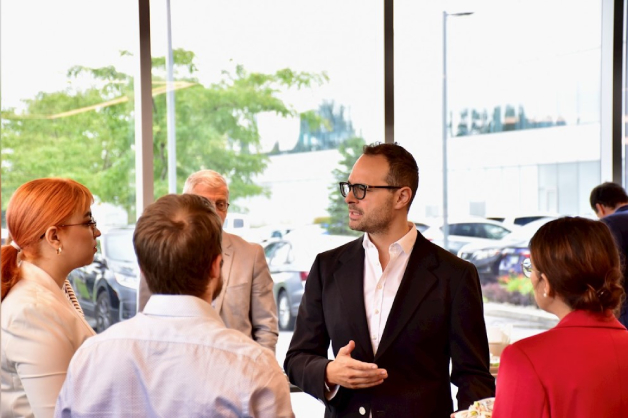 Joshua Castillo's presentation explored the latest trends of emerging technology and how one can embrace extended reality (XR).
Thomas Cote delved into the intersection of indigenous technology knowledge and new technology, shining a light on the harmonious coexistence of tradition and innovation.
Sirine Khichen captivated the audience by presenting the latest health, safety, and environment (HSE) trends in the context of ABB's current data.
Amira Ihaddaden's presentation showcased the symbiotic relationship between human intelligence and artificial intelligence in discussing project management and AI.
Sasha Khouzam's exploration of blockchain and smart contracts opened the doors to decentralized possibilities.
Sarfaraz Hussain delved into the realm of AI-powered video conferencing, emphasizing the transformational potential of technology in communication.
Selen Demirli enthralled the audience with the promise of hydrogen-powered vehicles, painting a vivid picture of sustainable transportation.
Collaborative efforts from the organizing committee
The Thought Pollination event owed its success to Communications Intern, Carla Candish, who proposed and drove the event.
"ABB has all these fantastic resources – the Customer Innovation Centre (CIC), Toastmasters Club, and a workforce willing to collaborate – it was truly gratifying to unite them all into this event. The rewarding cross-collaboration experience has enabled me to make a meaningful contribution to ABB Canada's growth, and I eagerly anticipate the next editions of Thought Pollination! This accomplishment owes its success to ABB's supportive ethos," said Carla Candish.

Communications Intern, Carla Candish
A dedicated supporter and sponsor from the moment she heard the pitch, Niki Murphy, Head of Talent at ABB Canada, played an integral role in making it a reality.

Niki adds, "Carla displayed Courage in proposing her vision of the "Thought Pollination Event", a wonderful "Reverse Engineering" experiment that really paid off. Our audience was wow'd by the quality of the speakers, the content, the courage, and collaboration it took them to prepare. Some even compared our young speakers to TedTalk quality! Definitely an event we will want to repeat next year."
The ABB internal Toastmasters Club, a public speaking training group, was instrumental in preparing the interns for their presentations, contributing significantly to the event's success.
Plans are in motion to repeat this gathering next year, reaffirming ABB's dedication to fostering innovation and growth.
Related Story
Forbes magazine has released its annual ranking of Canada's best employers for 2023 and for the eighth year, ABB is among the most recognized employers in the country.
The ranking was based on a survey of more than 12,000 Canadians employed by companies and institutions with a minimum of 500 employees. Participants were asked to respond to a multitude of questions, including a rating for their current employer and other Canadian organizations. These results were factored into generating a list of the top 300.