January 27, 2023 Humber College is the recipient of a $30 million gift from the Barrett Family Foundation, marking the largest single donation made to an Ontario college. Combined with their donations to Humber's Unlimited Campaign, the Barrett Family Foundation has given a total of $42 million, making their donation the largest in Canadian college history…. Read More…
---
Energy Technology Perspectives 2023 highlights major market and employment opportunities, as well as the emerging risks, for countries racing to lead the clean energy industries of today and tomorrow. The energy world is at the dawn of a new industrial age – the age of clean energy technology manufacturing – that is creating major new markets and millions of jobs but also raising new risks, prompting countries across the globe to devise industrial strategies to secure their place in the new global energy economy, according to a major new IEA report. Read More…

Robotics, a key industry: experts discuss trends, opportunities and challenges January 23, 2023 New applications in robotics are constantly emerging as the industry continues to develop new solutions to efficiently manage complex tasks. Consequently, robotics is a key industrial sector for HELUKABEL – cables and wires are, after all, indispensable in all types of robots…. Read More…
Featured Article
Access Management for Your Plant and Machinery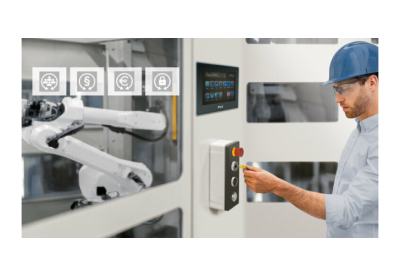 With PILZ's "Identification and Access Management" portfolio, they offer you a comprehensive range of products, solutions and software for the implementation of safety as well as security tasks. Below you'll discover more about potential applications, from simple authentication to complex access permissions, and access management through to safe operating mode selection, maintenance safeguarding and safeguarding of data and networks. Experience safety and security in one system!
This solution ensures that a machine cannot resume operation while people are still in the danger zone. The maintenance safeguarding system "key-in-pocket" is designed for machines with danger zones, which are protected by a safety fence and which staff need to access – robot cells for example. In comparison with conventional lockout-tagout (LOTO) systems, maintenance safeguarding with the key-in-pocket solution is implemented via RFID keys with corresponding permissions and a safe list in the PILZ controllers. As a result, it provides a purely electronic restart protection and makes both mechanical interlocking devices and warning tags redundant.
---
Capacitor Contactor Option Available For HPS Centurion P Passive Harmonic Filter January 25, 2023 The capacitor contactor option allows the user to open and close a contact, removing the capacitors from the circuit. The user can control the contactor by providing configurable contact output from the VFD which opens at light load. Passive Harmonic Filter… Read More…

January 24, 2023 The new Festo VZXA family of pneumatically actuated angle seat valves delivers installation, maintenance, operational, and inventory benefits thanks to a unique modular design. When a VZXA actuator is removed for maintenance or changeover, for example, the stem, seat, and seal stay inside the valve body, allowing the process system to remain… Read More…
Featured Product
Festo Introduces Pneumatic Essentials – a Program for Easy-Order/Fast-Ship Pneumatic Products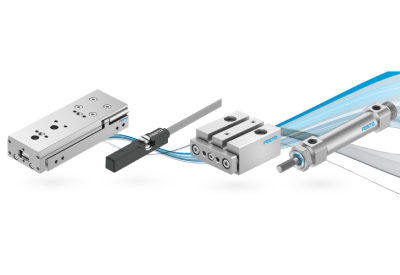 Festo launches the Pneumatic Essentials program, an ambitious global undertaking to streamline ordering, ensure fast delivery of guaranteed in-stock pneumatic components, and produce more compact parts for today's smaller footprint, energy efficient machines.
In addition to competitive prices, guaranteed availability, short delivery time, and innovative design, customers are assured of world-renowned Festo quality components that boost machine performance, lower waste, and reduce the risk of downtime.
Pneumatic Essentials is a one-stop-shop for the 16 fundamental components that Festo finds fit most common pneumatic applications. These components include air preparation, high wear polyurethane tubing, one-way flow control valve, high flow valves for normal and harsh environments, self-teaching proximity switch, mini slide, guided drive, direct interchangeability ANSI NFPA cylinders, and metric and imperial round and compact cylinders.
Mechatronics Canada
Mechatronics Canada's editorial informs and engages a targeted audience of manufacturers, distributors, specifiers and end users delivering an editorial mix of the right content for the right audience.