Mazak Showcases Technology for Lowest Cost Per Part Production at PMTS 2021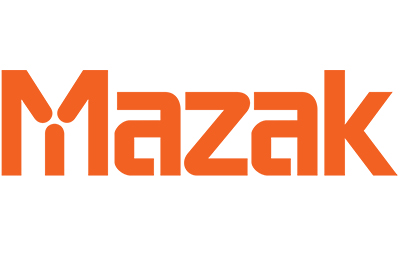 June 3, 2021
At this year's Precision Machining Technology Show (PMTS) August 10-12 in Cleveland, Mazak will highlight some of its latest high-output, cost-effective and space-saving machine tool technology in Booth #3083. In particular, the company will spotlight its Kentucky-built Ez Series of machines and CNC – all touted as game changers for medium to high-volume small-part applications.
At the show, Mazak technology in action will include the QT-Ez 12MSY Horizontal Turning Machine, the VC-Ez 20 Vertical Machining Center, the HQR-200MSY Multi-Tasking Machine and the company's new MAZATROL SmoothEz CNC. Ez Series machines are designed to give job shops and other manufacturers affordable access to Mazak technology and engineering expertise.
For maximum efficiency, reliability and value in precision part production, the QT-Ez 12MSY is a turning center with milling and Y-axis off-centerline capabilities paired with a second turning spindle for complete DONE IN ONE® part processing. Productivity and unmanned operations are further enhanced when shops seamlessly integrate the machine with a range of automation solutions, from a bar feeder and parts catcher to full cooperative robot systems.
The QT-Ez 12MSY features a 20″ bed length. With a larger A2-8 spindle nose, the machine delivers 3,300 rpm, 30 hp and 285 ft-lbs of torque and features a 3″ bar capacity. Its milling spindle puts out 6,000 rpm with 10 hp and 32.5 ft-lbs of torque. Likewise, the second turning spindle also delivers 6,000 rpm, with a 6″ chuck offered with an optional through-hole package for shaft transfer applications.
Mazak's 3-axis VC-Ez 20 packs a standard 12,000-rpm, 25-hp spindle and offers an optional 15,000-rpm, 29.5-hp spindle. To keep spindles in the cut, the machine's auto tool changer accommodates 30 tools, with 50 as an option.
The machine sports a C-frame design with X and Y axis motion via moving table and saddle. For repeatable part precision, guideway systems incorporate Mazak's high-rigidity MX linear roller guides, while pre-tensioned ball screws ensure precise axis movement. Auger-type chip removal systems provide economical operation, with the option of affordable hinge-type chip conveyor that ships affixed to the machine to eliminate the cost of a second shipping pallet.
In addition to featuring Ez Series machines at PMTS, Mazak will feature its HQR-200MSY Multi-Tasking Machine equipped with highly productive twin spindles and twin turrets for unequaled part processing and high throughput. The machine makes easy work of complex workpieces, processing them complete from raw material to finished part in single-setup DONE IN ONE® operations.
Sporting equal Y-axis off-center capability in both its upper and lower turrets, the HQR-200MSY significantly shortens part cycle times through balanced cutting and simultaneous 1st and 2nd-op processing. The machine also integrates easily with a bar feeder or robot loader/unloader for lights-out production.
Blending simplicity and advanced functionality into one platform, Mazak's new MAZATROL SmoothEz control provides an efficient, user-friendly interface that is easy to learn, especially for new operators. The most prominent feature of the control is its 15″ capacitive touch-screen display, which accommodates a full-width on-screen keyboard or up to 60 lines of code. The NC system operates on two 800 MHz CPUs with an expanded 512 MB of DDR3-SDRAM memory. In addition to its redesigned LAUNCHER screen, the new control also offers an expanded range of software features, including SMOOTH Machining Configuration, QUICK MAZATROL and MAZATROL TWINS, all of which first debuted on Mazak's highly advanced MAZATROL SmoothAi CNC.
Like all Mazak controls, the MAZATROL SmoothEz CNC offers operators access to both EIA/ISO and MAZATROL conversational programming modes. In addition to standard G-codes, the control can use conversationally presented questions to gather information and generate a part program automatically. Enhanced MAZATROL features, including new end mill pecking cycles for point machining and support for more precise chamfering, further improve the programming mode's industry-leading usability.