New HD-1500 Mobile Robot from Omron Expands Autonomous Materials Transport Options with 1500kg Payload Capacity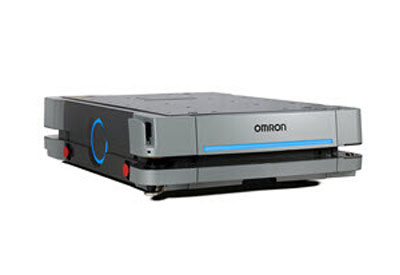 November 26, 2020
In late July of 2020, Omron Automation Americas launched the HD-1500 mobile robot that can handle bulky objects weighing up to 1500kg. This addition to Omron's robotics portfolio comes after the LD-250 mobile robot launch and further expands manufacturers' options for autonomous material transport.
Manufacturers are facing a growing need to automate their material handling operations due to an industrial demand for increased productivity and flexibility coinciding with challenges in finding and properly utilizing skilled workers. Social distancing requirements implemented in response to the COVID-19 epidemic further complicate the difficulty of relying on the manual completion of these types of tasks. Mobile robots help fast-paced manufacturing environments maintain speed and flexibility amid these challenges.
The robots automatically calculate the best route for material transportation while navigating safely around people and obstacles without requiring magnetic floor tapes or other guides. This makes them an effective solution for companies seeking to improve flexibility and maximize floor layout options. Omron's Fleet Manager software controls up to 100 mobile robots of different sizes, configurations and payload capacities, so customers can use the HD-1500 together with the LD-60, LD-90 and LD-250 robots under one system.
The HD-1500's powerful structure makes it well-suited for industries in which transporting heavy items like car chassis and voluminous pallets is required. By handling some of the transport tasks that would otherwise require a forklift, the new robots also help minimize sources of risk for employees, since forklifts can lead to serious accidents. The HD-1500 offers 360° safety coverage to promote a collaborative and safe working space, and the stop position accuracy of the Cell Alignment Positioning System (CAPS) has also been improved. It even has an onboard, user-accessible Omron PLC.
Highlights of the HD-1500 include:
– Higher payload and sturdier structure. The HD-1500 addresses the market need to move bulky items and pallet-size payloads in manufacturing facilities and reduce forklift usage.
– Support for highly mixed fleets. Using Omron's Fleet Manager, customers can manage diverse fleets up to 100 mobile robots, including the HD-1500.
– Faster ROI. As the need for greater efficiency in the workforce increases, the HD-1500 helps automate complex and dangerous tasks so that workers can do more with less equipment.
– An easy-to-customize solution. The HD-1500 is easy to deploy, so customers can easily add it to their fleets without worrying about safety, compatibility, or performance.
Additional features include:
– Battery charges in 36 minutes to realize greater efficiency and less downtime
– 360° safety scanning lasers used for simultaneous localization and safety functionality
– Superior navigation using adaptive safety zones with LiDAR technology
– Improved CAPS technology to improve docking accuracy and repeatability
– Onboard, user-accessible Omron PLC