POSITAL Announces SSI Interfaces for its New Generation of Absolute Encoders
November 9, 2023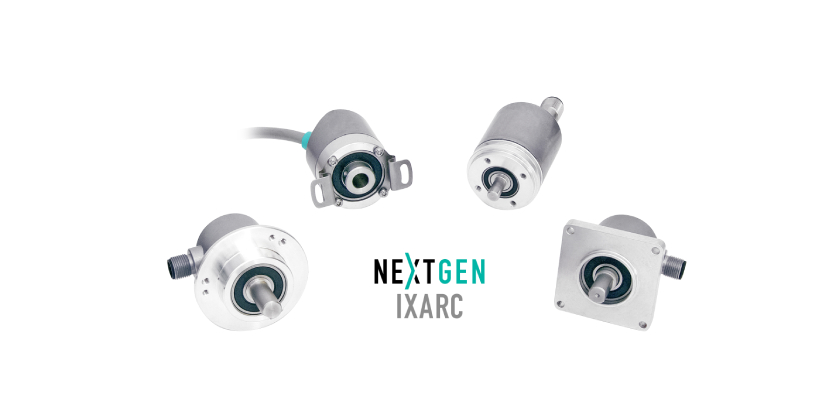 POSITAL's new generation of IXARC magnetic absolute rotary encoders is now available with SSI communications interfaces.
SSI (for Synchronous Serial Interface) is a widely used communications protocol for many types of sensors, including absolute encoders. SSI is a serial communications system that connects sensors directly to digital PLC's or microcontrollers through point-to-point wiring systems based on RS-422 communications standards. This offers high transmission rates and can support connections over distances of up to 1200 meters. (Maximum baud rate will depend on the transmission distance.) SSI is supported by most major PLC manufacturers.
Like other IXARC encoders introduced through POSITAL's NEXTGEN program, this new series of encoders feature advanced TMR (tunneling magnetic resistance) sensors for single-turn angular position measurement. TMR sensors are more stable, less temperature sensitive, and more responsive to small changes in the magnetic field than the Hall effect sensors they replace, opening the door to a higher resolution of up to 18 Bit.
Another key innovation applied to the new IXARC encoders is the introduction of a new ASIC, designed in-house to support battery-free rotation counting in multiturn variants. Each time the encoder shaft completes a rotation, a Wiegand sensor connected to the ASIC provides both a signal pulse and enough electrical current to energize the counter circuitry in the ASIC. With this self-powered counter system, every shaft rotation is accurately recorded in non-volatile memory – even if rotations occur when system power is not available. No backup batteries required!
Housings for the new generation of IXARC encoders have been refined, with compact new welded models available. Other options include variants with interface connections that are angled at 45° to the shaft axis. This offers an alternative to axial or radial connectors and can make it easier to install these devices in tight spaces.
POSITAL encoders with SSI interface are programmable: resolution, direction of rotation, code and preset can all be configured through simple software updates using POSITAL's convenient UBIFAST programming tool.
About POSITAL
POSITAL is a supplier of advanced industrial position sensors used in a wide variety of motion control and safety systems. The company is also an innovator in product design and manufacturing processes and a pioneer of Industry 4.0 (Industrial Internet of Things/IIoT), offering customers the benefits of built-to-order products combined with the price advantages of mass-production.
POSITAL is a member of the international FRABA group, whose history began in 1918, when its predecessor, Franz Baumgartner elektrische Apparate GmbH, was established in Cologne, Germany to manufacture relays. Since then, the company has played a trendsetting role in the development of rotary encoders, inclinometers and other sensor products. POSITAL's sister company, UBITO, specializes in the development and commercial applications of Wiegand technology, an exciting tool for event sensing and energy harvesting. POSITAL and UBITO have a global reach with offices in Europe, North America and Asia – and sales and distribution partners around the world.
More Information
Related Product
As part of its ambitious NEXTGEN program, POSITAL has released new members of its TILTIX inclinometer family with analog communications interfaces. The new versions are mechanically and electrically compatible with older models and share the same mounting footprint.