Endress+Hauser Customer Experience Centre Adds LEED Gold Certification
September 21 ,2023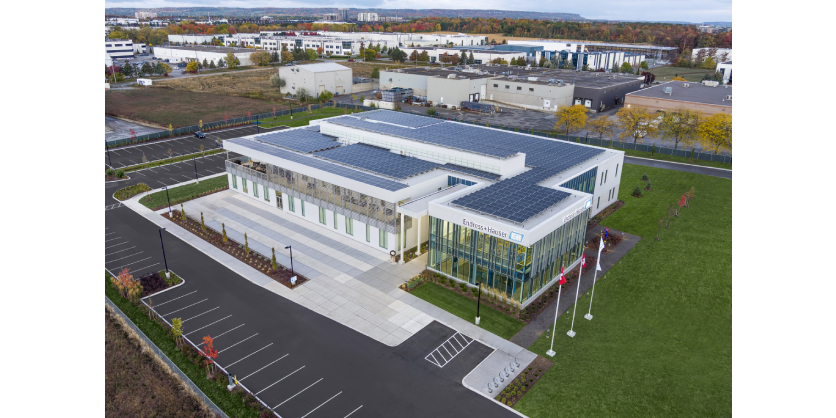 Endress+Hauser Canada's Customer Experience Centre, which opened officially last year, has added LEED Gold certification to its growing list of achievements and accolades as a pace-setter for new sustainable design and construction.
LEED, which stands for Leadership in Energy and Environmental Design, is an international symbol of sustainability excellence and green building leadership. Achieving LEED Gold certification is an especially notable achievement for the multi-use Customer Experience Centre since the 47,000 sq ft facility houses industrial processes that often draw significant energy. These operations include a full-scale Process Training Unit (PTU), state-of-the-art Factory Acceptance Testing and calibration labs, and multi-purpose training and office areas.
The building attained ZCB Certification in 2022, demonstrating that it has achieved zero carbon operations. Currently, the building generates more energy than it consumes, with surpluses delivered to the Burlington Hydro grid.
The development team, including mcCallumSather the Prime Architect and Mechanical Engineers, succeeded in raising the bar for sustainability throughout the facility. The outcome is a high-performance building enclosure, creative mechanical system solutions, sustainable materials selection, supported by sustainable construction practices and use of the full site to support this vision. To offset what energy could not be saved through its architectural and mechanical systems, it employed a combination of rooftop, double-sided solar panels, heat pumps supplemented by a geothermal system, and innovative energy conservation practices.
"Achieving both ZCB and LEED Gold Certification reflects the significant team effort what was an equally exciting and complex project," Drew Hauser, Director of Design & Business Development with mcCallumSather. "mcCallumSather's mission is advancing sustainable intelligence. Working with Endress+Hauser was a pleasure because from the very start they shared our openness to innovation and continuous learning, in pursuit of more sustainable solutions. The outcome is a new Customer Experience Centre that will have a legacy not only in Burlington but throughout their entire international operations."

Drew Hauser, Director of Design & Business Development with mcCallumSather
"Within the global Endress+Hauser Group, the Customer Experience Centre stands out as a shining example of what industry can achieve in green facility design and operation," says Anthony Varga, General Manager of Endress+Hauser Canada. "We were encouraged by the senior leadership of Endress+Hauser to set very ambitious sustainability goals for this project to set an example for others, inside and outside the company, to emulate."

Anthony Varga, General Manager of Endress+Hauser Canada
The building provides a stunning showcase for the Swiss-based family-owned company's leading edge process measurement and instrumentation technology.
The PTU, for example, is a full-demonstration platform for the latest Endress+Hauser devices and solutions, one of only two in Canada; the other is at Endress+Hauser in Edmonton. Since the Burlington facility opened, thousands of current and potential customers have been able to see first-hand how to get the most from this technology.
About Endress+Hauser
Endress+Hauser is a global leader in measurement instrumentation, services and solutions for industrial process engineering. Our products – sensors, instruments, systems and services for level, flow, pressure and temperature measurement as well as analytics and data acquisition – set standards in quality and technology. The company further supports its customers with automation engineering, logistics and IT services and solutions.
Founded in 1953 by Georg H Endress and Ludwig Hauser, the Endress+Hauser Group has been solely owned by the Endress family since 1975. Today, the Group is managed and coordinated by a holding company based in Reinach, Switzerland, employing over 15,800 personnel across the globe. In 2022, the Group generated net sales of C$5 billion. Endress+Hauser's production centres in 12 countries meet customers' needs and requirements quickly and effectively, while its dedicated sales centres and strong partner network guarantee competent worldwide support.
About mcCallumSather
At mcCallumSather, our purpose is clear – the design of a more resilient world through the advancement of sustainable design intelligence. As an integrated team of architects, mechanical engineers and interior designers, we embrace an inclusive approach to design that encourages curiosity and invention. As a result, each project reflects our commitment to design excellence and sustainable design solutions, coupled with a relentless focus on our client's goals. Led by this spirit of innovation, we continuously strive to communicate better, design more efficiently and deliver improved experiences.  Our portfolio includes an exciting mix of award-winning work from heritage to new construction, small community initiatives to multi-million-dollar, one-of-a-kind projects.
Related Story
The Endress+Hauser Customer Experience Centre is Zero Carbon Building (ZCB) – Design Certified, the first of two advanced sustainability targets for the new facility. Established by the Canadian Green Building Council, ZCB standards are a made-in-Canada framework that define low-carbon design and operational performance for buildings. This is mcCallumSather's second ZCB Certified facility, following the success of The Joyce Centre for Partnership & Innovation (with B+H), the first building in Canada to achieve both ZCB Certifications for Design and Performance.