New Ways to Automate with Robotics in 2022
January 6, 2022
With 2021 coming to a close, rapidly-changing technology, consumer demands and competitive pressures continue to inspire the implementation of creative operational strategies. As a result, more affordable yet highly flexible robots are being implemented on production floors to effectively deal with supply chain challenges, skilled labor shortages, an unprecedented pandemic and general market fluctuations.
With this in mind, here are some trends and innovations savvy manufacturers may want to consider when planning for a successful 2022 and beyond.
Small shop adoption
The ability to produce high-quality products with minimal expense is a must to keep competitive in today's industrial landscape. As automation costs fall and ease of use increases, this continues to prompt a steady number of small- to medium-sized manufacturers to integrate robots on their shop floors. Now seen as an asset, robot availability reassures potential clients that expectations for on-time delivery and product quality can be met.
Easy-to-use collaborative robots (cobots) with precision hand-guided teaching for fast deployment or redeployment on demand are highly attractive, filling the void for high-mix, low-volume production. Ideal for arc welding, plasma cutting, machine tending, light assembly and palletizing, cobots that can work with or in close proximity to humans are addressing a handful of concerns such as worker availability, employee safety, operational efficiency and product quality.
Robots, like the six-axis HC10XP collaborative robot with built-in safety-rated Power and Force Limiting (PFL), can easily supplement manual welding or be rolled-up to large, heavy workpieces in a factory setting. Not only does this provide the weld capacity needed for smaller operations, but also, it maximizes floorspace in tight environments. Also adept at saving valuable floorspace are higher payload cobots, such as the 20-kg payload capacity HC20XP. With an appropriate-sized riser, this IP67-rated cobot is capable of loading or unloading a 40 x 48" pallet (up to 80-inches tall) without an elevator, offering greater versatility for better return on investment.



"Compact workcells, like the ArcWorld® 50 and LC series, are also being used to scale-up production for small to medium part welding in job shop settings," states Josh Leath, Sr. Product Manager at Yaskawa Motoman. "Available in a single or dual workstation, space-saving weld solutions like these enable fast and easy installation or relocation while maintaining a very quick payback."
Offline robot programming
Workforce demographics and market drivers continue to shift the way manufacturers approach robot integration and programming, so much so, that it has launched an ease-of-use revolution. Intuitive programming options – including offline programming (OLP) – are a must for facilitating a high degree of uptime, especially for operations that cannot afford to interrupt production while a robot program is being written point by point from a teach pendant.
Using a 3D representation of a robotic workcell that visually shows a robot moving along a programmed path, OLP provides both experienced and novice programmers with the capability to design, test and adjust a robot program or job from a PC-based virtual environment. Providing helpful features such as collision detection, 3D PDFs, conveyor tracking, Cam Path and more, Yaskawa's MotoSim® is a user-friendly, cost-effective software that is ideal for programming and reach studies. Other third-party options provide robust functionality, allowing task experts to program robots quickly with ease. Robotmaster®, OCTOPUZ® and Delfoi provide comprehensive software solutions for a variety of applications, including complex programming for robotic weld systems. Regarding the latter, Delfoi can save 90 percent on programming time versus teach pendant programming, making it an extremely fast way to accurately send out programs for even complex configurations such as multiple-arm workcells.
Innovative programming methods
The robot programming landscape is peppered with nontraditional programming ideas – many of which are facilitating extremely fast and easy implementation of a robot system.
Precision hand-guided teaching
Expected to grow by 40 percent over the next six years1, easy-to-use collaborative robots are helping new and highly relevant applications come to life. Precision hand-guided teaching is a key aspect of this trend, making it the ideal solution for companies wanting to integrate a highly versatile, user-friendly robotic system.
Alternatively, companies like Wandelbots use intelligent sensor technology that can model an operator's movements, expertly allowing the user to teach a robot path with a stylus rather than grabbing the arm. This extremely easy, low-code and cost-effective approach averages to be 20 times faster than traditional programming for select applications.
Intuitive pendant applications
Intuitive, smartphone-like teach pendants are becoming commonplace today. Along with this usage is the growing utilization of pendant and extension applications for user-friendly yet powerful application functionality.
Yaskawa's intuitive Smart Pendant – that radically changes the way a robot is programmed – now offers robust capability for quickly generating jobs to handle parts in a specific pattern. Known as Smart Pattern, this Smart Pendant extension provides a graphical interface that supports common tasks, such as machine loading or unloading, stack or unstacking, and case packing.
For cobot welding and traditional robot welding alike, intuitive teach pendant applications, such as Yaskawa's Universal Weldcom Interface (UWI) are penetrating historic programming barriers. From regional differences for where weld settings are stored to varying shield gas usage, along with the presence of sophisticated power source technology and the growth for new welding methods, the UWI has been extremely helpful to manufacturers looking to gain easy control of any weld process or parameter. This includes voltage, amperage and wire feed speed.
Low-code and no-code programming
Tools like UWI also compliment recent software innovations for low-code and no-code programming. Users can now utilize flexible development platforms and application modules to program an app or robotic system without writing a single line of code.
Other companies, such as Path Robotics, develop state-of-the-art artificial intelligence (AI), machine learning and computer vision systems to make industrial robots more intelligent. With an initial focus on welding applications, Path removes the programming equation altogether with a proprietary vision and perception system that works to recognize where a part is in space, then adjusts the robot path and welding parameters in real time to variations. As sensor and processing improvements continue to develop, so too will the performance and adoption of intelligent robotic installations.
Cross-platform robotic automation
Unlocking a new paradigm of user-friendly automation, READY Robotics has created an enterprise-grade operating system for cross-platform robotic automation. Not only does this enable nearly anyone to program virtually any robot (Yaskawa robots included), but also, it makes automation more accessible than ever with graphic icon-based programming that does not require specific coding expertise.
Robot Operating System
Rounding out the programming methods to watch in the new year is the evolution of the Robot Operating System (ROS). A growing collection of middleware that runs on operating systems like Linux, Java and Microsoft Windows® IoT Enterprise, ROS is a free open-source repository of state-of-the-art algorithms, software, functions, drivers and more that is supported by Open Robotics at ros.org.
Taking ROS a step further, ROS-Industrial® (ROS-I) specifically focuses on the advanced capabilities that ROS can provide specific to industrial robots. Viewed by some as the glue that holds advanced technology together, this compilation of feature-rich tools is helping robot manufacturers, component suppliers, system integrators and end users to improve a myriad of complex applications, like 2D/3D image processing or force control to drive robot path in real time verses a pre-programmed path.
Seeing a need for greater ability to make adaptive functionality modifications to traditional industrial robot applications for high-mix, low-volume tasks, Yaskawa partnered with the ROS-Industrial Consortium (RIC) Americas in developing a robust communication driver that provides manufacturers and researchers the option to create add-ons and integrate perception sensors. Highly advantageous to making a robot compatible for a variety of unstructured environment applications in a timely and cost-effective manner, Yaskawa provides the ability to use this technology with their robots – as all recent generations of Yaskawa robots are ROS-enabled and can be modified to expand functionality for more advanced tasks.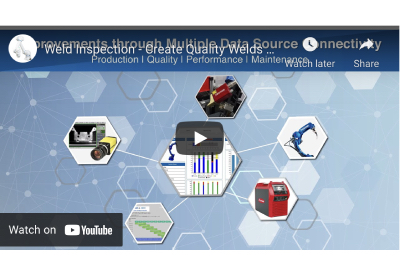 Optimized machine vision
As mentioned, cost-effective vision improvements are allowing for a wider variety of applications. Vision-based systems, such as Veo Robotics' FreeMove®, are reinventing the way products can be manufactured by making machines more responsive to humans, culminating in dynamic safety systems that use minimal safeguarding. The FreeMove system projects all possible future positions of the objects in its environment, dynamically calculating protective separation distances before signaling the robot to slow or stop as needed for worker safety.
Not only do systems like this provide an option that allows human workers in the production equation, but also, robotic systems with this technology can help manufacturers better adjust to mass customization, shorter production runs and tightening quality demands, making it more cost-effective in the long term. Vision goes beyond finding parts or inspecting them, but it is utilized to help perfect processes like additive manufacturing or welding path planning while using robotics.
"Robotic vision is also being applied to a growing number of inspection tasks," says Chris Caldwell, Product Manager at Yaskawa Motoman. "Commonly faster and more reliable than humans, robotic inspection is becoming extremely important to manufacturers looking to improve product quality and product throughput." To reduce scrap, maximize good parts and optimize overall equipment effectiveness, flexible robot models, including collaborative robots, are being integrated into workcells to ensure surface quality, weld integrity or part geometry. Offering capability and consistency that humans and coordinated measuring machines (CMMs) cannot, the combined use of robots and intelligent peripherals like advanced vision systems, robust power supplies, intuitive sound analytics, weld inspection systems and more can provide a wealth of data for making informed production decisions.
Integrated asset Management
The enormous amount of data provided by connected devices is best captured with edge server solutions, like Yaskawa Cockpit™, that use a leading OPC-UA or other data collection interface. Asset management systems such as this can provide comprehensive insights to manufacturers looking to gain competitive edge. Take weld quality, for example. Whether it is used for an in-house part or implemented to check the caliber of parts being brought in from another part of the supply chain, the use of robots in conjunction with this type of multiple data source connectivity can provide a positive impact.
This brings up on-going supply chain concerns, which continue to be at the forefront for manufacturers. Facilitating worker safety and providing the ability to monitor and manage connected factory devices remotely, asset management solutions are gaining traction. Enabling an integrated, intelligent and innovative approach to data analytics, tools like this help decision makers view current and historical production volumes, as well as the operational status of any connected device (including robots), in real time. Not only does this aid manufacturers in making informed decisions about maintaining equipment performance, but also, it gives the ability to efficiently execute operational goals from virtually anywhere.
Technology-driven industrial future
Moving forward into 2022, technological advances will continue to fuel market demands and subsequent robotic innovation, while requirements for component and consumer packaged goods will persist to have ever-shrinking tolerances. As the margin for error seems to enter the nano-scale, repeatability of robots will result in additional automation, especially where electronics, electric vehicles, medical equipment and more are concerned. Overall, manufacturers that execute operational strategies that embrace new technologies, including robotic automation, will most likely be able to quickly adjust to market pressures for on-going success.