How Omron Robots are Helping UM-Dearborn Engineering Students Prepare for Careers
January 11 2022
Engineering students at the University of Michigan have a much larger and more exciting space to gain hands-on experience. The brand-new Engineering Lab Building (ELB) is now in use, featuring robotic equipment donated by Omron to give students a taste of what a next-generation manufacturing facility is like.
The building opened during the pandemic, so the university had to skip most of the fanfare, but faculty hosted an internal ceremony that featured two Omron autonomous mobile robots (AMR) for the opening. These robots opened the ceremony by playing the fight song and delivering the scissors for the ribbon cutting.
Advanced teaching robots that get students excited
Thanks to Omron's donation, the ELB now has a collection of mobile and collaborative teaching robots that are designed to function safely alongside humans without barriers or cages fencing them off. Collaborative robots are highly flexible robotic arms that can be programmed to perform a wide variety of repetitive tasks.
Engineering professors at the university are particularly enthused about the mobile robots from Omron, which they say will open up many teaching opportunities in motion control, path planning, robotic perception, and human-robot collaboration. Mobile robots are used in many state-of-the-art manufacturing facilities to dynamically move materials between stations.
An awe-inspiring space for collaboration
Overall, the ELB incorporates 45 different instructional and research labs specialized for subjects that range from mechanical and electrical engineering to artificial intelligence and game design. Instructors are pleased to have so many disciplines under one roof, since that helps foster innovation.
The building is also notable for its architecture, with gigantic windows and glass interior walls that let natural light shine in. Informal gathering spaces are placed prominently throughout the ELB, making it easier for students of all branches of engineering to collaborate with one another and share ideas.
Omron team in front of the UM-Dearborn "Omron Robotics and Human Factors Lab"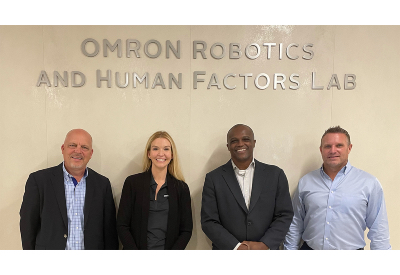 (left to right): Jeff Hall, Senior Director, Technology and Strategic Sales, Omron Automation Americas (OAA), Whitney Lojewski, Industry Marketing Manager – Automotive & Logistics, OAA, Tim Hill, Manager, Investor Relations, Omron Management Center of America, Inc., and Bryan Monty, Strategic Account Manager – Automotive, OAA