Revolutionize Your Automation Projects with the MPS 403
Festo's groundbreaking MPS 403 – the ultimate all-round learning system for automation technology.
October 27, 2023
Greg James, Festo Didactic Sales Manager, rocked the stage at the CMTS event in Canada last month, showcasing Festo's groundbreaking MPS 403 – the ultimate all-round learning system for automation technology. Watch the video presentation now to discover how MPS 403 can revolutionize your automation projects.
Festo is a global leader in technical education. As an international partner to training institutions, governments, government agencies, and businesses, they design and implement training systems and labs, as well as learning systems and training programs. They systematically prepare skilled professionals for working in dynamic and complex environments.
MPS 403: Compact All Round Learning Factory Mechatronics and Industry 4.0
The MPS 403-1 learning factory consists of the MPS 400 system modules Distributing Pro, Joining and Sorting Inline. The system modules are networked with the MES, equipped with RFID read/write devices and intelligent sensors based on IO-Link and form a self-sufficient system. In addition to the above-mentioned system modules, MPS 403-1 R contains a Robotino and thus expands the learning topics to include the field of mobile robotics and related topics in production.
Learning Goals
Networking of multiple stations, control systems, and I/O units with an MES-centered software environment via network-based protocols (OPC-UA, IO-Link, PROFINET, TCP-IP, Node-RED)
Programming industrial touch panels and familiarity with modern human/machine interfaces such as augmented reality and web interfaces
Familiarity with RFID and network technology as well as intelligent IO-Link®-based sensors
Learning about new business models using industrial IIoT retrofitting by means of a webcam and microcomputer as well as learning how to use machine learning algorithms
Production of customized products using production orders induced by an online store
Vacuum and parallel gripper technology, as well as the retrofitting of production plants
Process
Processing in the learning system starts when a production order is entered via an intuitively designed user interface of the MES. The first station separates workpieces from three level-monitored stacking magazines and writes the corresponding RFID tags. The subsequent assembly station reads the RFID tag and, depending on the production order, adds an upper part to the workpiece.
It can either add a simple cover or, after appropriate conversion, an intelligent microcontroller to the base body of the workpiece. The third sorting station distributes the workpieces to two chutes according to the order and quality control or forwards them to additional downstream stations. The learning factory can be divided into several parts, with Robotino then transporting workpieces between the production islands as a mobile robot (MPS 403-1 R).
IO-Link and OPC UA
The trainees deal with intelligent laser, ultrasonic and capacitive sensors based on IO-Link, learn about their advantages over classic sensors and can later address, interpret, maintain and integrate them into production systems. In addition to IO-Link, the basics of PROFINET and OPC UA are also taught. This gives learners a well-founded insight into the most important network-based protocols in the automation environment.
More Information
Learning Factory Distributing Pro, Joining and Sorting Inline MPS 403-1
Related Story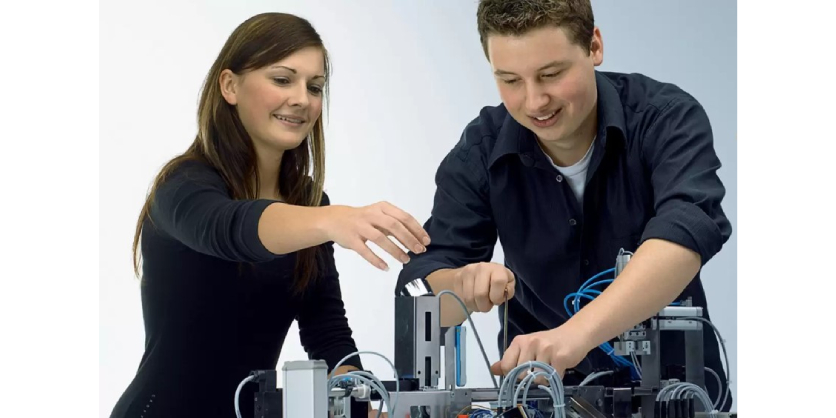 Labour and skills shortages are among the most pressing challenges that manufacturers face today. Access to a large, high-quality workforce is critical for manufacturing to be successful. This workforce is the driving force for innovation and is essential to making the most of new technologies and production methods.
Some of the most leading companies involved in manufacturing are taking these steps (and some having started decades ago), and they are working with educational institutions and governments to fill the skills gap that manufacturing is experiencing today. Festo has been leading the charge for technical education at a global scale. In this article, Greg James, Regional Sales Manager – Festo Didactic Ltd. shines some light onto what is being done in Canada to reduce the training gap and help ensure there are enough skilled workers available to keep the factory of the future running.