Success Story: Troax Blue Guard Solution
July 20, 2023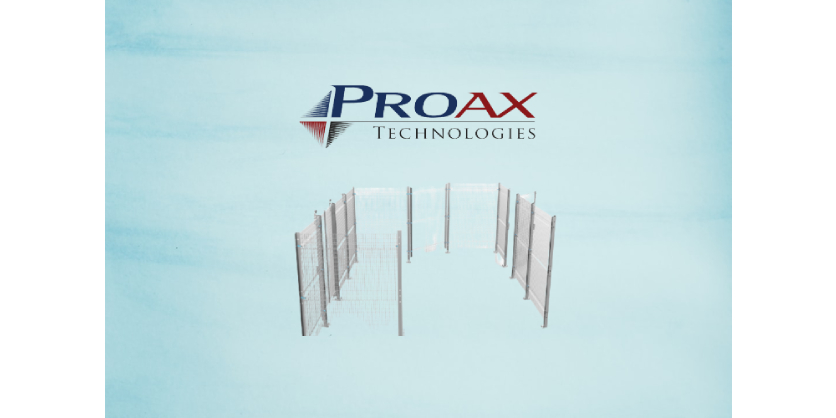 Troax Blue Guard Solution. One of Proax Technologies' customers in the Food & Beverage Industry wanted to make their own protective guards, but it was not an easy task. They had to find specialized welders, deal with rising costs of materials, and make sure all their products were standardized and certified. On top of that, they had to design their guards for easy installation, check out available options, and handle delays in production. That's where Proax and Troax have come into the game.
Unique Solution from Troax
Proax's unique solution has been Troax Blue Guard for this project. BlueGuard system is a hygiene-friendly safety solution suitable for the food, chemical, and pharmaceutical industries. It features a sturdy 4mm stainless steel panel and an easily cleaned U-shaped post. The panels are securely fastened with strong fixings. The system offers quick installation, and its layout can be customized using design software to meet various requirements and fit machinery footprints. Troax Blue Guard immediately addressed the customer's unique set of issues, turning them into distinct advantages. Instead of grappling with the labor and expense of self-manufacturing, the customer now had an off-the-shelf solution that met the highest industry standards.
Customer Benefits
The consumer now has a conveniently available, superior solution that goes above and beyond industry norms thanks to the Troax Blue Guard Solution. This adaptable solution seamlessly integrates into various applications with a simple installation procedure. Notably, it also provides a finish of extraordinarily high quality, boosting the overall aesthetics and use of the project.
Results
This success story shows how really understanding what customers want and offering them great, unique solutions can make them really happy. It also helps improve how the business performs and how it's seen in the Food and Baking Equipment industry.
BlueGuard is a high-quality machine guard system designed to meet the stringent hygiene standards required by the food, chemical, and pharmaceutical industries.
Proax touch to Food and Baking Industry through Automation
Proax Technologies is generating waves in the food and baking industry. Its innovative automation solutions turn challenges into opportunities and pave the way for more streamlined, efficient, and cost-effective operations.
Proax answer to safety and sanitation requirements in these industries is the Troax Blue Guard. This innovative solution offers a variety of critical features:
Adaptable Modular System: Matches diverse environments and needs.
High Industry Compliance: Satisfies top hygiene standards crucial in agro-food, chemical, and pharmaceutical sectors.
Top-Quality Materials: Utilizes robust AISI 304 stainless steel panels reinforced by transversal pleats for added durability.
Innovative, Cleanable Design: The open, washable U-shaped post design assures effortless maintenance.
Secure Fastenings: High-resistance fastenings combine techno-polymer and stainless steel for fast assembly.
Are you ready to transform your food & bev business with Proax's innovative solutions? Contact Proax Technologies today.
More Information
Related Story
Proax Technologies Ltd. Is pleased to announce the launch of its new slogan; WeAutomate. After extensive deliberation, this decision was made to reflect the changing nature of the automation and distribution industry and to better serve clients in the following technical sectors: Industrial Controls, Motion Control, Machine Safety, Pneumatics, Mechanical Solutions and Automation & Robotics.