POSITAL's Explosion-Proof Rotary Encoders Receive ATEX/IECEx Certification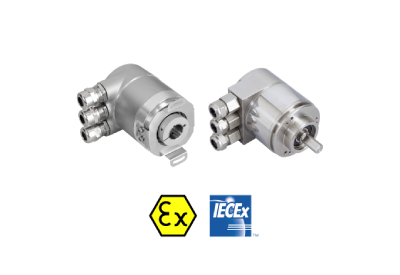 March 30, 2022
POSITAL's explosion-proof IXARC rotary encoders have been certified to comply with ATEX/IECEx directives for Category 3 electrical products. These devices are suitable for use in Zone 2 and Zone 22 conditions (potential exposure to hazardous levels of explosive gases and flammable dust) and are ideal for oil and gas installations, chemical plants, woodworking operations, and grain handling facilities. Certification documents cover multiple encoder configurations and were issued by an organization with special competency in ATEX and IECEx testing and certification.
POSITAL's ATEX/IECEx-certified series of encoders feature aluminum or stainless-steel housings designed to eliminate electrical hot-spots or sparking that could ignite an explosion. These encoders are available in both incremental and absolute variants and are offered with optical or magnetic measurement systems. Optical encoders are suited for high-precision applications, delivering up to 16-bit resolution and excellent dynamic response. Magnetic variants offer similar resolution and feature compact, rugged designs that makes them highly versatile and suitable for harsh environments.
For many magnetic encoders, some operating characteristics can be modified through software updates with no need for mechanical changes. For example, for programmable incremental encoders, resolution can set anywhere between 1 and 16,384 PPR (pulses per revolution) by selecting the appropriate software parameters. For absolute encoders, both magnetic and optical variants are available in multiturn versions with battery-free rotation-counter systems. There is no need to test and replace backup batteries, drastically reducing maintenance requirements.
Like other members of the IXARC encoder family, ATEX/IECEx certified models can be ordered with a wide range of mounting flange designs and shaft configurations. They are available with connectors (M12 etc.) or attached cables and support a variety of communications interfaces, including incremental, analog, SSI, Profibus, ProfiNet, CANopen, DeviceNet, EtherCAT, EtherNET IP, Modbus RTU, J1939, and Modbus TCP. This wide range of configuration options makes it possible to select an encoder configuration that will be easy to integrate into almost any machine or system.
Finding the right IXARC sensor for a particular application is straightforward. Go to www.posital.com to find a powerful product finder tool that enables a customer to specify the product features required for each application and then quickly zero in on the best available products.
To learn more about POSITAL's explosion-proof IXARC rotary encoders, click here