Electromate Unveiling Cobot Welder Package at FABTECH Canada, June 14-16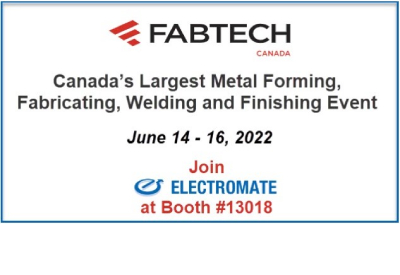 June 7, 2022
The Cobot Welder package includes proprietary technologies like the smart teaching puck and the smartphone application, making it the fastest welding cobot to set up and teach on the market. Faster time-to-teach makes automated welding of smaller batches economical.
Your productivity hinges on ease-of-use for your welders, not robot programmers. Welders care about torch angles and weld settings, not TCPs and coordinate systems. Empowering the welders to program the robot by themselves is good for the acceptance of the technology and your bottom line.
Investing in traditional arc welding automation will simply substitute your challenge of hiring and retaining skilled welders with hiring and retaining skilled robot programmers. Empowering your existing workforce to be part of the solution will keep your existing welders engaged (and employed!) with your organization longer.
Watch this video to see how quickly a welder can weld with a collaborative robot
{videobox}HvtFRQ5hfDc{/videobox}
The Cobot Welder System Includes: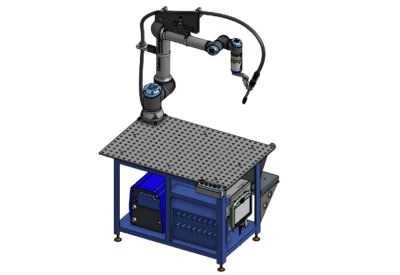 •Universal Robots UR10e Collaborative Robot (51″ reach)
•Miller Cobot Welding Package, including an Invision 352 MPa pulsed welder and S74 feeder
•Tregaskiss Tough Gun MIG welding gun
•Hirebotics' Smart Puck for software-free teaching
•Siegmund 48″ x 32″ welding cart
•Operator panel with emergency stop
To learn more, visit Electromate at FABTECH June 14-16, 2022, booth #13018. To register, click here
Or visit their website and read more about this package by clicking here
NOTE: Sample image only. Product may differ