Festo's New Digital Positioners CMSH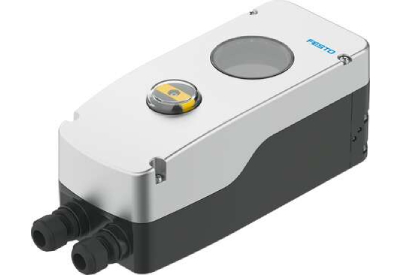 October 18, 2022
The CMSH is an intelligent, digital positioner. It controls the positin of a process valve that is actuated by a pneumatic actuator. Thanks to the large ambient temperature range of –40°C to +80°C and its high degree of protection (IP66/67), it can also be used under harsh operating conditions. The CMSH is a 20mA loop-powered 2-wire device. An additional power supply is therefore not required.
Configuration and operation can be performed locally on an LC display using operating buttons. A HART interface permits remote access and integration into higher-level systems. There are product variants for single- or double-acting actuators with safety settings (failsafe, fail in place). The product is suitable for attachment to actuators with a mechanical interface in accordance with VDI/VDE 3845-1 (IEC 60534-6-2) or VDI/VDE 3847-2.
The product variant CMSH-S has an internal position sensor for detecting displacement/angle. Alternatively, an external potentiometric position sensor can be connected to the positioner on all product variants.
Watch this video for an overview of the Smart positioner CMSH with HART communication
{videobox}hTChJbJ7Aw8{/videobox}
Features and Benefits
•Intelligent, digital electropneumatic positioner with HART communication
•Fast and precise position control of single-acting and double-acting pneumatic rotary and linear actuators
•With integrated or external path/angular detection
•Commissioning, operation, servicing and diagnostics on the local display via the user-friendly software menu or via remote access via EDD-based (Electronic Device Description) or FDT-based (Field Device Tool) transmission
•2-conductor technology
•Perfect interaction with the VTOP pneumatic extension modules
•Variants with safety functions
•Sustainable operation due to efficient control
To learm more about the new Digital Positioners CMSH from Festo, click here