The Manufacturing Automation Platform (MAP) from Vention: A Platform for the Next Generation of Industrial Automation Practitioners
April 17, 2023
Quinn Harker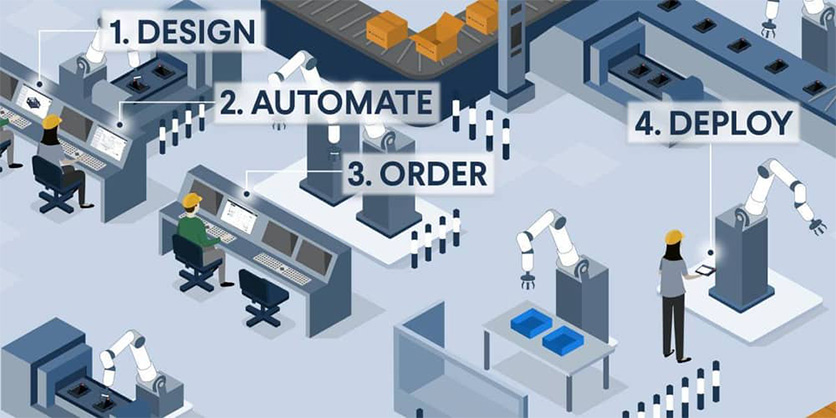 For the past 30 years, industrial automation has undergone relatively few changes to the way automation is designed and deployed. Traditional automation technology was developed (and priced) for high-throughput manufacturing, making it most accessible to only those who could afford complex, custom integration services. This left most manufacturers—the ones who would actually benefit from the democratization of automation—behind.
Today, manufacturers are not only fighting against high costs to automate, but the significant speed at which they need to replace, upgrade, or repurpose assembly lines and manufacturing equipment. With the acceleration of new product introductions, production capacities must readjust to meet changing customer demands and continuous improvement initiatives. For manufacturers utilizing traditional industrial automation technology, upgrading or repurposing custom-built automated equipment is challenging to complete at a competitive pace.
Vention believes industrial automation should be accessible to a much wider group of manufacturers, regardless of their production volume. These industrial automation solutions should be scalable, growing and evolving as a manufacturing floor does.
Challenging the Status Quo
Driven by the demand for innovative solutions within the industrial automation industry, a new category of software called the Manufacturing Automation Platform (MAP), has risen as a go-to automation solution for manufacturers. This simple yet powerful concept blends engineering software and modular hardware into a single digital environment, erasing the boundaries between the digital and physical worlds.
Vention's MAP focuses on a single mission—navigating users through the design, automation, order, and deployment stages of creating automated equipment. The simplicity created from the platforming of industrial automation empowers all manufacturing professionals, from automation beginners to advanced integrators, to efficiently and profitably automate their factory floors with MAP.
Delivering End-to-End Automation Solutions for All Manufacturers
Within MAP, there are four stages to complete to take your design from idea to reality. Below, find a walk through each stage of MAP, from design to deployment.
1 ) Design with MachineBuilder
It all begins in the design stage. Start by defining your project requirements, objectives, budget, and critical milestones to create a scope of work. Next, you can choose from the Vention library of ready-to-deploy designs or use MachineBuilder, the 3D CAD design software, to start from scratch. With MachineBuilder, you can build manufacturing equipment in just a few hours by dragging and dropping modular automation components onto your design, just like with LEGOs. These components are pre-tested for compatibility, allowing for real-time pricing, part recommendations, assembly-time estimates, and more. This ensures a simple, yet precise design experience that enables true plug & play automation.
If you need assistance throughout the process, Vention's dedicated Application Engineering team is available to offer support, answer questions, and give design tips. The best part is that you can use MachineBuilder directly from your web browser for free.

2) Automate with MachineLogic
Once you've completed your design in MachineBuilder, navigate one tab over to MachineLogic. In Vention's no-code/low-code programming environment, you can create powerful automation sequences directly in your web browser. MachineLogic is fully integrated within the 3D environment of MachineBuilder, allowing you to easily alternate between your machine's mechanical design and its programming to implement changes and measure their impact. Throughout the MAP process, you can use different CAD files or programming languages, making the platform a go-to solution for advanced programmers who want a more efficient way to automate.
Before ordering your machine, validate your programming through simulation to ensure there are no incompatibility risks. Once your programming is validated, the simulation and system configuration are shared to your MachineMotion controller through the cloud. This ensures a seamless transition from design to production, so you can be confident in the performance of your automated system.

3) Order with MachinePortal
After validating your simulation, your machine is ready to be ordered. Using data from your 3D design and user accounts, downloadable invoices, bill of materials, resources, and purchase orders are created in MachinePortal and are easily sharable.
Within MachinePortal, buyers, who may not have played a role in designing the equipment, can access the design and process the transaction online. Several shipping services are available, from standard delivery to next-day shipping, significantly shortening the procurement and delivery time. As on most e-commerce sites, order preparation and delivery status can be tracked by any user in real-time.

4) Deploy with MachineCloud
Once your machine is delivered and assembled, push the validated programming from the cloud to your MachineMotion controller to begin the deployment process. Traditionally, deploying automated equipment is a time-consuming and complicated process where unresolved compatibility issues, leap-of-faith design choices, and overlooked laws of physics typically reveal themselves. With the smart design tools of MachineBuilder and the simulation validation of MachineLogic, these issues are largely eliminated.
MachineCloud is a unique deployment solution that enables users to deploy automation from the cloud to the factory floor in minutes. It uses software-assisted, step-by-step deployment instructions derived from a digital twin to ensure successful deployment. MachineCloud also includes remote machine monitoring and continuous development to drive machine productivity.
When you need to re-deploy your machine, simply modify your automation sequences in MachineLogic and push deployment through MachineCloud. This makes for the most simplified deployment and re-deployment solution on the market so you can begin automating sooner.

Four Products, One Platform: A Solution for Every Manufacturer
With these four automation stages contained within a single, easy-to-use platform, manufacturing professionals are empowered to drive industrial automation projects forward. With the do-it-yourself capabilities MAP provides, manufacturers can reduce labor costs and shorten project timelines so that you can automate 3x faster and with up to 40% less cost.
For small-to-medium, high-mix manufacturers looking to profitably automate, MAP makes it a reality. For large, high-throughput manufacturers looking to add flexibility and scalability to their automation processes, MAP is a solution that evolves alongside you.
Experience what MAP can do for you. Chat with Vention's team to learn more or start designing today.
Related Product
Introducing the 290mm enclosed timing belt, Vention's smallest linear actuator yet, designed to tackle applications that require smaller strokes and for those who don't have room for larger actuators. Now from 290mm to 3330mm, discover their full range of timing belt actuators.