Introducing ActiNav from Universal Robots – Next Generation Machine Loading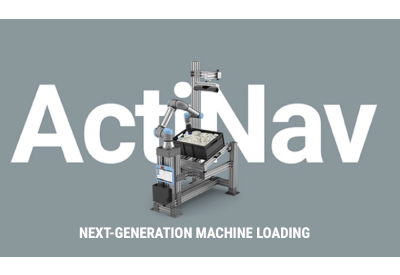 March 17, 2022
ActiNav™ combines intelligent vision, real-time autonomous motion control and Universal Robots' world-leading cobots to deliver the core of a machine loading system. Whether used for simple bin picking tasks or more complex machine tending applications, ActiNav delivers a solution that's precise, consistent, intuitive and more agile than ever before.
Plan, pick and place parts with some of the highest accuracy, without collisions and without the need to stop – optimizing machine uptime and boosting productivity.
"The biggest advantage to ActiNav is that it can take randomization of parts being dumped in a bin, and as the bin gets low, a person can just come by and dump some more into the bin and it will keep picking parts. It doesn't have to be reset, recalibrated—anything. It notices the bin amount changed and it keeps on going."
With advanced vision and motion control, ActiNav's highly pre-integrated system is a game-changer. It addresses three big challenges: working with different objects, achieving consistency and precision.
Our team of experts will work with you to assess your part and applications' compatibility with ActiNav. Get in touch with our team today to ensure your automation needs will be met.
Talk to an automation professional by clicking here
Learn more about ActiNav here