Picomag: Simple, Pocket-Sized, Plug-and-Play Flow Measurement Ready for Industry 4.0
April 26, 2023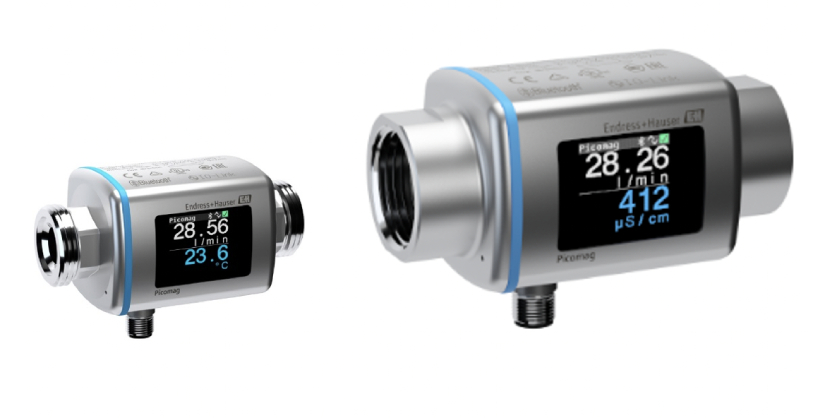 In industrial process measurement and automation, there is a growing demand for simple, reliable and maintenance-free measuring instruments in a pocket-sized format like Picomag from Endress+Hauser. Picomag is the uncompromising choice for measuring the flow of electrically conductive fluids, their process temperature and conductivity. It offers easy commissioning with Bluetooth using its free SmartBlue App, as well as seam­less system integration thanks to on-board IO-Link connectivity, so it's Industry 4.0 ready.
Picomag is ideal for quantity measurement or process monitoring of cooling, warm or process water: Due to its compact design, it can be installed flawlessly into any pipe up to 50 mm in diameter, even in confined spaces. It's now available with integrated NPT connectivity or can be ordered with a G thread connection. Various process connection adapters are available, such as R-thread, internal thread, Tri-Clamp or Victaulic. Picomag is a cost-optimized solution for applications where the focus is on high repeatability (±0.1% o.f.s.) – like correctly measuring water flows (with NSF 61 Drinking Water Approval) or for minimizing energy costs in utility applications.
Picomag is robust, boasting stainless steel housing. It's suitable for process temperatures between –10 to (temporarily) +85 °C (14 to 185 °F) as well as for process pressures up to 16 bar (232 psi). It requires no inlet and outlet runs and thus can be mounted directly before or after a pipe bend.
The device's large and user-friendly display allows for quick, easy reading of flow, temperature, conductivity and totalizer values. Errors occurring during operations, eg. a partial pipe filling or an exceeded temperature limit, are displayed via diagnostic symbols in accordance with NAMUR recommendation NE107. With Bluetooth connection, it is possible to carry out wireless configuration or data retrieval over a distance of 10 meters – even at installation sites which are difficult to access.
The free SmartBlue App from Endress+Hauser provides fast navigation through all device and diagnostic functions. Device configurations can be saved to upload to another Picomag device, saving time when commissioning. For archiving purposes, device configurations can be exported as a PDF file and stored on or forwarded to a mobile device.
Digital data transmission to process control systems via IO-Link technology is compatible with all fieldbus systems and offers maximum flexibility of installation into existing system infrastructures so comprehensive data can be accessed through the control room.
More Information
Picomag electromagnetic flowmeter
Related Product
4-tube technology increases measurement accuracy for loading, unloading, and transporting hydrocarbons in the oil and gas industry, and optimizes the flowmeter line for additional applications.
Globally, over 90 million barrels of crude oil, natural gas, and refined hydrocarbons are produced, transported, stored, and sold to end users every day. With enormous transactions like these, any instrument inaccuracy, even the most infinitesimal, can result in significant shortfalls for the supplier or buyer. Promass Q, a high-tech Coriolis flowmeter line from Endress+Hauser, alleviates concerns of inaccuracies with its revolutionary 4-tube technology, while measuring with minimal pressure loss over a wide range of flow rates.