Pizzato: Y-Shaped M12 Connector Without Cables for Series Connections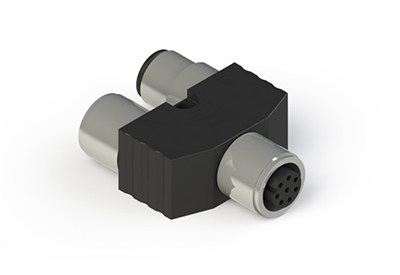 March 4, 2021
The wiring accessories now include a new one- or two-way connector without cables, item code VF CY203P0, which can be used for connecting multiple devices in series.
The adaptor consists of a sturdy polyurethane body housing an M12 female 8-pin connector on the device side and two M12 male and female 5-pin connectors on the wiring side, which can be used to derive the power supply and the safety inputs/outputs on the various devices of the series.
The new connector helps to achieve extremely compact wiring, a much-appreciated feature in all applications in which there is limited space in the cable trays and junction boxes.
The new compact 3-way connector for series connections adds to the Y-shaped M12 connector with 150 mm-long cables, item code VF CY201P0, which remains available in the catalogue for all wiring requirements.
The advantages:
– sturdy polyurethane body;
– suitable for connecting up to 32 devices in series;
– compact wiring dimensions;
– compatible with the anti-tampering protection devices of the VF PC series.