The New Festo Solution for DeltaV DCS Expands Integration Options and Productivity
Simple commissioning enables system integrators to incorporate a Festo pilot valve manifold and I/O into a DeltaV platform
April 19, 2023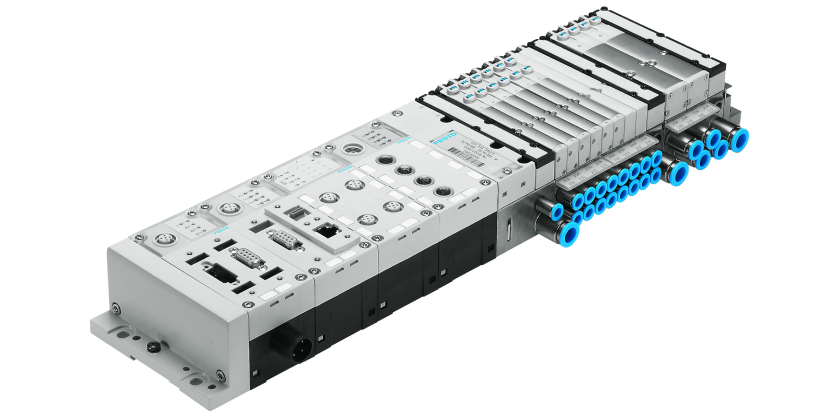 At Interphex 2023, Festo demonstrates export of CPX valve manifold configuration to Emerson DeltaV DCS systems for fast, simple, and effective programming, commissioning, and validation of Festo-based pneumatics for skids and machines. (April 25-27, Javits Center, New York City, Festo Booth #1437).
This first-of-its-kind third-party commissioning solution, Festo claims, brings one of the world's most versatile valve manifold control platforms, CPX, to the DeltaV DCS ecosystem. Fast commissioning enables system integrators to speed up time to market, lower engineering overhead, and design new, innovative, and unique distributed control solutions. Simple CPX configuration commissioning is available for the Rockwell ecosystem as well.The CPX electric terminal is a modular peripheral system for valve terminals. System integrators and original equipment manufacturers (OEMs) adapt CPX to a wide range of applications. The modular design of the CPX enables a virtually endless range of pneumatic system configurations.
Engineers use the CPX Festo Maintenance Tool to build the pneumatic system configuration manually or read it online from the CPX terminal. Using imported configuration files from the CPX, the DeltaV DCS seamlessly commissions Festo-based pneumatics. Festo designed the export/import and commissioning process to be as efficient as, and offer similar capabilities to, the Emerson CHARMS I/O interfacing process. The export integrates directly with the hardware and software paths of the DeltaV environment. It facilitates error handling and custom tag names in DeltaV. Dynamos are created for the operator interface to clear alarms from CPX modules. The new commissioning capability is compatible with Ethernet I/P and Profibus communication protocols.
In other Interphex news
Festo brings to Interphex its new trade show booth. This open, inviting exhibit facilitates discussion on such topics as current industry trends, Festo development projects, improving systems with new Festo solutions, and solving design and supply chain challenges. Baristas serve hot beverages in a comfortable conference area of the booth.
Utilizing 3D printing technology, Festo shows rapid prototyping of a facsimile of a control panel complete with models of mount components. Rapid production of three-dimensional physical models streamlines the control panel design process and helps in the development of a layout that minimizes footprint and wiring and simplifies assembly.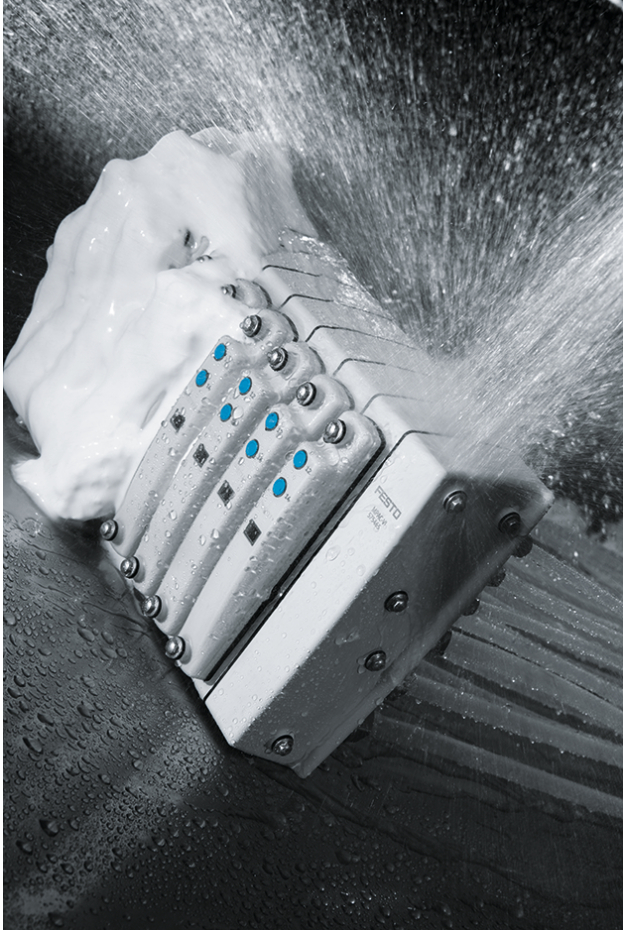 Festo I/O systems, including the new CPX-AP-I decentralized I/O, are featured at Interphex. CPX-AP-I decentralized I/O makes it easier and faster to add sensors and bring valves closer to actuators for precision control and quick response.
Festo shows for the first time at Interphex input/output blocks for its next generation valve manifold control platforms CPX-AP-A. CPX-AP-A is a modular and lightweight IO system with IP65/IP67 protection. CPX-AP-A has a real-time internal transmission rate of 200 Mbps full duplex. It features an IO-Link master with a data storage mechanism, including a device parameterization tool. One CPX-AP-A can have up to 15 modules in its chassis, plus extend to scores more via an external AP bus connection. This hybrid system can accommodate both local and decentralized I/O processing with one IP address, which is unique in the industry.
Festo showcases IP65-, IP67-, and IP69-rated components, such as the industry leading IP69k-rated MPA-C valve terminal. Mounting rugged, high-quality Festo automation components, such as the MPA-C, on a machine or skid not only lowers wiring and panel building costs but also brings control closer to the process for increased performance and a cleaner, more streamlined OEM solution. MPA-C valve terminals are available for all process applications, as are Festo's full range of manual and pneumatically actuated butterfly valves and automated ball, angle seat, and pinch valves. The KVZB ball-valve configurator and associated Festo configuration tools simplify and speed up ball-valve assembly selection and ordering.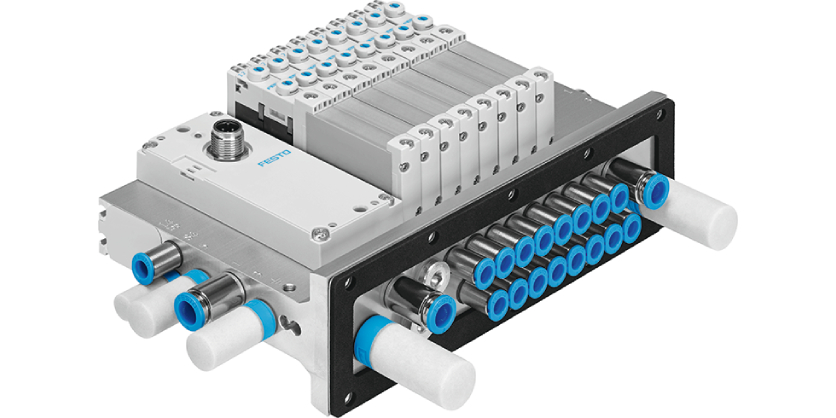 The Festo universal valve terminal VTUG is now UL-HazLoc Class 1 Div. 2 certified. The VTUG is the only valve terminal with Ethernet I/P and other fieldbus protocols to operate in a Class 1 Div. 2 environment as a stand-alone assembly and can be commissioned into DeltaV and Rockwell systems. Additionally, VTUG-VI-EX2E, the terminal variant, is IECEX Zone 2/22 and CCC-EX Zone 2/22 certified for European hazardous locations.
Festo shows the new DHOP closed-loop pipette head for high-speed robotic pipetting applications requiring consistent volumes over a wide range of liquid viscosities. The DHOP pipette head provides the utmost in automation flexibility, speed, and feedback when devices handle many liquids. The new EXCL, a multi-axis gantry kit, lowers acquisition, engineering, and assembly costs for automated sample handling and liquid dispensing in laboratory devices.
Festo biotech, pharmaceuticals, and cosmetics automation conform to the highest standards of quality and performance.
More Information
Related Product
Festo introduces the company's latest online productivity tool – Electric Motion Sizing – for error-free sizing of linear and rotary electromechanical systems. Electric Motion Sizing improves project efficiency by slashing the engineering time required for identifying and specifying harmonized electric motion systems. Multi-axis handling systems can be specified with Electric Motion Sizing's sister productivity tool Handling Guide Online, which offers similar benefits.
Festo developed Electric Motion Sizing because it recognizes that machine builders need solutions that help bring products to market faster with less engineering and purchasing overhead. Electric Motion Sizing compresses hours of toil down to minutes.