New Festo CMMT MP Multi-Protocol Servo Drives Provide OEMs with Productivity, Cost Advantages
September 6, 2023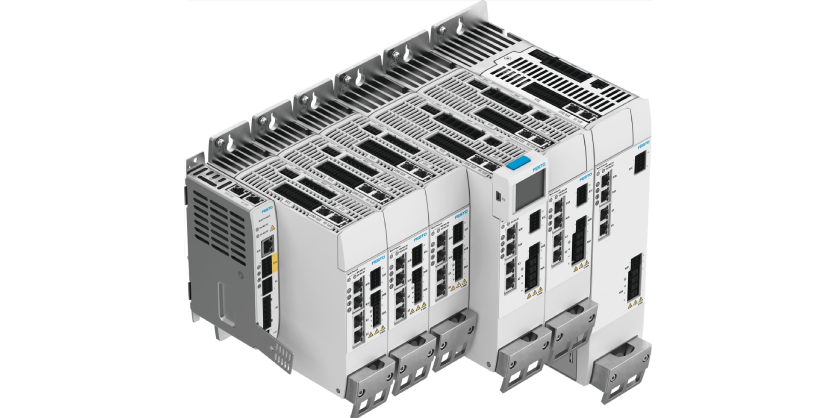 New Festo CMMT MP Multi-Protocol Servo Drives
Festo introduces the CMMT MP multi-protocol servo drive. Every drive in this family is configurable for EtherNet/IP, EtherCAT, PROFINET and Modbus TCP.
With CMMT MP, machine builders supporting multiple communications protocols can reduce their own servo-drive inventories. A unified drive family improves engineering productivity through familiarity with a single platform, simplifies technical support, and accesses a robust supply chain for competitively priced servo drives. Festo showed the benefits of the multi-protocol approach by reducing its own part numbers from 24 to eight.
With CMMT MP drives, engineers can choose the appropriate protocol for their network directly on the unit or by logging in using the free, downloadable Festo Automation Suite commissioning software, then selecting the bus protocol of choice from a drop-down menu.
The Festo CMMT multi-protocol family includes CMMT-ST-MP compact DC servo drives. These drives are rated up to 300 W and are popular with builders that require a small, high quality, readily available drive. CMMT-AS-MP compact AC servo drives are rated up to 6 KW. Remarkably small 9- and 12-KW CMMT-AS-MP units are slated for sale later this year.
Festo's development of CMMT multi-protocol drives presented the company with the opportunity to update internal electronics of CMMT units with the latest components. These components are easier to obtain than older ones and help to shorten supply-chain turnaround times while improving performance and reliability. Reducing the number of CMMT part numbers to eight strengthens Festo's ability to support servo drive customers while simplifying its own manufacturing and parts procurement.
Machine builders have welcomed this move as servo drives across the industry remain in short supply and have long lead times.
OEMs consolidating on CMMT MP drives gain the ability to cost effectively and more efficiently support their current and future customers as the North American market becomes more diversified in its applications of EtherNet/IP, EtherCAT, PROFINET, and Modbus TCP.
Machine builders also find that procurement and engineering productivity go up with one all-inclusive family of servo drives and the advantages of Festo's one-stop shop for motors, drives, actuators, and accessories. Plus, once engineers learn to configure one of these drives, they know how to configure them all.
CMMT MP drives are backwards compatible with single-protocol CMMT drives, including identical cabling and mounting.
More Information
For more information on CMMT MP drives and the advantages of working within the Festo ecosystem ‒ the ecosystem that leads to less engineering overhead, faster time to market, and seamless connectivity ‒ visit festo.com.
Related Story
When a Tier 1 Automotive Supplier in Ontario wanted to manufacture shock absorbers for a leading auto maker, they used Festo's Electric Motion Sizing software to help them get the job done right. And in record time.
To compete in the automotive industry, Tier 1 suppliers need technical and efficient solutions as quickly as possible, and with the least amount of effort. Festo knows this industry and has a cross-technology solution portfolio to support it. This article looks at their Electric Motion Sizing (EMS) tool, which helps customers find a perfectly dimensioned combination of electric or eletromechanic drive components based on their application needs. After entering only a small set of parameters, the tool will recommend the best product combinations out of several million combinations within seconds.