New CRX Cobots from FANUC: They're Here! – More Payloads, More Reach Options Available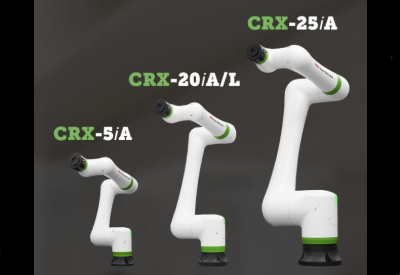 March 2, 2022
Most cobots have a lightweight and compact design – but the FANUC CRX cobots offer so much more including industrial ruggedness and no maintenance for up to eight years. In addition, interactive programming enables users to teach points using hand guidance or a tablet interface with drag and drop icons. The series supports several of FANUC's advanced features including iRVision®, and is a perfect fit for any company looking to achieve higher efficiencies – even those that have yet to use their first robot.
The CRX series of collaborative robots is the perfect solution for manufacturers with little to no robotic experience. The CRX series offers an all-new FANUC programming interface with simple drag and drop technology on a touchscreen pendant. The ease of programming paired with FANUC's world-renowned technology, proven reliability, and sensitive contact detection allows the CRX Cobots to work safely alongside people in a variety of industrial and manufacturing jobs.
The latest additions to the CRX family of Collaborative Robots includes the:
CRX-5iAwith a 5kg payload
CRX-20iA/Lwith a 20kg payload
CRX-25iAwith a 25kg payload
All follow the CRX-10iAand CRX-10iA/L,Cobot models – both with a 10kg payload.
FANUC's CRX Cobots are safe, easy-to-use, reliable, and a versatile solution for a wide range of applications, including inspection, machine load/unload, packing, palletizing, sanding, welding, and more. The CRX Cobots can detect external forces in the workspace, stopping safely when making contact with a person or object. This technology allows the CRX to work safely alongside people without the need for expensive guarding.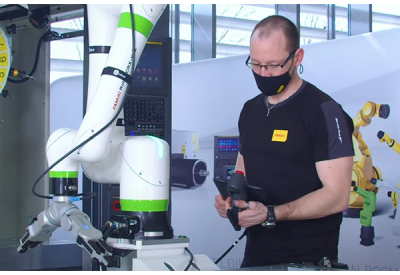 Features and Benefits:
Easy Installation
•Lightweight and compact design allow for easy integration into any work area or existing system.
•Easy to install without the use of a crane or lifting equipment.
•CRX uses FANUC's latest compact R-30iB Mini Plus Controller for even more space savings.
•Runs on standard 120V power.
New Easy Programming
•Easily program and teach points on your new CRX Cobot using all-new lead-through programming features and a new teach pendant user interface with simple drag and drop programming.
•With the new FANUC CRX e-Learning videos, you can learn just how easy it is to get started with the CRX. Register today and watch the free online CRX training videos that demonstrate the ease of use and simple set-up. Designed to get your production up and running in no time.
CRX Devices
•Connecting or switching out peripherals is easy with a wide selection of FANUC approved devices.
•Two connection ports on the J6 axis offer quick connections and interchangeability for end of arm tooling (EOAT), such as grippers and cameras.
•FANUC intelligent features allow for easy connection to force sensors, iRVision, and more.

Ready to schedule a CRX Cobot demo or request a quote? Click here
To learn more about the new CRX Cobots from FANUC, click here