Blind Bin Picking with GripperAI
GripperAI from Festo for robotics solutions from IBK
April 20, 2023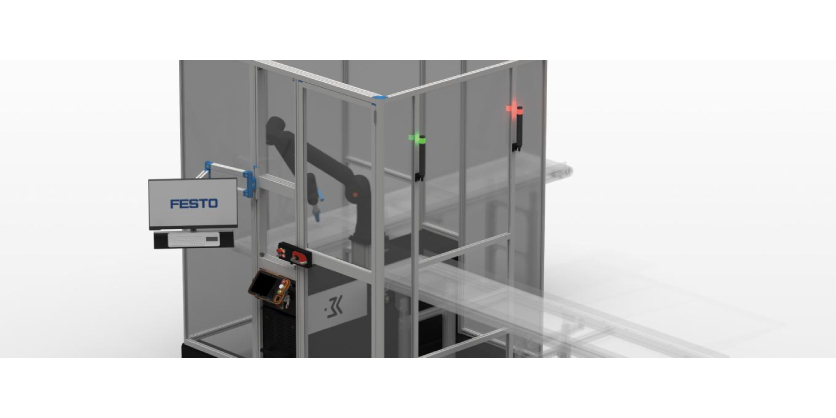 The software GripperAI from Festo enables "blind bin picking" and thus autonomous handling solutions with almost any robot, cobot or Cartesian gantry. The company ibk Ingenieur Consult GmbH is offering an online configurable robot cell as an entry-level model. This could become the patent solution for many gripping tasks, including customised designs and integration services.
Which user of robot, cobot or Cartesian gantries doesn't dream of being able to recognise and grip unfamiliar objects or objects that have not been taught in, including automatic gripper changes. The GripperAI from Festo might just make this dream come true in the not too distant future. With conventional solutions, you either have to teach in using CAD or manually teach in the robot's movements.uding customised designs and integration services.
Partnership promotes productivity
Festo and ibk are now expanding their partnership and entering the market with a joint robotics solution for machine and system builders as well as system and factory operators. The aim of the partnership is to enable different product variants to be produced in an automated, flexible and more cost-efficient way. In addition, it will also offer comprehensive solutions for typical picking tasks in logistics.
Shorter product life cycles require flexible machine and system concepts. Due to staff shortages, there is a demand for automated, but also flexible, preferably self-learning automation solutions for manufacturing and logistics. This is the only way to reduce business and operational risks during investment and operation. Festo and ibk support the development of flexible and adaptive production processes, realised with an innovative AI algorithm for gripping any parts.
"With GripperAI, we are releasing the first robotics skill or capability for autonomous systems. But we are already working on other challenges, such as dynamic movement planning and the optimal packing of boxes. They will expand our portfolio over the coming years," says Dr Jan Seyler, Head of Advanced Analytics at Festo.

Dr Jan Seyler, Head of Advanced Analytics at Festo
Completely autonomous learning process
The Festo GripperAI works with any robot, cobot or handling system with path interpolation. Unlike many existing solutions, the Festo GripperAI is actually an autonomous solution. The vision systems or robots from many manufacturers learn based on images/CAD or robots are manually taught in through continuous "practice" of a movement or image recognition and gripping point calculation. The Festo GripperAI, on the other hand, follows a completely autonomous learning process and enables genuine "blind bin picking" for any parts. This even works with simple and inexpensive 3D cameras.
Pre-trained skills (capability) to select parallel or vacuum grippers are available and are adapted or further developed according to customer requirements. These skills are offered as a set within the GripperAI suite, as well as individually or modularly. Users thus only pay for what they really need.
"With the Festo Grasping Dataset, we focused on being able to generalise our AI capabilities right from the very beginning. This modular and highly innovative product is proof that we have succeeded in doing this," emphasises Michael Sinsbeck, who is largely responsible for training the GripperAI in Festo Research.
Flexible in every way
If the application requires a lot of flexibility for changing several tools, the tool change can be triggered via the Festo GripperAI. In future, new functions such as positioning and feeding can be realised by the module. Its implementation is flexible and can be done on the gripper/tool itself, for example via RaspberryPI, on a PC on the robot or in the camera, or a cloud connection can be established.
The pricing model also offers considerable flexibility. While it is possible to make a one-off purchase of the complete GripperAI suite, it is recommend to get one licence per required skill with annual renewal and update service. A pay-per-use approach is in preparation, for example via BlockChain technologies. With system integrators such as ibk IngenieurConsult GmbH, the integration service on the robot and the customer-specific adaptation are offered as a solution package.
"The advantage for us of working together with ibk is that complete robot and automation cells can be selected and ordered in the online shop, and at a fixed price. This creates a low-threshold offer for many target groups, from laboratory automation to SMEs and logistics to the automotive industry," says Eberhard Klotz, Global Sales Director for Industry 4.0/Digitalisation at Festo.

Eberhard Klotz, Global Sales Director for Industry 4.0/Digitalisation at Festo
Michael Becker, Sales Manager at ibk IngenieurConsult GmbH adds: "The innovative technologies from Festo such as this GripperAI are a milestone for us since they enable us to position ourselves at the forefront of the market and offer further unique added value."
More Information
Related Story
Digitalization is changing the way people learn, and not just because in-person learning became so difficult with pandemic lockdowns. Trends such as mobile, micro, adaptive, and virtual reality learning were already beginning to exert an influence in technical education and training. To further these and other trends, Festo Didactic developed a digital learning portal – the Festo Learning Experience, or Festo LX – to make it easier to create individual learning experiences for trainers and trainees.
The premise in launching the portal is that in today's industrial world, the knowledge and skills acquired to launch one's career will not be enough. New technologies will emerge, changing job requirements and challenging employees and managers to keep current.