The World's First: Charging Sockets with LED Indicators and Temperature Measurement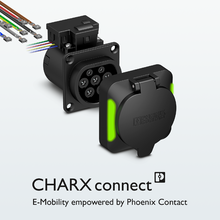 Aug 6, 2021
The new generation of type-2 CHARX connect charging sockets from Phoenix Contact offers AC home charger and charging station manufacturers and users simplified installation and maintenance, enhanced safety and intuitive operation.
With the premium version, you receive the first type-2 charging socket in the world with integrated, precise temperature sensors. It enhances charging process safety by interrupting the charging process if there is overheating, thus protecting users against danger and their charging station against damage.
Another new feature is the colored LED indicator integrated into the protective cover, which allows users to determine charging point status intuitively at a glance. The LEDs are freely controlled by the charging controller via pulse width modulation (PWM). Glowing, flashing, and pulsating in all RGB colors are possible. With this feature, you can configure individual signaling for each status of your charging point in your corporate design colors.
Alongside the premium charging socket, you can also order a basic version without an LED indicator and temperature sensors. Both versions have a modular system design consisting of the charging socket, protective cover, and plug-in connecting cables. As a charging infrastructure manufacturer, this gives you maximum flexibility when installing your charging points. And it makes charging socket replacement during maintenance work much easier. You can order charging sockets and protective covers individually or as a set. The charging sockets are available with three or four-position locking actuators.
The maximum charging power is defined by the choice of the harness (available separately), which significantly reduces the number of different charging socket versions and reduces your inventory costs in turn. You can order the cable sets in three performance classes (7 kW, 11 kW, and 22 kW) and in two lengths (30 cm and 70 cm).
View the complete product list, here www.phoenixcontact.com/