Seven Remote Access Problems That You Can Solve with Omron's New IoT Gateway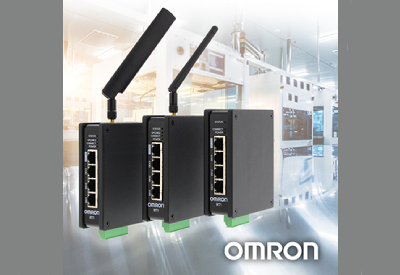 August 4, 2022
As machines become more connected, the need to service equipment remotely is escalating. Production is often running 24/7 and manufacturers expect immediate action from machine specialists. Not having a remote solution creates challenges like high travel costs, whereas some remote solutions cause a loss of data control and increase vulnerability.
Omron's secure remote access IoT gateway is one of the most advanced, turnkey solutions you will find on the market today, and it addresses multiple weak spots in competing solutions Omron looks at some of the concerns that this technology can help.
1. Security is essential for PLCs, controllers, and other remote network devices.
Having secure communications is paramount, but many remote access solutions available to manufacturers do not support the latest safeguards.
Our solution offers an AES 256 bit-encrypted tunnel based on TLS that's audited by ProtectEM based on JIST SP800, ISECOM OSSTAM, BSI, ISA99, and IEC62443. This ensures secure remote access to the PLC, controllers, and other network devices.
2. Covering travel and lodging for technical support personnel gets expensive.
Even in the best of times, flying an experienced technical support person out to work on your machine is costly, and these days it's even harder due to pandemic-induced travel restrictions.
By using remote access, you can minimize your expenses while still maintaining a high level of support. Omron's remote access solution provides secure, VPN-like access to devices that's almost no different from a local device connection.
3. Support personnel often need access to your equipment to execute warranty or contracted service agreements.
In many cases, warranty and contracted service agreements can get in the way of the smooth handling of remote troubleshooting needs.
Fortunately, Omron's secure remote access gateway makes it possible to manage these agreements without limiting service. This is because the solution's VPN-like access makes it unnecessary for the customer to be present at the local machine, as is typically the case with other remote solutions.
4. Third-party agreements can result in a loss of data control.
For many manufacturers, having complete control over their data is extremely important.
Omron's remote access solution assuages these concerns because we own the server that's managed by a secure third party. This server provides LDAP/AD integration, a custom look, advanced parameters, and a custom DNS.
5. Programming and configuration software often needs to be loaded onto the local machine for remote access.
In addition to warranty and contracted service agreements, another thing that often stands in the way of seamless remote troubleshooting is the need to install programming and configuration software.
Again, our VPN-like remote access solution comes to the rescue here. All programing and configuration software is on the remote terminal, so support personnel can employ custom software tools that aren't available to the customer.
6. Mobile access to devices isn't always an option in remote access.
Some remote access solutions don't have the built-in option to use the program on the types of mobile devices that are becoming increasingly prevalent on the factory floor.
Omron's Mobile tool lets mobile devices log into local machines to view machine status. This solution simplifies remote troubleshooting needs with the option to use RDP, VNC, Web, or in-browser VNC.
7. There might not be a LAN available for remote equipment.
If there's no LAN available in your facility, you'll need another way to get remote access. Fortunately, Omron's remote access solution provides 4G cellular and WiFi-based units that enable remote access wherever there's cellular or WiFi service.
Check out the IoT gateway product page by clicking here