Safe Batteries for Electric Vehicles
Automated testing of battery modules
July 19, 2023
The success and reputation of electric vehicle manufacturers depend on the safe and flawless functioning of batteries. HAHN Automation Group has therefore developed a battery tester that carries out a complete test of the mobile energy storage units fully automatically. A 3-axis gantry for optical and leak tests, consisting of electric drives from Festo, takes centre stage.
The HAHN Battery EOLT is a complete solution for testing battery packs. All relevant test scenarios for 90% of all battery packs available on the market can be implemented on the end-of-line test system because the system can be easily scaled to many sizes. HAHN Automation Group offers everything from a single source: from power electronics and test equipment to test software and automation. "Thanks to its vast expertise in testing technology, the company helps define the best test strategies to optimise cycle times and ensure the targeted product quality," says Christian Bubat, Global Business Development Manager at HAHN Automation Group. The company worked with the "Production Engineering of E-Mobility Components" (PEM) chair at RWTH Aachen University on the development.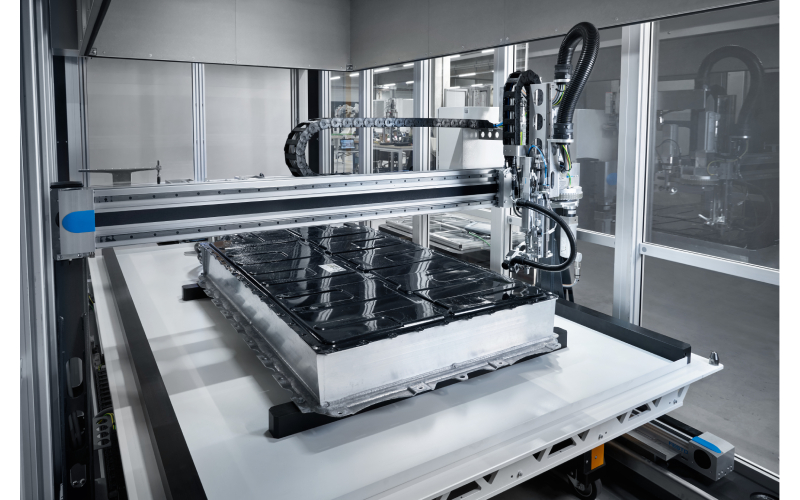 Playing it safe
"A newly developed fire protection and safety concept for the EOLT battery tester ensures that, if there is a fire, it is reliably detected," adds Martin Sulzbacher, Head of R&D at HAHN Automation Group. In such a case, the battery is sealed fully automatically to contain the fire and then also transported fully automatically to a safe area. Smoke filters prevent contamination of the environment. "Fires in battery factories have sometimes led to a two-week production stop because the halls had to be extensively cleaned and decontaminated due to the toxic fumes," Sulzbacher continues.

Martin Sulzbacher, Head of R&D at HAHN Automation Group
That's it for the safety concept. But how does a battery test work? "We wouldn't be HAHN Automation Group if we left no stone unturned in automating every step of the process," Bubat continues. The first step is to drive a battery pack with a self-propelled AGV into the battery tester. The battery pack is contacted with plugs via a standardised coupling that was developed in-house, while being charged and discharged again. A high-voltage test completes the electrical test routine. To test the leak-tightness of a battery pack, it is filled with helium.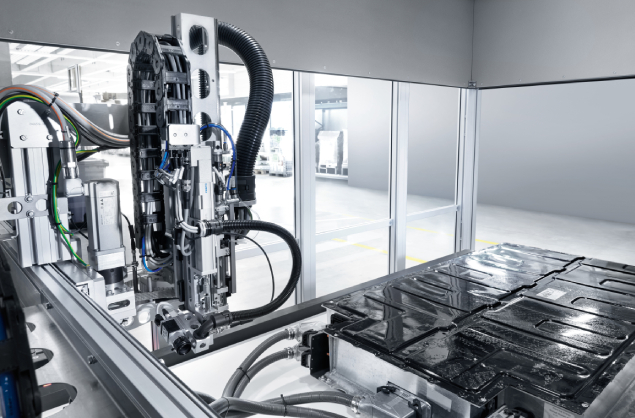 A helium sniffing lance for leak testing and a camera for optical testing are attached to the 3-axis gantry EGC electric drives from Festo. The axes are actuated by motors EMMT-AS and controlled by controllers CMMT-AS from Festo. This means that the drive and control package are perfectly matched.
Precise testing
The axis gantry moves and positions these two sensors along all edges of the battery pack in order to detect any leaks from the battery housing and cooling unit. The camera checks that all plates and stickers are fitted correctly and that the battery pack is processed properly, and detects any mechanical damage. A battery management system test checks the communication and evaluates the sensors.
"As the individual process steps show, we look at the topic of battery testing from the perspective of automation. The battery tester combines several tests and could be in operation for 24 hours in three shifts," explains Bubat. It is therefore important that HAHN Automation Group can also work with reliable automation partners and suppliers who understand the tasks and goals of HAHN Automation Group.

Christian Bubat, Global Business Development Manager at HAHN Automation Group.  
Fast design and simulation
"As in many previous automation projects, it has been proven that Festo is the right, globally reliable partner in electric and pneumatic automation technology," adds Head of Development Sulzbacher. The partnership with Festo starts as early as the design and product selection: "Easy-to-use design and simulation tools make our work easier," he continues. Thanks to the long-standing partnership, they have been familiar with Festo's automation products for a long time and can use them in a precise and specific way. With online product finders, intelligent engineering software and the engineering tools, HAHN Automation Group designers can find the right products for the development of new machines and systems reliably, quickly and without time-consuming calculations.
About HAHN Automation Group:
HAHN Automation Group offers manufacturing companies turnkey automation and robotics solutions for a high-tech production environment. Thanks to modular concepts, the systems can be optimally designed in line with the customer's production conditions and the required degree of automation can thus be achieved. In addition to assembly solutions, HAHN Automation offers a wide range of test systems both as integrated and stand-alone solutions. The portfolio ranges from end-of-line testers to dynamic test systems and multi-sensor tests.
Related Story
When a customer decides they want to implement a cartesian robot for their application, where do they get started? They turn to experts in the industry, like Festo, who has decades of experience in process automation and technology. They are also global leaders in learning systems, training, and consulting. This makes them poised to provide customers with products and solutions that meet their requirements. Festo's Handling Guide Online, or HGO is an engineering tool that makes it easy to design, configure, and order a handling system. 
Mechatronics Canada recently had the opportunity to discuss the Handling Guide Online with Eric Rice, Product Market Manager – Electric Automation at Festo. Mr. Rice has over two decades of experience with motion control products and solutions and he answered some questions about Festo's HGO.