Nexii: Leveraging the EPD Process to Drive Decarbonization
October 27, 2023
In Nexii's previous blog, they covered what Environmental Product Declarations (EPDs) are and why they matter. In this post, they dive into Nexii's own EPD journey, some of the hurdles they faced, and opportunities to improve accessibility across the construction industry.
Data Collection – Beyond the Bare Minimum
Nexii has, from the outset, had a strong focus on gathering accurate and granular data on their product, facilities, operations, and impact. Even so, for start-up or scale-up companies, developing critically-reviewed EPDs with all requirements met can be challenging.
First, EPDs require a full year of data to be included in Life Cycle Assessment (LCA) models, where most start-ups take 3-5 years to fully ramp up production. Given this, Nexii opted to pursue a Design EPD that can be later updated with full-capacity manufacturing data.
In addition, EPDs can contain varying levels of specificity and detail of data, ranging from industry average or modeled data, to facility-specific tracked and measured data. While the use of industry average EPDs can be helpful for indicative or high-level insights, such aggregated declarations prevent the specificity required to hold individual manufacturers accountable for their emissions and tracked performance. In many cases, using industry average data, or data spanning multiple manufacturing locations, can result in inaccurate or more favourable results.
Nexii has focused on aligning with EPD best practices, including prioritizing gathering facility-specific utility, shipping, and waste data along with supplier-provided inputs for material inputs. Only where data is missing are inputs bridged by including industry average data, instead of measured or manufacturer-specific data.
Lastly, for manufacturers of novel or innovative materials, additional effort is needed to capture the impact of these materials in an EPD, as new materials don't have default values within LCA databases. Nexii has invested in an in-depth LCA of their proprietary material, Nexiite, to capture the carbon benefits of their alternative concrete product which added to the time and cost of the overall EPD process.
Ensuring EPD Comparability
Challenges exist in comparing EPD product categories and associated rules (PCRs), differing EPD boundaries (A1-A3 versus A-C), and treatment of construction waste and design for reuse, typically outside of conventional accounting. The result is that EPDs are used to compare products and building assemblies, however, GWP results alone may not show the full picture.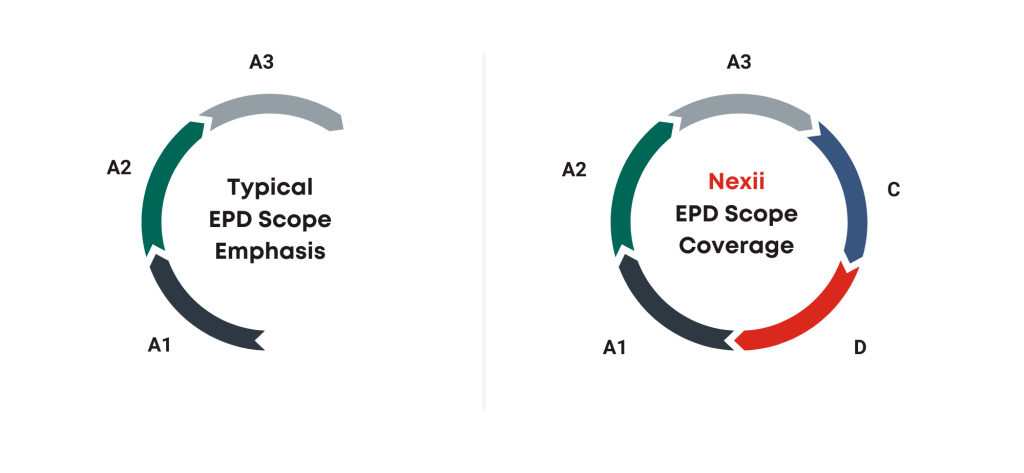 Nexii's EPDs are for prefabricated, composite products, while many EPDs cover singular construction materials or products, assembled in the field.
Nexii's panels include moisture control, vapor control, thermal control, structural, and interior/exterior finishing elements. Conventional building envelope assemblies usually have separate products for each of these functions, installed on site one-at-a-time. This presents a challenge when using EPDs to compare Nexii products against competitors or a conventional construction baseline.
Further, because NExii's products are prefabricated and require a fraction of the assembly time on-site, the waste and energy usage typically associated with construction (rarely tracked or measured) shifts from the building assembly stage to the product manufacturing stage. Accounting for this additional impact upfront can result in penalizing prefab products when compared to conventional construction practices that don't typically report on-site impacts.
Finally, EPDs typically include a reference service life of a product, as well as a study period (typically the lifespan of a building). Both factors should be considered when global warming potential (GWP) values from EPDs are being assessed. A product that is designed to last the lifespan of a building, and a possible second life thereafter, is not equivalent to a product that requires several replacements over a building lifespan. This detail is easy to miss when looking at side-by-side comparisons of results.
In order to build out an accurate comparison, Nexii works with their clients to ensure that the baseline designs reflect the functionally equivalent components of a traditional assembly that their product replaces.
Accounting for Construction Product Reuse
A significant hurdle faced while pursuing Nexii;s EPDs was the lack of guidance and resources around circularity and product reuse in North America. Circular building practices, such as design for disassembly, deconstruction, and materials suitable for reuse or second-life are all critical emissions reduction strategies. All of Nexii's products are designed with deconstruction and reuse in mind.
The convention around capturing the benefits of materials designed for reuse within EPDs is not specified in North American standards. Module D, or "benefits and loads beyond the building life cycle" is considered optional and rarely included in EPD or LCA scopes.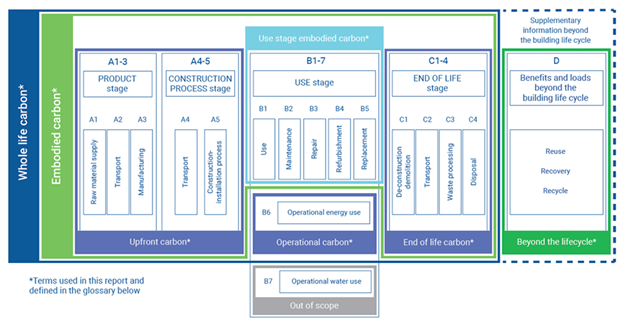 One issue is who claims the benefits of reuse. While benefits are only realized once a product is "put to use" for a second life, incentivizing manufacturers and designers to plan for end-of-life treatment of their products from the outset is key to accelerating circularity. With input from OneClick LCA experts as well as external consultants, Nexii's EPDs quantify the impact of their products with and without reuse, seen in Module D.
Standardizing whole life cycle (A-D) carbon assessments, prioritizing adaptive reuse, and mandating deconstruction (vs demolition) of older buildings as cities in Europe are doing (e.g. London) would help accelerate circular building practices. Agreement around how to account for circularity within EPDs is also a critical advance needed.
Advocating for Improved Accessibility
EPDs offer significant benefits in promoting transparency, sustainability, and informed decision-making to decarbonize the built environment. Securing and working with EPDs remains challenging in practice. The need for accurate data, specialized expertise, resource allocation, and time commitment can all pose barriers to manufacturers, especially for startup companies and SMEs.
Together with Mantle Developments, a Toronto-based embodied carbon consultancy, Nexii recently outlined challenges and recommendations for Canadian Buy Clean and Zero Carbon policy-makers to consider, based on lessons learned from their EPD process.
By addressing these challenges collectively, stakeholders can work towards making EPDs more accessible and encourage their widespread adoption, driving sustainability across industries, and supporting a greener future. Nexii is proud to be advancing clear standards and accountability with embodied carbon and circularity in the construction industry and they invite other manufacturers to join them in driving progress forward!
Authors:
Zosia Brown, PhD, is Nexii's Vice President, Sustainability. Her notable past roles include Head of Sustainability at Woodland Park Zoo in WA, and Associate with BuroHappold. Zosia's PhD in Resource Management Environmental Studies focused on green building performance and post-occupancy evaluation. She brings over 15 years' experience in driving sustainable change and environmental policy in organizations across North America and Europe to Nexii. Zosia's deep and consistent focus on product performance, carbon impact of operations, zero waste and climate resilience are at the heart of Nexii's operations. Together with teams from across the company, Zosia leads Nexii's environment, social and governance (ESG) strategy underpinning their mission to build a vibrant future for people and planet.
Sara Turner is Nexii's Sustainability Manager. Leveraging a strong background in engineering and green building design, Sara works to decarbonize product design and manufacturing. At Nexii, she leads carbon accounting, zero waste projects, and product life-cycle strategy. As a skilled cross-functional collaborator, Sara works closely with Engineering, Architecture, Supply Chain, Manufacturing, and R&D teams to drive sustainability through product design, material selection, facility operations, and corporate strategy. Her keen interest in circularity is reflected in her experience with Design for Reuse, circular business models, and leading zero waste certifications. Sara studied Environmental Engineering at the University of Waterloo.
Related Story
Nexii Building Solutions is a green construction company that is reinventing the way the world builds. It designs and manufactures high-performance green buildings and building products that are sustainable, cost-effective, and climate resilient. In this article, we sit down with Zosia Brown, VP of Sustainability, Nexii Building Solutions, to discuss the company's innovative technologies and how it is breaking new ground and going beyond expectations.