Nexii Publishes Facility-Based EPDs for its Wall and Roof Panels
September 20, 2023
Providing Architects and Developers with verified and transparent data to design sustainable, low carbon buildings
Nexii recently published Environmental Product Declarations (EPDs) for three of our wall and roof panel products. Working with OneClick LCA, global leaders for construction Life Cycle Assessments LCAs and carbon measurement, Nexii's declarations are designed to meet international best practice standards for facility-specific EPDs. In our first of two blogs we provide some background context on EPDs, how they are used in the construction industry and some of the current challenges to overcome.
What's an EPD?
In the simplest terms, Environmental Product Declarations (EPDs) serve as a product's "nutrition label," providing information on its whole life environmental impact. The diagram below highlights different sources of embodied carbon captured in a product EPD across the construction life cycle, from raw material extraction to end-of-life demo and disposal. EPDs allow stakeholders to understand and compare the environmental impact of products through a standardized system. The result is a very powerful tool to help inform decision-making based on the environmental performance of products and support sustainability goals in industries spanning construction, manufacturing, and consumer goods. 
IMAGE SOURCE:
BUILDING LIFE CYCLE STAGES AND SOURCES OF EMBODIED CARBON ACROSS CONSTRUCTION LIFECYCLES (ONECLICK LCA)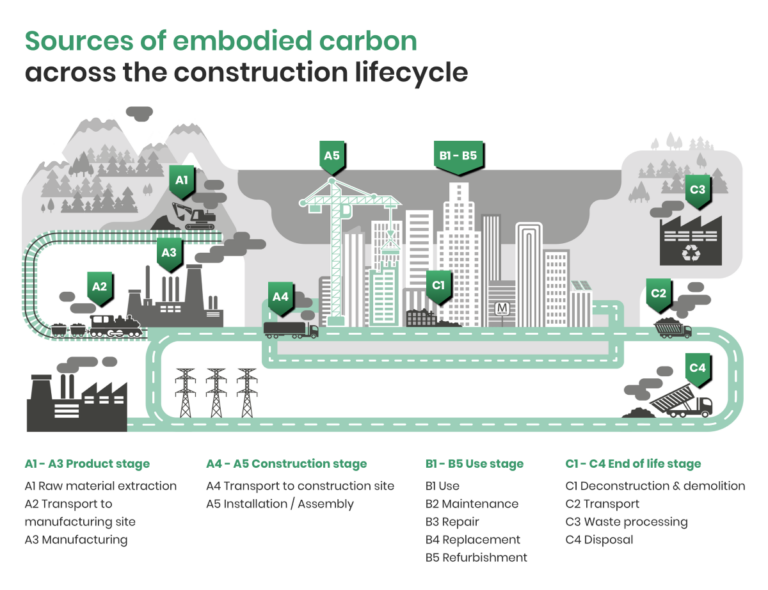 Why pursue an EPD?
Buildings are the number one source of climate pollution – to tackle the climate crisis we must decarbonize buildings. Approximately half of the climate impact of buildings is from the embodied carbon in the materials when a building is first built, with the other half from operational carbon emitted over the life of the building.
As recognition of the importance of reducing embodied carbon grows, EPDs are becoming more frequently used to influence the design of low-carbon buildings and inform sustainable purchasing decisions. Clients rely on EPDs to document embodied carbon savings over baseline, secure certification points, access economic incentives, and demonstrate alignment with corporate commitments.
Emerging embodied carbon policies and zero carbon building standards mandate whole building Life Cycle Assessments (LCAs) for new construction, require EPDs for building materials, and specify limits in the form of kg CO2/m2 for public works procurement (CLF, 2022).
Lower embodied carbon can add to the appeal of specifying prefabricated construction products, in addition to speed-to-market, near zero waste, and year-round construction advantages. For start-up or scale-up companies like Nexii, early investment in EPDs and LCAs can help inform product design direction, material supplier selection, energy sourcing, and facility location strategy.
If it's standardized, shouldn't it be straightforward?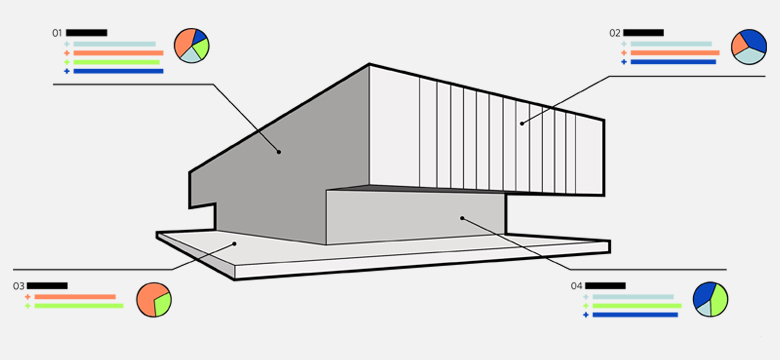 Tally® LCA APP FOR Autodesk® Revit®
Given the huge interest in EPDs and rapid advancement of tools such as Tally, EC3, and others to support their use for whole building life cycle assessment, one might think the process of obtaining an EPD is clear and straightforward. This is not always the case.
Research suggests that the use of different LCA tools and background data sources can deliver different results, in our experience up to +/-15% variance. This indicates that there is a discrepancy between LCA analyses of products even before they have been modeled.
There are several further challenges to overcome with EPDs and embodied carbon reporting for composite products, treatment of construction waste, and design for reuse.
Nexii's EPDs had been 2+ years in the works. In that time, we've learned a great deal about the carbon impacts or 'hot spots' of different materials in our product, the sensitivity of our results to data sources, the importance of manufacturing plant location and energy source, and the maturity of production at the plant.
Even as more manufacturers are recognizing the benefits of publishing EPDs, challenges in standardization, tool selection, and data collection remain. And perhaps, the most challenging issue is yet to come – interpreting the data to compare various building products (apples to oranges) in the market.
In our second blog, we touch on lessons learned in pursuing our own EPD, overcoming hurdles and how Nexii is advocating for embodied carbon regulations and greener building codes.
Authors
Zosia Brown, PhD, is Nexii's Vice President, Sustainability. Her notable past roles include Head of Sustainability at Woodland Park Zoo in WA, and Associate with BuroHappold. Zosia's PhD in Resource Management Environmental Studies focused on green building performance and post-occupancy evaluation. She brings over 15 years' experience in driving sustainable change and environmental policy in organizations across North America and Europe to Nexii. Zosia's deep and consistent focus on product performance, carbon impact of operations, zero waste and climate resilience are at the heart of Nexii's operations. Together with teams from across the company, Zosia leads Nexii's environment, social and governance (ESG) strategy underpinning our mission to build a vibrant future for people and planet.
Sara Turner is Nexii's Sustainability Manager. Leveraging a strong background in engineering and green building design, Sara works to decarbonize product design and manufacturing. At Nexii, she leads carbon accounting, zero waste projects, and product life-cycle strategy. As a skilled cross-functional collaborator, Sara works closely with Engineering, Architecture, Supply Chain, Manufacturing, and R&D teams to drive sustainability through product design, material selection, facility operations, and corporate strategy. Her keen interest in circularity is reflected in her experience with Design for Reuse, circular business models, and leading zero waste certifications. Sara studied Environmental Engineering at the University of Waterloo.
Related Article
As jobs become more digitized, automated and complex, many employees are finding that their skillset has been outpaced by technology, with many of these workers required to do more than what they were originally trained for when they first started their job. It is therefore critical for companies to invest in continuous training for their employees, ensuring workers are prepared for their jobs today — as well as tomorrow.