SCHUNK: Automating With Enthusiasm – Jump Right In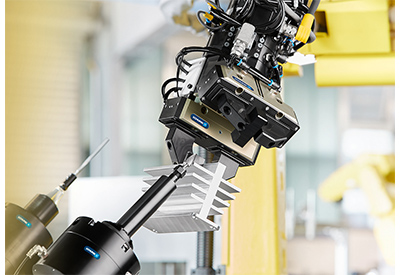 June 30, 2021
With a versatile range of automation components for demanding applications, SCHUNK was in attendance at this year's Automatica, which took place as a purely digital event, the "automatica sprint", from June 22 to 24, 2021. The program included enhanced modules for easy entry into robot-based automation, highlights for new, growing markets, and three livestreams on the topics of working with robots, e-mobility and life science.
"Automation is making its way into more and more areas, and getting started should be as easy as possible," emphasized Johannes Ketterer, head of the Gripping Systems division at SCHUNK. For example, with new tools for machining with robots, SCHUNK is making the entry into automated deburring, polishing, and grinding of workpieces: Until now, these work steps have mostly been performed manually, because the "feel" and visual inspection by humans could only be implemented with automated tools and robots at great expense. However, processes carried out manually are not only time-consuming, but also involve risks for the employees. Now, with the robots and the SCHUNK's tools, many machining steps can be automated and therefore performed faster, better, and more cost-effectively. Because robots can do both: Loading and machining.
In the livestream, SCHUNK showed the impressive potential that lies in the automation of manual machining processes. SCHUNK also covered another hot topic, "e-mobility", in a livestream: SCHUNK also focussed on the development of electric mobility and electric vehicles – driven forward with great commitment by the automotive industry. Using the innovative and award-winning gripping technology ADHESO as an example, SCHUNK demonstrated the delicate and residue-free handling of fuel cells and highly sensitive battery foils. In addition, SCHUNK had also demonstrated the precision-fit, high-speed assembly of hairpin stators using direct-drive, high-precision SCHUNK linear axes and SCHUNK grippers.
SCHUNK also sets benchmarks in automation as an experienced and reliable partner of the life science industry, which is developing rapidly and continuously producing new manufacturing processes, medical technology products, and medicines. With its worldwide sales network and its application know-how in almost all life science areas, SCHUNK offers custom solutions and an extensive product portfolio to plant manufacturers and automation companies. These include the MPG-plus small components gripper, which has proven itself many times over in the manufacture of medical components and is already cleanroom-certified as standard and designed with H1-compliant lubrication. As a version with protective cover, the powerful gripper is suitable for applications up to IP protection class 54. With smart grippers, such as the small components gripper SCHUNK EGI, users of medical manufacturing and precise laboratory handling gain a high degree of flexibility. In the livestream, it was clear that these durable high-end products, together with their extensive range of accessories and various options, are firmly established in demanding and varied assembly and handling applications in the medical technology, laboratory technology, pharmaceutical, and cosmetics industries.
"With our comprehensive application know-how, we are automation partners in both traditional and new markets," noted Johannes Ketterer. "Users benefit from the quick and easy implementation of the automation task and from efficient and economical processes. At automatica sprint 2021, it will be possible to experience that we have been pushing new technologies and digitalization full steam ahead and very successfully over the past few months."