AGILOX in the Limelight at AUTOMATE 2023
May 23, 2023
By Krystie Johnston
Who is AGILOX?
AGILOX is one of the fastest-growing manufacturers of innovative advanced material handling solutions. Their Autonomous Mobile Robots (AMRs) use a highly sophisticated operating system, "X-Swarm Intelligence," to navigate warehouses and manufacturing facilities and deliver pallets and supplies without needing a centralized fleet management system. This provides unique advantages that benefit AGILOX customers.
Autonomous and self-guided robots are real team players that permanently, independently, and proactively optimize their routes in real-time across the entire fleet. Ease of use and scalability are at the forefront of the AGILOX idea: The system allows users to simply add new AMRs and adjust the workflow to suit their requirements.
Headquartered in Austria, AGILOX was established in 2009 by a group of visionary engineers with the single goal of revolutionizing the world of Autonomous Mobile Robots. Today, AGILOX is a global player serving customers in Europe, North America, and Asia. The US head office is based in Atlanta, GA.
AGILOX is growing at a rapid pace. To keep up with the increased demand, its US-based subsidiary has opened a new Client Experience Center and has also expanded its fulfilment operations. The new 30,000 square foot facility in Flowery Branch, GA, allows AGILOX to welcome existing and future clients to experience the full width of capabilities of all AGILOX AMR solutions available to date: The allrounder AGILOX ONE, the powerhouse AGILOX OCF, the box carrier AGILOX BCO, and the brand-new dolly mover AGILOX ODM.
With their expansion into the new facility, AGILOX has also been able to significantly grow their team. In less than a year, they have tripled their numbers of experienced technicians, project managers and customer education specialists who support their clients in finding the right AMR solution and implementing the robots on site.
As AGILOX North America CEO Andreas Boedenauer points out: "The new facility dramatically increases our ability to educate our clients about the advantages of our AMR solutions, and to train our customers in operating, administering, and maintaining the vehicles. It even allows us to replicate a client's environment and tailor the training sessions to their specific needs."

AGILOX North America CEO Andreas Boedenauer
AGILOX has also initiated a training academy with activities running from half-day hands-on experiences to weeklong in-depth training courses which enable their customers to build up substantial in-house knowledge to manage the fleet of AMRs.
AGILOX in the Limelight at the 2023 Automate Conference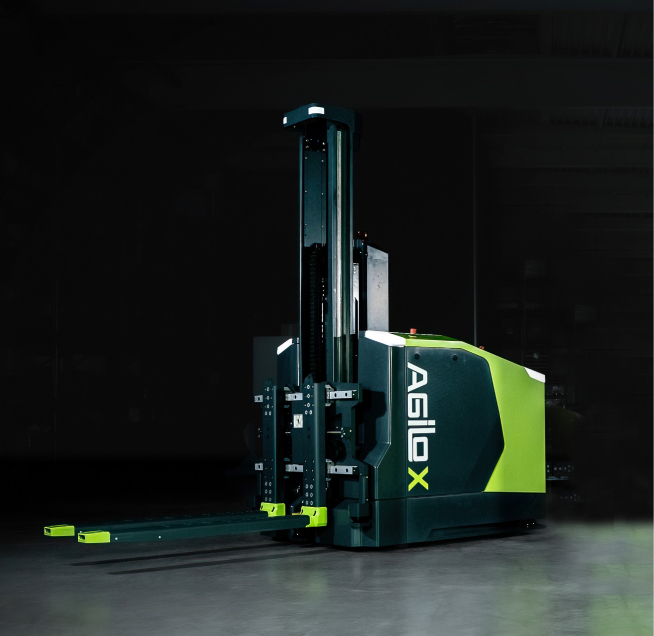 They are excited to be presenting their products and solutions at the Automate Conference May 22-25 in Detroit Michigan. This will be AGILOX's biggest Automate presence to date. They will have a new, revised booth layout that will allow their visitors to see how multiple vehicles can operate in a tight space, as is the case with many tradeshow booths. Highlights at their booth will include the AGILOX OCF, their AMR powerhouse, and the AGILOX ODM, made for smaller load carriers.
AGILOX OCF: The AGILOX powerhouse
In line with AGILOX's mission to optimize (intra-)logistical concepts, the AGILOX OCF represents the next step forward in advanced material handling solutions. The goal is to offer a solution for all material handling processes in a company. With the help of AGILOX's autonomous counterbalanced forklift, it is possible to transport heavier loads of up to 1,500 kg/ 3,300 lbs. Whether the load carriers are open or closed is irrelevant. And best of all, customers can benefit from all the familiar advantages of the AGILOX X-Swarm Intelligence (more on that later).
AGILOX ODM (Omnidirectional Dolly Mover): Made for smaller load carriers
With the AGILOX ODM (Omnidirectional Dolly Mover), small load carriers with a maximum weight of 300 kg/ 660 lbs. can be moved from one station to another with ease. This sets a new benchmark for agility and flexibility in intralogistics. The omnidirectional driving system (i.e., forward, back, left, right, diagonal, spin on the spot etc.), allows the AGILOX ODM to drive through the narrowest of aisles and tightest spaces. These capabilities will be demonstrated at Automate, and customers can see for themselves how easily and smoothly the AGILOX ODM works, and how it can provide them with maximum flexibility and efficiency.
Both featured products are autonomous, independent, and employ smart routing based on AGILOX's proprietary X-Swarm Technology. With X-Swarm, there is no need for a central fleet management system. Moreover, AGILOX's different vehicles operate as a team, utilizing the same digital map of the facility without the need for any structural navigation additions which allows clients to easily add or change workflows using an intuitive software interface.
AGILOX ONE: The all-rounder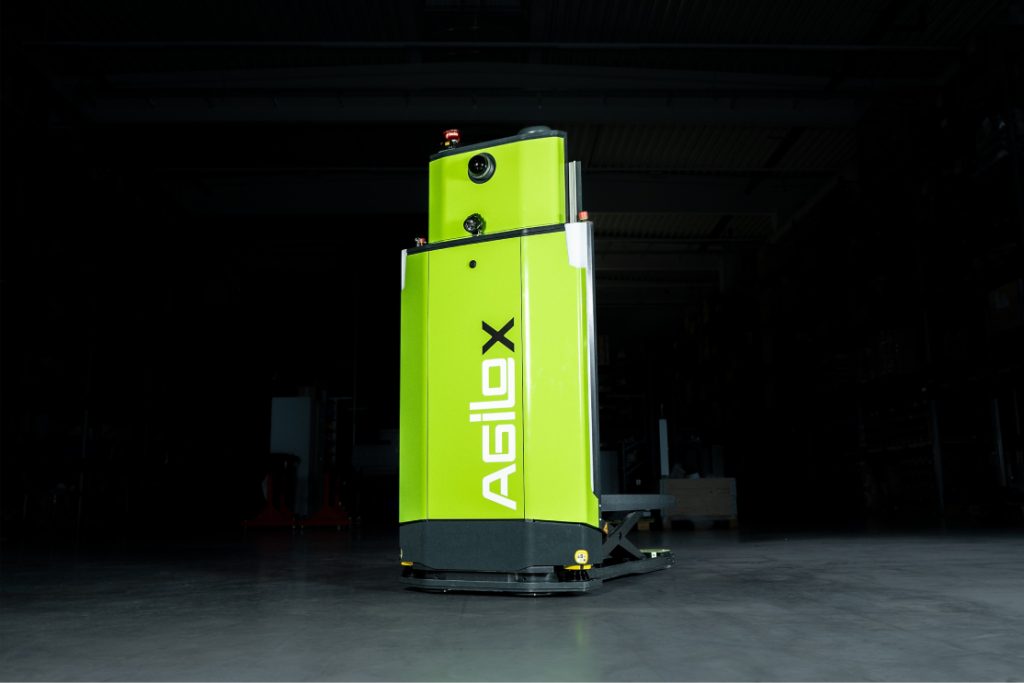 Not at the show, due to space constraints, but still one of AGILOX's most important products.
With The AGILOX ONE, customers can lay the foundation for next-level intralogistics. Production companies that need highly flexible, safe, and stable intralogistics processes will find the AGILOX ONE to be the ideal product to have at their disposal. Thanks to the AGILOX ONE's omnidirectional driving system, it can effortlessly move through very narrow aisles. Rotating driving units allow the vehicle unrestricted freedom of movement in the intra-logistical environment.
Customers will be able to discuss all of these of these products with AGILOX experts, as well as their proprietary X-Swarm Technology.
AGILOX X-Swarm Technology
X-Swarm Technology stands for self-optimizing material flows – after all, communication between vehicles is a key advantage of this software solution. AGILOX's AMRs are always in direct communication with each other and exchange information about their position and real-time status several times a second. This means that these logistics robots always know which order other AGILOX vehicles are currently processing and where they are. This also guarantees optimal allocation of orders to the individual devices and thus the best possible system performance.
With the proven X-Swarm Technology, AGILOX customers have the benefit of an intelligent intra-logistics solution designed from the ground up that eliminates the need for a host computer. This makes increasing efficiency a breeze. The goal of these vehicles is to drive each route in a cost- and time-optimized manner to ensure efficient transport.
Trust AGILOX for Your Logistics Planning
Anyone who needs to move loads within their facilities in an easy, safe, and efficient way will be interested to see these products at the show and to learn more about how they can simplify their logistics.
Having flexibility is important in the logistics industry for many reasons. Ever-faster product lifecycles demand ever-changing production lines. Continuous optimization to increase the efficiency of these production processes results in changes to the factory layout to make them more streamlined. Using a fleet of AMRs that operate in the same space as other machines and humans that can be adjusted with a simple HMI (Human Machine Interface), significantly improves the ability of a factory to adjust to changes quickly and easily.
AGILOX is producing the AMRs for tomorrow with a team of highly skilled technicians and hardware and software engineers. All the mechanical components, electrical engineering, and the entire software solution are developed in-house at their headquarters in Austria. They draw on feedback from their team of salespeople and field technicians, and a decade-long track record of in-depth knowledge of material handling processes. Customers choose AGLIOX for their logistics planning because "it just works."
More Information
Related Product
After the ONE and the OCF, now comes the ODM, an intelligent ODM robot. AGILOX North America, a leading manufacturer of automated material handling solutions, is adding an autonomous dolly mover to its range of intelligent transport systems controlled by its proprietary X-Swarm intelligence. AGILOX is thus targeting an entirely new area of applications: the transport of small load carriers.