MATCH Awarded As "Product of The Year"
Zimmer Group Prevails Against 11 Competitors
May 18, 2023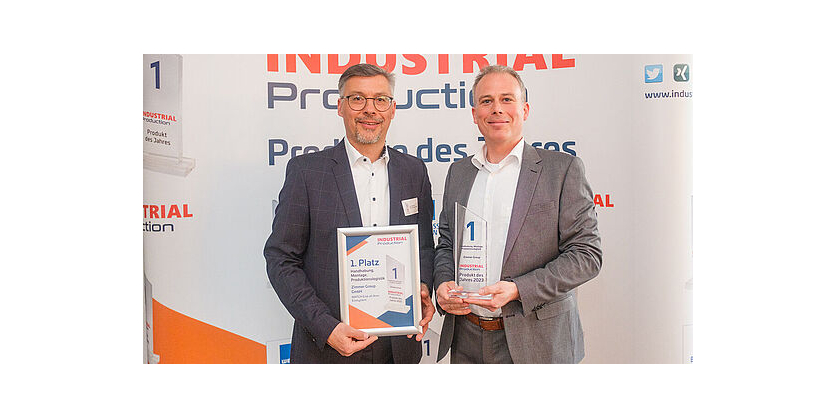 Zimmer Group is pleased to announce that the MATCH End-of-Arm Ecosystem has been awarded first place as "Product of the Year". The prize is awarded annually by WEKA Business Medien GmbH. Customers and readers of INDUSTRIAL Production were able to vote in advance for their favourites from a list of 44 nominees in 6 categories. The Zimmer Group prevailed in the category "Handling, Assembly and Production Logistics" against 11 competitors.
Kai Kohler, Global Key Account Manager of Zimmer Group, accepted the award and the certificate at the award ceremony in Haar on 30 March: "We would like to thank all readers who voted for us. The award is a great honour."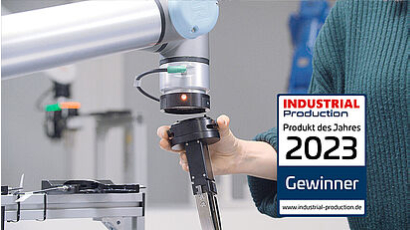 The MATCH Ecosystem, a cooperation between the two handling specialists Zimmer Group and J. Schmalz GmbH, is a standardised interface that enables the flexible use of the entire range of gripping systems, whether vacuum systems or mechanical grippers. The robot module can be combined with all common cobots and industrial robots.
The standardisation achieved by MATCH with simultaneous flexibility of the automated processes convinces customers and meets the needs of the market. "We notice that batch sizes are getting smaller and smaller. The products are becoming more individual. That's why you need more flexibility in front of the robot, in the gripping technology. With MATCH, we are creating an ecosystem that makes it possible to connect ready-to-connect end effectors to the robot in the shortest possible time. In addition, there is the ecosystem behind it, i.e. also the communication to the controller," says Kohler.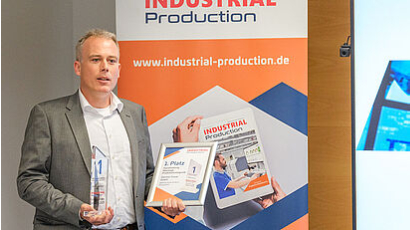 With its simple commissioning, intelligent ecosystem including intuitive software and convenient maintenance benefits, MATCH paves the way to automation – even for smaller quantities. The Zimmer Group also sees further potential with MATCH for the future: "We are continuously expanding the portfolio with additional grippers to create even more flexibility. Compatibility with vacuum technology is a given. Quite clearly, things are moving forward and remain exciting."
Zimmer Group would like to thank all customers and partners who participated in the voting and thus contributed to the MATCH award.
More Information
Tthe standardised robot interface MATCH
Related Story
Proax Technologies Ltd. is proud to announce that we are now an authorized distributor of the Zimmer Group, the market and technology leader in clamping and braking elements. Zimmer Group offers more than 4,000 variants for profile and circular shaft guides and a wide range of guide systems for all manufacturers. Zimmer Group is also a leading manufacturer of grippers, tool changers and other robot accessories with a large portfolio of over 10,000 catalog components as well as industrial shock absorbers designed for the harshest environments. The addition of Zimmer enhances our mechanical offerings and will be available to all of our customers across Canada, coast to coast.