EtherCAT: Powerful and Future-Proof Technology Plus an Active Community
Interview with Martin Rostan on 20 years of EtherCAT and the EtherCAT Technology Group
November 16, 2023
EtherCAT offers numerous technological advantages, but it has also benefited immensely over the past two decades from the disclosure of the protocol and the foundation of the EtherCAT Technology Group (ETG) related with it. In the following interview, Martin Rostan, Executive Director of ETG, describes the most important aspects of these two sides to the EtherCAT success story.
20 years of EtherCAT – how did it actually start back then?
Martin Rostan: Beckhoff had already launched the Lightbus in 1989, an optical fiber-based bus system for fast communication with input and output modules. The Lightbus had a transmission rate of 2.5 Mbit/s and already used the principle of processing on the fly. At the end of the 90s, considerations began to develop a next generation of this fiber optic technology with a higher transmission rate. The project name was FLB (Fast Lightbus). With 50 Mbit/s, this would have been significantly faster, but somehow we felt that something was still missing. This came with the idea of combining the Lightbus principle with Ethernet.
What is so special about the principle of processing on the fly?
Martin Rostan: Instead of sending a telegram to each network node in each cycle and receiving a telegram from each node, a single, correspondingly longer telegram is sent through all nodes and processed by them on the fly and thus almost without delay. Each node reads the output process data intended for it and inserts its input data into the same telegram.
Since the network nodes have been informed beforehand where the respective process data is to be found in the frame, no node-related address information has to be carried along. Thus a bit remains a bit and does not become a whole frame. And this is how we achieve maximum efficiency: Typically, over 90% of the entire telegram is used for process data. So we use the bandwidth most efficiently – and since the same frame is used for input and output data, we usually even double the available bandwidth. This is why EtherCAT achieves such high performance.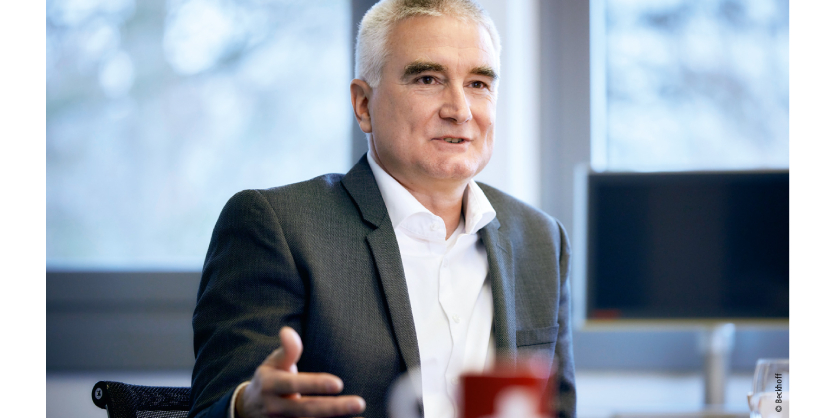 Keyword "performance": EtherCAT is often referred to as the fastest fieldbus solution. But why is that so important?
Martin Rostan: For every control engineer, it is obvious that shorter cycle times mean better control quality and thus ultimately lead to better product quality: this applies to all applications with a motion control component, but also to measurement tasks. Thanks to PC-based controllers, computing power is no longer a bottleneck – now the bus system is usually the limiting factor, and exactly for this reason, the performance of the bus system has become increasingly important.
Anyone who combines a control system that can handle cycle times in the sub-millisecond range with a bus system that cannot keep up is doing something wrong. It is less obvious how much all applications with so-called transition conditions benefit from the shorter cycle times with EtherCAT and thus from faster response times: Even if the controller only has to wait a few milliseconds at a time for a sensor signal confirming that a part has arrived or a target position has been reached before moving on to the next process step: reducing these small waiting times is worthwhile and leads to measurably better efficiency and more machine throughput.
That's some sophisticated technical reasoning: do users go along with it?
Martin Rostan: It's true that with EtherCAT, we go much deeper into the technical argumentation than is usual with most fieldbus organizations. But that is exactly our approach: convince users with convincing technology. And that is what gives engineers particular pleasure. When we presented EtherCAT for the first time at Hannover Messe in April 2003, we were not able to score points with a large user organization, nor was Beckhoff at that time already one of the large suppliers of automation solutions. And so we explained the special features of our new technology and initially won over those users who were quickest to recognize the benefits of the exceptional performance of EtherCAT.
And then founded the EtherCAT Technology Group with these users?
Martin Rostan: Correct. Of the 33 founding members of the ETG, half were users, not manufacturers of automation systems, and they were usually considered technology leaders in their industry. In other words, companies that were used to be convincing with convincing technology. Of course, it also helped to overcome the chicken-and-egg problem to start with users right away.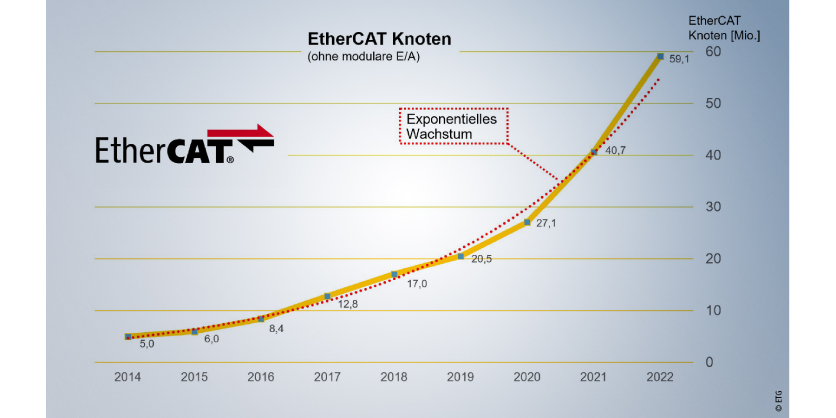 The chicken-and-egg problem?
Martin Rostan: Yes, that's exactly one of the challenges when introducing a new technology: the vendors only implement the technology when users ask for it. And users can only be won over when there are suppliers for the corresponding devices. Another challenge was that we did not have any cost-effective EtherCAT chips at the beginning, but had to work with FPGAs, which were still very expensive initially.
An EtherCAT interface still cost a lot of money at that time. With the availability of the first EtherCAT ASICs in 2006, however, the problem was solved quickly. In the meantime, these chips are available from 13 different manufacturers and the interface costs are lower than those of classic fieldbus systems, not to mention other industrial Ethernet solutions. And with EtherCAT, one standard Ethernet port in the controller is sufficient, which has helped us a lot in spreading the technology.
Speaking of popularity: on the occasion of 20 years of EtherCAT, the ETG has published figures for the first time, and they differ significantly from the known market studies. Why?
Martin Rostan: Precisely because we have now published our figures for the first time. We were reluctant to do so for two reasons: initially, FPGA-based devices dominated, and we did not know their quantities. And we could not yet count or leave out the modular devices, i.e. the EtherCAT terminals – after all, it would be misleading to count a modular I/O station with 50 electronic terminals as 50 EtherCAT nodes, even if these are actually 50 EtherCAT nodes.
In the meantime, however, these bus terminals use special chips, and we assume the share of FPGA-based devices to be less than 10 percent, so that the fuzziness in our numbers does not matter. And so we arrive at almost 60 million EtherCAT devices, without counting the bus terminals. And that should mean market leadership.
And with over 7,000 member companies, the ETG is also the world's largest fieldbus association. How has this come about?
Martin Rostan: While the technology and its user benefits are certainly in the foreground, the extraordinarily dedicated team of the EtherCAT Technology Group has also contributed strongly to the success of EtherCAT. After all, the tech team not only coordinates the technical working groups, writes specifications and represents EtherCAT in the various standardization bodies, but above all supports our members in implementing the technology. This means tech support and workshops as well as regular interoperability meetings, so-called plugfests, which we hold worldwide.
Our members highly appreciate the quality of our implementation support, and also actively contribute to it in the very comprehensive developer forum in the members' area of our website. The marketing team is equally committed to organizing high-quality trade show booths and technology seminars, which we have now held in over 50 countries. At the beginning, I would not have thought that 1,000 member companies would be possible to achieve – and so far, growth is still not slowing down. Meanwhile, almost 500 new member companies are joining every year.
And this is all organized from Germany?
Martin Rostan: Although the headquarters of the EtherCAT Technology Group is in Nuremberg, Germany, we have offices in China, Korea, Japan and the USA, which operate pretty independently and support the members locally. Over 3,000 member companies from Asia show that EtherCAT is also a leader on this continent. And with over 1,000 members in the Americas, the ETG is the fieldbus association with the largest membership there as well.
There is a lot to celebrate. And certainly one or the other special EtherCAT application is part of it.
Martin Rostan: Yes, of course, some EtherCAT applications are particularly rewarding. For me as a sailor, the high-tech yachts of the America's Cup are among them, all of which use EtherCAT. And since I am an aerospace engineer, EtherCAT in space excites me. EtherCAT has already been used on the ISS and was selected for the robot arms on the Lunar Gateway space station. But EtherCAT also rides on tractors and helps with experiments that have won Nobel Prizes in physics.
Was EtherCAT selected for these applications only because it is so fast?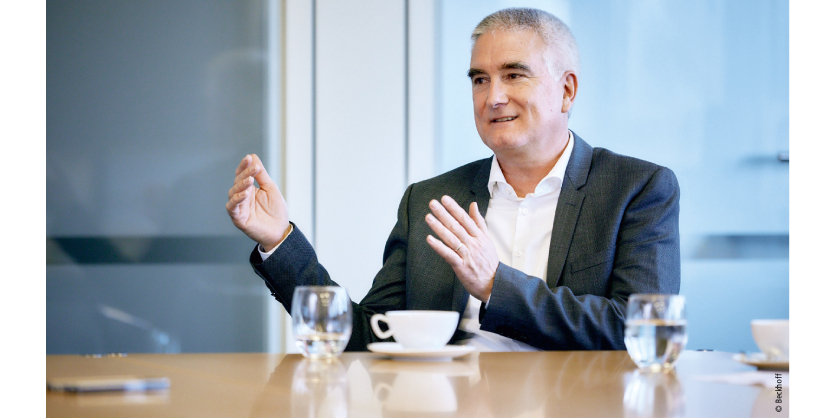 Martin Rostan: No. The performance of EtherCAT is often crucial, but our special functional principle has many more advantages. For example, we can automatically address the network nodes during startup, which greatly simplifies commissioning. We can synchronize the nodes with high precision, even without special hardware in the controller. EtherCAT users do not need any IT know-how or specific switches, and therefore do not have to buy, install and configure them, nor are they limited by cascaded switches.
Therefore we can therefore create line topologies with almost any number of nodes, but also branches, tree topologies and rings for line redundancy, and that without special redundancy nodes. And we have built special diagnostic features into the EtherCAT chips that help us not only to reliably detect bit errors and even loose connectors, but even to localize them. All this saves a lot of time and money.
How do the other industrial communication systems respond to the EtherCAT success story?
Martin Rostan: Yes, with Gigabit and TSN technologies the competition is trying to catch up with our performance advantage. But anyone who can do the math quickly realizes that the EtherCAT functional principle cannot be beaten even with Gigabit: EtherCAT will continue to perform better even at 100 Mbit/s when realistic scenarios are compared. And for applications that actually require more bandwidth, the EtherCAT G technology extension is available.
The more robust 100 Mbit/s technology, however, will not be replaced by EtherCAT G, but instead only supplemented. I assume that even in 15 years 95% of the EtherCAT devices will use 100 Mbit/s. This maintains the stability of EtherCAT: we have always only enhanced EtherCAT, we never changed it.
And how do you see the next 20 years for EtherCAT?
Martin Rostan: 20 years ago I boldly predicted that 10 years later EtherCAT would be number 2 in the market. Another 10 years later we are even further ahead. And I don't see any development that should change that. With EtherCAT G, we are enhancing our technology for application areas that require even more bandwidth and we are making EtherCAT future-proof. And when I look at the membership growth of the EtherCAT Technology Group: the end of the line is obviously far from being reached.
More Information
Related Story
Pipe Titan is the latest robotic welding system from LJ Welding Automation. The integrated PC-based control technology from Beckhoff facilitated the implementation of a modular system architecture, offering a lot of flexibility for changing production processes in fully or semi-automatic operation. For one manufacturer of boiler room systems, Cleaver-Brooks, implementing this system increased throughput, quality and safety.