HAIMER at EMO 2023 (Hall 4, booth E18)
September 22, 2023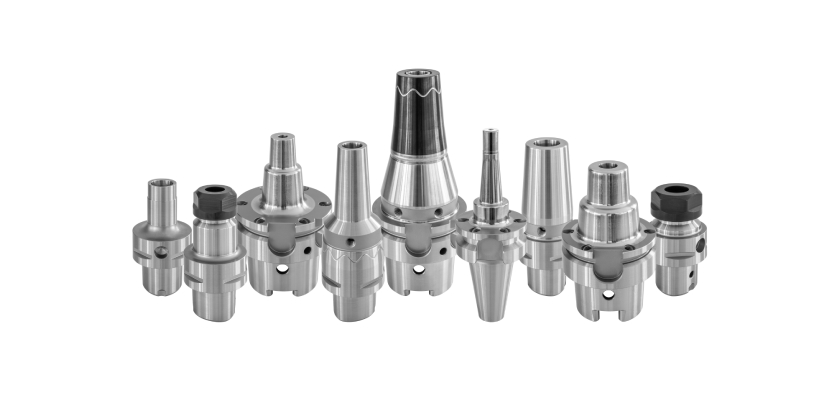 Tool management made easy
At EMO, HAIMER will present a variety of innovative new products in the area of tool clamping technology: from the Micro Collet Chuck to the High Performance Chuck to the groundbreaking Hybrid Chuck Technology. In the future, PSC 40 and PSC 50 will be added to the program as spindle interfaces. Another novelty is that all HAIMER tool holders will be lasered with a unique data matrix code in the future, which can also be used for tool management solutions.
At EMO 2023 in Hanover, the HAIMER Group will show its industry leading innovations. In addition to the proven high-quality tool holders, digitization and automation are the centerpiece of the booth. New software versions for the HAIMER shrink fit, balancing and presetting machines enable a smooth data exchange amongst each other, with machine tools and automation. The highlight at the booth: a powerful automation cell for tool set up including an automated guided vehicle to and from the machine tool.
Tool management must be made as simple as possible for manufacturing companies of all sizes, whether small or large. Those responsible at the HAIMER Group are convinced that this is important. At EMO 2023, they present a product range that is geared towards this, ranging from innovative improvements to future-oriented concepts. Always in focus as the underlining goal: the possibility of integration into digitalized, automated production systems.
World innovations at EMO Hanover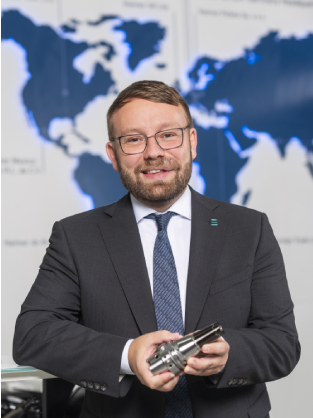 "We will present a conclusive and convincing overall concept with regard to digitization and automation of tool room management," emphasizes Andreas Haimer, President of the HAIMER Group. "This includes easy-to-implement products and software solutions that customers can use plug-and-play and with which they can make their production more efficient. HAIMER will take the customers by the hand and lead them step by step into the digitization of their production and ensure a continuous process. The importance of the tool room will thus increase significantly for many customers," Andreas Haimer continues.

Andreas Haimer, President of the HAIMER Group
As a world premiere, the HAIMER Hybrid Chuck will be presented exclusively at EMO. This new and patented technology combines the advantages of two clamping worlds – the vibration-damping properties of a hydraulic chuck with those of a high-precision, high-performance shrink fit chuck.
The new Micro Collet Chuck, which is also making its debut at EMO, is suitable for shank diameters from 1 mm and meets the customer's requirement for maximum runout accuracy combined with the simplest possible handling.
New software for shrink fit, balancing and presetting machines
In the future, all HAIMER shrink fit, balancing and presetting machines will receive a new software version that includes a bidirectional interface that can be connected to the new HAIMER Tool Room Manager (TRM). This new software monitors the online status of all devices in the tool room, documents the processes and monitors compliance with the specified tolerances.
An optional OPC-UA interface, client or MQTT Connect interface standardizes access to machines, devices and other systems and enables manufacturer-independent data exchange.
On the HAIMER Tool Dynamic balancing machine, the new software also opens the door to automatic indexing. For this purpose, a small gripper is integrated in the new models, which rotates the tool to be balanced. The software does the rest without any further manual intervention of the operator.
For the Tool Dynamic Preset Microset combination unit, the Automatic Drive function enables fully automatic measuring.
Smart Tool Management with HAIMER WinTool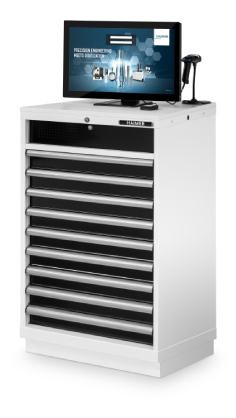 Another highlight is the new integrated HAIMER Tool Management System including Smart Vending Machines, which will be presented at the EMO show. Within a very short time of only four months, the software WinTool, including the dispensing system Toolbase, was implemented in HAIMER's own manufacturing plant with a full integration to the HAIMER machines. Also additional functions have been enabled in the software and a new digital Haimer process was standardized.
To offer its customers an optimal tool data management and tool dispensing system, HAIMER cooperates with the TCM Group and its product lines WinTool and Toolbase. As a software solution for tool and data management, WinTool enables the management of tools, resources, machine programs, processes and master data. Toolbase is a smart tool dispensing system that includes individually configurable tool cabinets and software.
It enables efficient access management via barcode, RFID or manual interaction. In the future, all HAIMER Microset presetting devices can be equipped with WinTool as a standard. Visitors to the HAIMER booth will get a first impression: A demonstration will show how easy it is to create a digital twin of a complete tool in just a few minutes if the master data is available in WinTool. HAIMER has already done some preparatory work in this respect and has prepared all parameters, step and DXF data in accordance with DIN 4000 and ISO 13399. The data is available to everyone for download on the HAIMER website and the Tooltracer data platform.
Another new innovation is that all HAIMER tool holders will be lasered with a unique data matrix code in the future, which can also be used for tool management solutions. This means that a wide variety of information can be stored in a database for each tool holder and retrieved as needed – without the need for an RFID chip or a glued-on QR code. In addition, the digital data is already stored in the HAIMER WinTool system.
Data from other manufacturers can also be used in WinTool. For this purpose, the software offers a simple plug-in to Tooltracer, a cloud-based product that manages tool master data from different sources consistently and error-free.
Future concept for tool presetting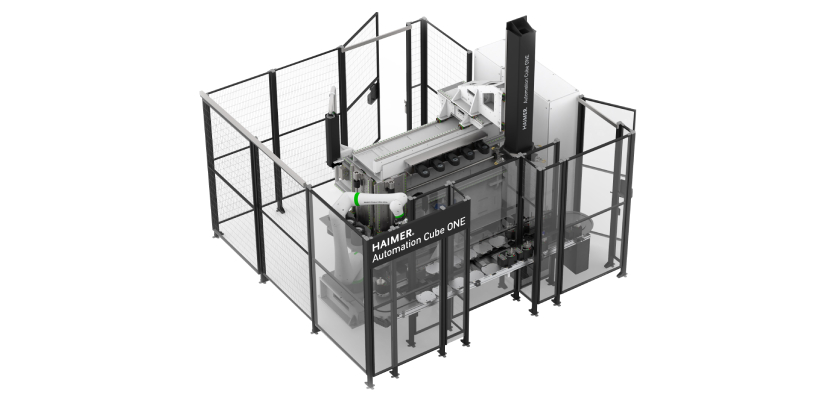 While all these innovations make the manufacturing process easier for every machinist and can also be used by small and medium-sized companies to increase efficiency, the highlight at the HAIMER booth is aimed more at companies with the highest degree of automation. We are talking about the new HAIMER Automation Cube One, which can shrink out and in a tool in 60 seconds, measure it and transfer the data to the machine and to databases.
Managing Director Andreas Haimer explains: "We have learned from our 'Automation Cube' pilot project in recent years. In line with customer requirements, our new robotic cell is built as massively as a machine tool. For this purpose, we have brought various partners on board. Siemens supplies the latest Sinumerik One CNC control. Without the full, fast and highly competent support from Siemens, we would not have been able to realize this new machine within a record time" emphasizes Andreas Haimer.

Managing Director Andreas Haimer
In the end, many experienced global and regional partners also worked on the realization of the project. A detailed overview of all companies involved in the HAIMER Automation Cube One can be found in the information material available at the HAIMER booth during EMO.
The new robotic cell, which handles automatic shrinking in and out as well as measuring of tool assemblies, is significantly larger and more stable. Also with regard to the spindle interface, the new cell can manage up to three different interfaces simultaneously and up to eleven axis' take over the part handling.
Another eye-catcher is likely to be the connection to machine tools demonstrated at the trade show, which is handled by AGVs (Automated Guided Vehicles) from DMG MORI. They enable unmanned supply of the machines in a production hall. "In the future, such systems will take over central functions in automated production," Andreas Haimer is convinced. Especially in times of an increasing shortage of skilled workers, this creates new opportunities and possibilities for companies to always ensure tool supply.
More Information
You will find the HAIMER booth at EMO 2023 in Hall 4, E18.