More Stego Thermal Management Products from AutomationDirect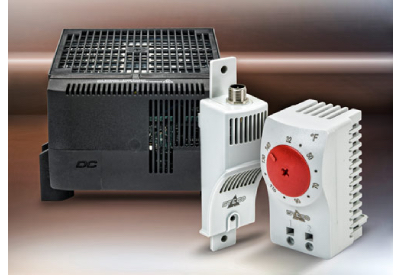 September 26, 2022
AutomationDirect has added new additions to their existing Stego line of thermal management products for even more enclosure heating and cooling solutions.
Top-mount filter fans, in axial or high-capacity versions, and compatible vents are now available to provide a low-cost cooling option for enclosures. Additional filter media sizes have also been added to fit these new fans. Top-mount filter fans start at $381.00, new vents start at $98.00, and new filter media start at $9.00.
Rack-mount fan trays with multiple built-in fans provide high-performance forced air circulation in switch and server enclosures and concerted cooling of 19in rack-mounted component groups. Rack-mount fan trays start at $213.00.
New compact enclosure fan heaters prevent formation of condensation and frost. Additional temperature/humidity sensors work with these enclosure heaters to ensure internal air is properly conditioned. New fan heaters start at $304.00; external temperature/humidity sensors start at $56.00.
Normally closed (N.C.) adjustable thermostats regulate heaters or other devices when temperatures fall below the setpoint value. Normally open (N.O.) versions activate cooling devices when temperature exceeds the setpoint value. Various new adjustable thermostats have been added and start at $21.00.
Ambient sensors record temperature and humidity and output a 4-20 mA or IO-Link signal that can be used by control/monitoring devices to provide reliable temperature regulation, early problem detection, or monitor heater performance. New ambient sensors start at $169.00.
Additional pressure compensator options control pressure within the enclosure by equalizing the pressure differential between the enclosure and the outside environment. New pressure compensators start at $12.25.
To learn more, click here