FANUC Introduces New ROBODRILL Plus Machining Centre
FANUC's new ROBODRILL DiB Plus compact machining center offers companies a wide range of advantages in terms of speed, performance, ease of use and automation
January 17, 2023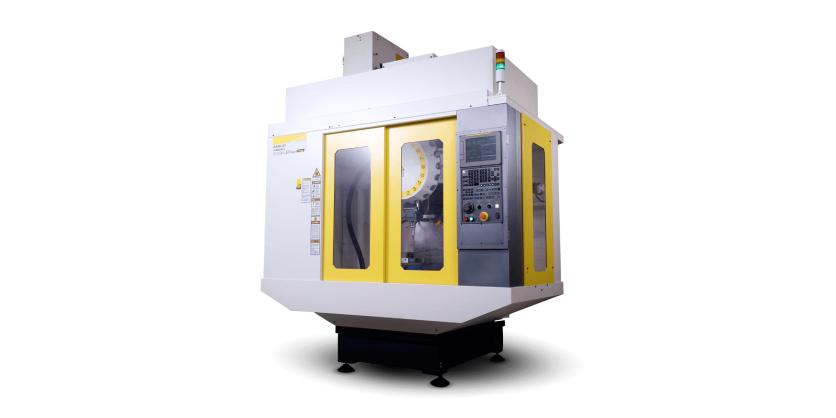 FANUC the global leader in CNCs, robotics, and ROBOMACHINEs has introduced its new ROBODRILL DiB Plus compact machining center.
"The new ROBODRILL Plus offers a wide range of advantages in terms of speed, performance, ease of use and automation," said Lou Finazzo, Vice President, FANUC America.  "In the vertical machining center arena, it's truly a game changer for companies looking to maximize productivity and stay competitive."

Lou Finazzo, Vice President, FANUC America
FANUC ROBODRILL DiB Plus
FANUC's new ROBODRILL DiB Plus features the latest FANUC Intelligent Human Machine Interface (iHMI). The FANUC iHMI offers a modern flat-panel touchscreen display, providing a traditional yet easy-to-use experience, and is loaded with intuitive guides for setup and programming. Users will have the ability to see the most common operations without having to navigate between multiple screens.  In addition, the iHMI comes with a variety of pre-packaged commands that simplify setup for standard operations.
Powered by the FANUC Plus Series 31i-B5 Control, the ROBODRILL Plus provides enhancements for three, four, and five-axis operations to produce unbeatable cycle times.  In addition, it offers tool change times as low as 0.7 seconds, and a servo-driven turret capable of handling tools weighing as much as four kg.  
With three models to choose from – small, medium, and large – the ROBODRILL Plus offers a familiar compact design with accessibility from all sides.  Since FANUC products share common servo and control platforms, the ROBODRILL Plus is easy to learn, operate, and integrate FANUC robots for any automated machine tending application.
"We're working in partnership with Methods Machine Tools to help companies achieve their production goals with the ROBODRILL Plus – the most powerful solution in compact machining available today," said Finazzo.  "We hope more customers will experience this amazing machine which features so many enhancements such as new software features, five times more customization screens, FANUC conversational programming, faster boot speed, enhanced G-Codes, and major cycle time reducing improvements – it really has it all." 

Lou Finazzo, Vice President, FANUC America
Introducing the most powerful solution in compact machining offering higher speeds, performance, ease of use and automation. Whatever your industry – automotive, medical, mold making, jewelry and many more – the ROBODRILL Plus is the MOST powerful solution in compact machining.
Standard Version
The standard version ROBODRILL α-DiB Plus is a fast, high-quality machining center. With a number of different spindle options to choose from, it's perfect for standard applications. Excellent repeatability makes this model ideally suited to applications such as high-speed drilling, boring and tapping in the tooling and medical industries.
Standard models include:
rigid design and a rugged cast cross table
easy maintenance thanks to direct access to all components
easy operation thanks to quick and simple, intuitive set-up options
new iHMI for utmost user friendliness and full maintenance planning
dedicated maintenance screen – easy instructions ensure quick recovery if, for example, zero points are lost due to incorrect operator input
early issue detection thanks to an integrated early warning system providing enhanced quality assurance
70 Bar center through coolant pressure for non-step deep and small diameter hole drilling
flexibility at any time thanks to a wide range of components to suit your needs including rotary and tilting tables
Advanced Version
Advanced ROBODRILL α-DiB Plus ADV models are designed for cutting edge high-speed machining and set the performance benchmark in their class. Providing the ultimate in precision and repeatability, they are perfect for long, fully automated production runs and represent a versatile alternative to larger machines.
In addition to standard features, advanced models include:
0.7 second tool change for super-fast cycle times
4 kg tool handling capability for multi-step tools
400 mm z-axis latitude for larger parts and less interference between tools and workpieces
FANUC's ROBODRILL DiB Plus machines are available for immediate order.
Related Story
FANUC America, a leading supplier of CNCs, robotics and ROBOMACHINEs recently held a groundbreaking ceremony marking the start of construction of its new 800,000+ square foot West Campus facility in Auburn Hills, MI.