All You Need to Know: Disconnect Switches from ABB
June 1, 2023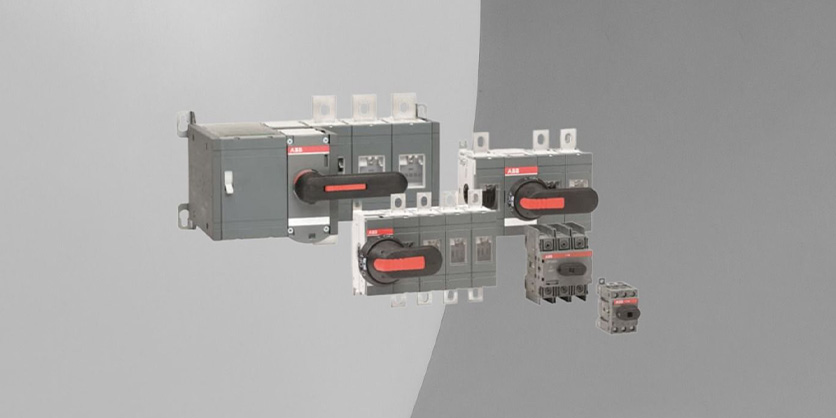 Disconnect switches are essential safety devices that play a critical role in electrical circuitry, both in industrial settings and in everyday life. These switches are designed to ensure the safe de-energization of electrical circuits during emergency stoppages, maintenance, or repairs. ABB, a leading global technology company, offers a wide range of high-quality disconnect switches suitable for various applications. Let's explore a what disconnect switch is, how they work, where they are used, and how ABB contribute to electrical safety.
What is a Disconnect Switch?
A disconnect switch is a safety device that allows operators to completely power down an electrical circuit, creating a safe environment for maintenance, repairs, or inspections. By ensuring that no energy is flowing through the circuit, disconnect switches eliminate the risk of electrical hazards.
In What Applications Are Disconnect Switches Commonly Utilized?
Disconnect switches are commonly used in electrical distribution systems and industrial applications. For example, adjustments to industrial machinery often require interrupting the power flow, and the disconnect switch provides a safe way to do so. ABB offers a variety of disconnect switches designed for use in industrial environments, ensuring safety and reliability.

In power distribution, emergency situations may necessitate a rapid shutdown of power or a transfer from one output to another. The Disconnect switch allows the operator to safely isolate and shut down specific areas of a facility while the rest of the facility continues to operate normally. ABB's disconnect switches are suitable for use in power distribution applications, providing a high level of safety and performance.
All industrial and manufacturing facilities are required to employ disconnect switches under the National Electric Code (NEC). According to NEC regulations, a safety switch must be visible and within 50 feet of the equipment they control.
Types of Disconnect Switches
The Electrical Disconnect Switch and battery disconnect switch are the two primary categories of disconnect switches. They can also be categorized as fusible or non-fusible. ABB offers a comprehensive range of both fusible and non-fusible disconnect switches to meet the diverse needs of various applications.
Battery Disconnect Switch
A battery disconnect switch is a type of knife switch that stops unintentional battery depletion when a car is not being used or is being stored. The positive or negative battery terminals are covered by the battery-disconnect switch. In order to prevent car theft when it is left alone in a public garage for an extended period, another kind of battery disconnect switch has a removable knob.
Electrical Disconnect Switch
The Electrical Disconnect switch is widely used with electric motors, such as those in industrial forklifts, farming equipment, and aircraft tow tractors. ABB offers a range of electrical disconnect switches that are designed to meet the stringent safety requirements of these applications. In order to safeguard contractors working on various electrical appliances from the incoming power, the electrical disconnect switch is also utilized on equipment like heaters and air conditioners. An electrical disconnect switch can follow either the International Electrotechnical Commission (IEC) or National Electrical Manufacturers Association (NEMA) standards that were created in the United States.
Together, the two regulatory bodies offer makers of electrical goods quality standards. ABB's disconnect switches comply with both IEC and NEMA standards, ensuring high quality and safety.
Fused Disconnect Switch
A Fused Disconnect Switch is a type of disconnect switch that incorporates fuses within the same enclosure. ABB offers a selection of fused disconnect switches that provide overcurrent protection, interrupting the flow of electricity when the current exceeds a specified value. This helps protect the electrical circuit and equipment from damage caused by overloads, short circuits, or other electrical faults.
Non Fused Disconnect Switch
On the other hand, a non-fused disconnect switch is devoid of fuses and does not provide overcurrent safety.

ABB's non-fused disconnect switches are designed to give users a way to manually open and close the circuit, enabling them to safely isolate and de-energize a certain area of the electrical system for upkeep, repairs, or inspections.
Non Fused Disconnect Switch: Important Features
A Non-fused disconnect switch has no built-in overcurrent safety, hence there is none. If overcurrent protection is necessary, a different device, such as a circuit breaker, must supply it.
The uncomplicated task of disconnecting and rejoining the circuit is performed by a non-fused disconnect switch, which is a very simple device.
Cost-Effective: Because they don't come with fuses, a non-fused disconnect switch is typically less expensive than a disconnect switch that is fused.
Versatility: A Non-fused disconnect switch can be employed in a variety of applications where isolating and de-energizing a circuit is the main objective.
ABB's Disconnect Switch: A Trusted Choice for Electrical Safety
ABB is a global leader in electrical technology and offers a wide range of disconnect switches that are designed to meet the diverse needs of various industries and applications. ABB's disconnect switches are known for their reliability, durability, and adherence to international safety standards.
Some of the key features of ABB disconnect switches include:
High-quality construction: ABB disconnect switches are built with high-quality materials to ensure long-lasting performance and durability.
Wide range of options: ABB offers a comprehensive selection of disconnect switches, including both fused and non-fused options, to suit different applications and requirements.
Compliance with safety standards: ABB disconnect switches comply with international safety standards, including IEC and NEMA, providing peace of mind to users.
Ease of installation and use: ABB disconnect switches are designed for easy installation and operation, making them a convenient choice for electrical professionals.
In summary disconnect switches play a vital role in ensuring electrical safety in various settings, from industrial machinery to power distribution systems. ABB's disconnect switches are a trusted choice for professionals seeking high-quality, reliable, and safe solutions for isolating and de-energizing electrical circuits. Whether you need a fused disconnect switch for overcurrent protection or a non-fused disconnect switch for simple circuit isolation, ABB has a solution to meet your needs.
Remember, your electrical system's safety is paramount, and investing in the right disconnect switch can make all the difference. Get in touch with Proax now and experience the Proax advantage!
Related Article
ABB LV Installation Materials Co., Ltd. Beijing celebrated a new milestone with the official opening of an automated flexible miniature circuit breaker (MCB) production line. The factory, which is ABB's production hub in China for the critical safety components in electrical circuits, is a showcase for advanced principles within the concept of Industry 5.0.