Smart Lab Opens at Humber College's North Campus
Humber partnered with Siemens on the lab that will teach students about microgrid systems, renewable energy generation, storage, and control
March 31, 2023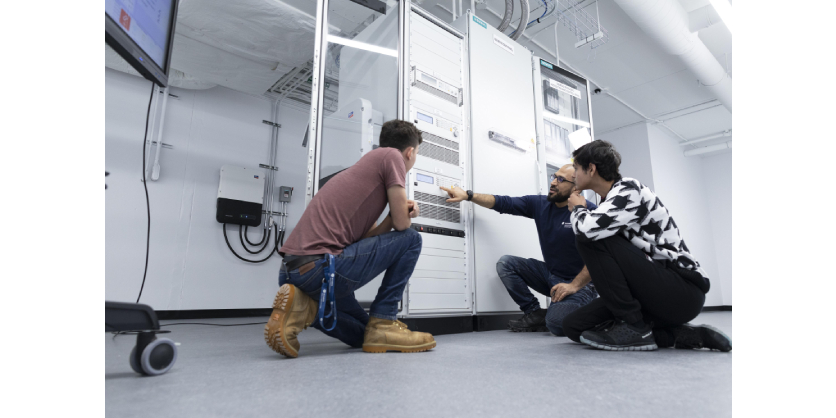 Humber College and Siemens Canada have developed a Sustainable Microgrid and Renewable Technology (SMART) Lab that will be used to teach students about microgrids.
Microgrids are systems that reliably manage the generation, storage and consumption of energy. Essentially, they're small-scale power grids that can operate on their own or as part of a larger grid.
Shaun Ghafari, associate dean, Faculty of Applied Sciences and Technology, calls them "the future of power management." That's why Humber College is developing curriculum on microgrids for students in programs including Electrical Engineering Technician – Control Systems and Sustainable Energy and Building Technology.
Revolutionizing the way energy resources are managed
The traditional power grid provides reliable power − most of the time. But when natural disasters or security breaches threaten the grid, the ensuing blackouts can be catastrophic and costly. That's why companies and utilities are working together to build resilient, flexible power systems called microgrids.
Operating either as part of the traditional grid or independently (or both), microgrids are revolutionizing the way energy resources are managed.
The smart lab will also be used for future applied research projects and will allow the College to offer micro-credentials in the field of microgrids and renewable energy.
The smart lab features cutting-edge sustainable digital technology including a microgrid control and monitoring system, distribution and wiring infrastructure as well as load, storage, and generation infrastructure.
"It is essential that post-secondary institutions have the latest learning tools and equipment so students can develop the skills they need to succeed in the workforce. That's why our government is proud to support this new SMART Lab and the collaborative partnership between Humber and Siemens, which will provide students with the hands-on education and training they need for the in-demand jobs of today and tomorrow," said Minister of Colleges and Universities Jill Dunlop. "It is projects like this that help find sustainable solutions within industries, prepare students for the workforce, and help drive our economy forward." Minister of Colleges and Universities Jill Dunlop
State-of-the-art learning labs
Ashley Nollner is a student in Humber's Electrical Engineering Technology – Control Systems program.
Originally working as a personal trainer before being laid off during the pandemic, Nollner was encouraged to pursue a career as an electrical engineer technologist by her dad. A part of her doubted she could find a career in what's traditionally been a male-dominated field. But, she went ahead and enrolled and hasn't looked back.
"What makes our experience at Humber College so unique is we are learning in state-of-the-art learning labs," said Nollner. "This hands-on approach and working in teams helps apply what we learn to real-world challenges. Now with the new SMART Lab, there is an opportunity to expand our power generation and distribution subjects and add a microgrid training module in our program so students can expand their skill sets and learn how to work with microgrid systems."
Ghafari says there's a lack of people trained to control, operate and maintain the systems and Humber is trying to address that skills gap with its industry partner Siemens. Humber is partnering with industry stakeholders, such as utilities, technology companies and municipalities, to conduct research and offer practical training for individuals who may operate these systems in the future.
"An effective energy transition to enable decarbonization is a complex effort, and it requires a growing system of partners to tackle this enormous challenge," said Faisal Kazi, president and CEO, Siemens Canada. "Siemens is proud to support Humber in offering students training on technologies that prepare them for careers vital to our climate change response and energy economy."Faisal Kazi, President and CEO, Siemens Canada
Meanwhile, have you noticed the structure that looks like a flower outside the parking garage at North Campus and wondered what it is?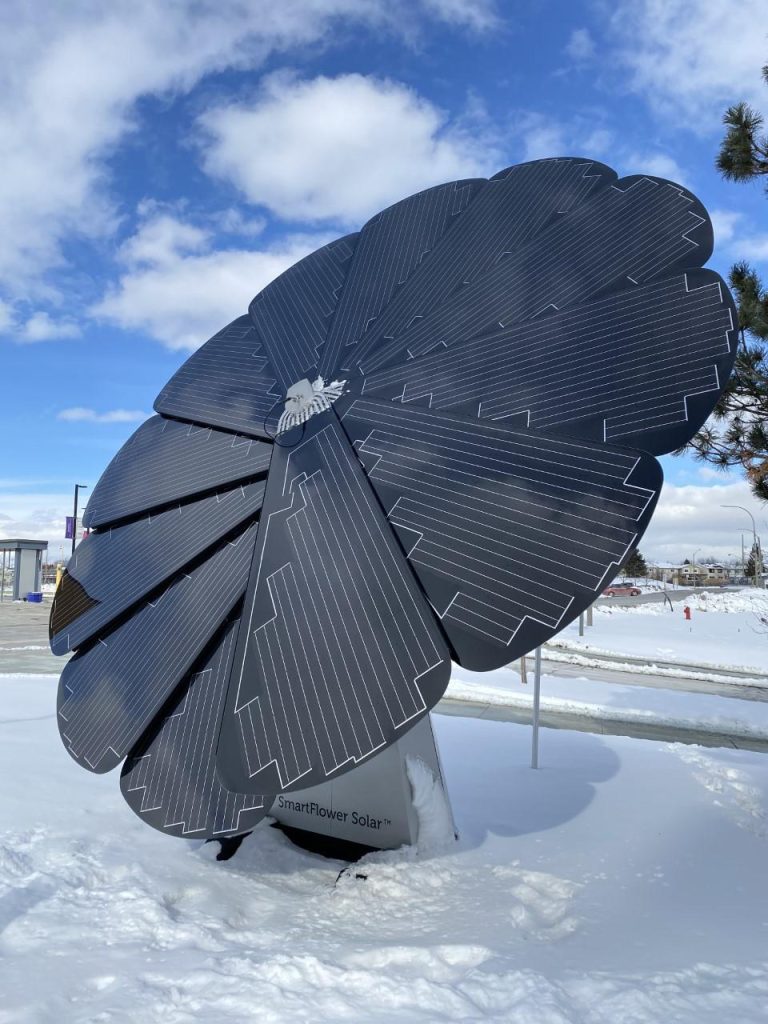 The structure, which is known as the PV Smartflower, is inspired by sunflowers. It's equipped with solar panels, and it follows the sun throughout the day, just like a sunflower. It can close at night or when there's high wind.
Tracking the sun maximizes the amount of electricity that's generated. Ghafari noted the flower's solar panels can generate 40 per cent more electricity when compared to a stationary panel.
The electricity it generates is controlled by the SMART Lab, which is on the second floor of the parking garage. Some of the electricity is stored in batteries and used at the lab's EV charging stations.
It's not connected to the full Humber grid at this time. However, Ghafari says it's an effective learning tool to teach students about the concept of solar panels and how microgrids can generate, distribute, and control power in a campus setting, a small community, in critical infrastructure, commercial and industrial areas, remote locations, and on islands. The PV Smartflower has been operational since the first week of January while the SMART Lab celebrated its official opening on March 30.
Related Story
Recently, the official launch of the Smartflower Microgrid (MG) marked another milestone for the future of green technology in Saskatchewan. The Saskatoon Industry Education Council (SIEC) and Siemens Canada welcomed dignitaries and guests to a launch event at Bishop James Mahoney High School in Saskatoon.
The Smartflower MG is now powering classrooms and providing real-time data on electricity production and energy absorption. Students were on hand to provide classroom tours and discuss the solar-powered microgrid solution, co-created by Siemens Canada.