Ann Marie Vaughan Officially Installed as Humber College President and CEO
A president is formally endowed with the powers and responsibilities of office as part of an installation ceremony
June 14, 2023
By Chris Clay
The Humber College community was joined by invited dignitaries, special guests and those from the post-secondary sector to celebrate the official installation of Ann Marie Vaughan as President and CEO.
The Barrett Centre for Technology Innovation was full on June 2 as supporters packed the Polytainers Atrium for the event. An installation in a college setting is the official ceremony where the president is formally endowed with the powers and responsibilities of office.
The ceremony typically occurs within the first year of a president beginning their term. President Vaughan became Humber's fifth president and CEO and the first woman to hold the position when she began her term last August.
Oath of office taken
As part of the ceremony, President Ann Marie Vaughan received a cap and gown and recited the oath of office that was administered by Board of Governors Chair Tom Barlow. A video was played that included the many highlights and memorable moments from President Vaughan's first year in office.
"Every day I see more and more evidence of this institute's breadth and depth of programing, applied research, industry connections and talent," said President Vaughan. "I see the deep roots of the polytechnic model infusing real life into every aspect of the student experience. Thank you to the Board of Governors for giving my family and I this wonderful opportunity to join the Humber community."

Ann Marie Vaughan,President and CEO Humber College
President Ann Marie Vaughan also thanked the four Humber presidents that came before her – Gordon Wragg, Robert Gordon, John Davies and Chris Whitaker – for their immense contributions and leadership they provided throughout the years.
As part of the ceremony, drummers with the Mississaugas of the Credit First Nation played an honour song to recognize President Ann Marie Vaughan's many accomplishments. Jason Seright, Humber's vice-president of Inclusion and Belonging, said the song is played on special occasions by Indigenous peoples as a way to pay tribute to individuals.
Seright said the song was also to honour Humber for the College's "commitments to its values of courage and equity as we are bold in blazing a new trail to benefit all."
President Ann Marie Vaughan said Humber's diversity is an important facet of the College that's worthy of recognition and one she will continue to champion.
"Humber is a vibrant community of teaching and learning and so much more. It is a landing place and a launchpad and it is a place where we are deeply committed to inclusion and belonging. For me, belonging is stronger than inclusion. It means that we do more than opening the door and ensuring representation. That we see people. We value everyone. We create safe environments. And we celebrate our diversity as a strength."

Ann Marie Vaughan,President and CEO Humber College
New convocation award established
The installation also included the bestowing of an honorary degree to Dr. Jean Augustine, who made history as the first Black woman to be elected to the House of Commons as MP for the Etobicoke-Lakeshore riding. Augustine famously introduced the motion to designate February as Black History Month in Canada, among several other notable achievements throughout her career.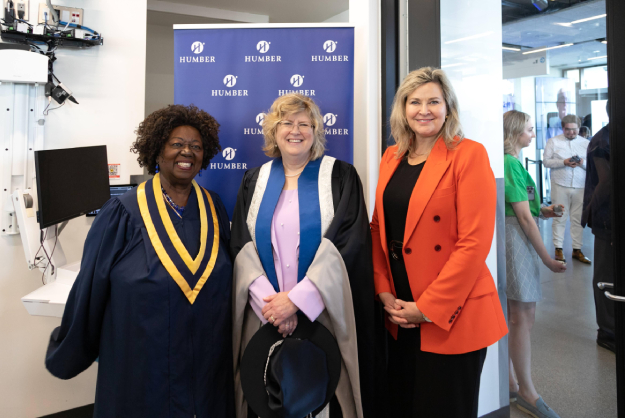 It was also announced that Humber is establishing a new convocation award in her name. The Dr. Jean Augustine Leadership Award will be presented annually to a graduating student from a program at Lakeshore Campus and is in recognition of the student's demonstrated commitment to academic excellence and inclusive leadership at the college or in the community.
During the ceremony, President Ann Marie Vaughan noted her mother was watching live via video stream from Newfoundland. She thanked her mom for showing her how empowering the teaching profession can be and for encouraging her to realize her dreams. President Vaughan went on to describe her father, who has passed, as the first feminist in her life.
"He was firmly committed that his daughters could do and achieve whatever they wanted."
She also thanked her husband John as "a wonderfully supportive husband and a great partner and father" and her daughter Kathleen as someone who "inspires me every day."
Prior to joining Humber, President Ann Marie Vaughan was president and CEO of Loyalist College and held the same role at the College of the North Atlantic in Newfoundland and Labrador. She has more than 30 years of experience in the post-secondary sector.
Related Story
Humber College is the recipient of a $30 million gift from the Barrett Family Foundation, marking the largest single donation made to an Ontario college. Combined with their donations to Humber's Unlimited Campaign, the Barrett Family Foundation has given a total of $42 million, making their donation the largest in Canadian college history.