UR+ Solutions From Universal Robots Integrate Seamlessly with Cobot Tools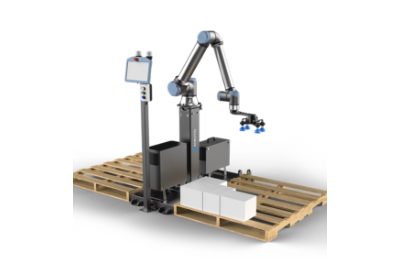 May 11, 2022
Advanced Motion & Controls Ltd. is the only Platinum-awarded distributor in Canada for Universal Robots (UR), which manufactures collaborative robot arms, or "cobots", to make production operations easier. In addition, UR offers the unique UR+ ecosystem of certified accessories, add-ons, end-effectors, kits, and components to help facilities automate even more quickly.
Customers can choose from more than 340 options – also including grippers, software, and safety accessories – that integrate seamlessly with UR cobot solutions.
Boost convenience, efficiency, productivity, profit
With the UR+ line, businesses can optimize their automation projects by boosting the convenience, efficiency, productivity, and profit of these innovative collaborative robots. The UR team has tested and approved hundreds of these industry-leading products to work with its cobot solutions, to add quicker deployment, easier programming, and dependable operation.
UR+ is the top product platform to help organizations to automate their production in new, better ways. It offers innovative options for a wide range of applications – such as assembly, dispensing, finishing, machine tending, material handling, quality inspection, or welding. Application kits, also available from Advanced Motion & Controls, help to streamline deployment for common cobot tasks by combining multiple components with software designed on the UR+ platform.
The UR+ lineup comes in six main categories: accessories, end-effectors, handling grippers, plug-ins and interfaces, software, and vision solutions. UR also invites customers to join its UR+ Developer Program, which comes with access to the UR software platform.
For more information, contact Advanced Motion & Controls by clicking here