Schmalz: More Efficiency in Three Stages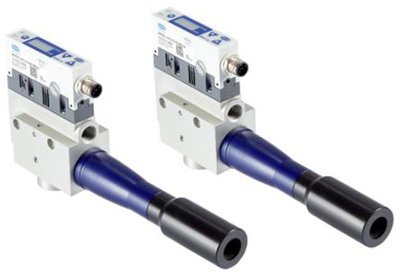 February 18, 2021
Schmalz is equipping its compact ejector series SCPS(i) with three-stage ECO nozzle technology for the first time and making its vacuum generator even more powerful. The result is rapid handling processes with airtight, air-permeable or non-rigid workpieces such as particle boards, cardboard and bags. The optional IO-Link interface makes it easier to both monitor the vacuum level and use the technology in automated systems.
Combined with the compact ejectors SCPS/SCPSi, the eco nozzle technology provides a high suction rate with minimized compressed air consumption. Schmalz is offering ejectors with three-stage SEP modules for the first time: The new SCPS(i)-L series can now be used with a three-stage nozzle with a maximum diameter of 22 millimeters, which increases the application range of the ejector. The user can replace the SEP nozzles quickly without using tools – which also makes it easy to clean. The vacuum specialist also offers the ejector module separately.
Packaging system manufacturers in particular can reap the benefits of the new compact ejectors. The three installation diameters with different performance levels make the ejectors ideal for handling airtight or extremely air-permeable workpieces such as cardboard boxes or particle boards and even non-rigid workpieces such as bags. For airtight parts, Schmalz has lowered the evacuation time to reach 600 mbar – the time it takes to release the parts for travel for automation – by up to 10 percent. The SCPS(i)-L is deployed to provide vacuum power and monitoring in automated systems including robot handling applications, on linear axes and in pick-and-place applications with short cycle times. It is also ideal for dynamic gripping and fully automated parts handling. Device and process parameters can be applied and issued through the optional IO-Link interface. This feature is also available in SIO mode (standard IO).