Smooth Production Flow with Muting
May 4, 2023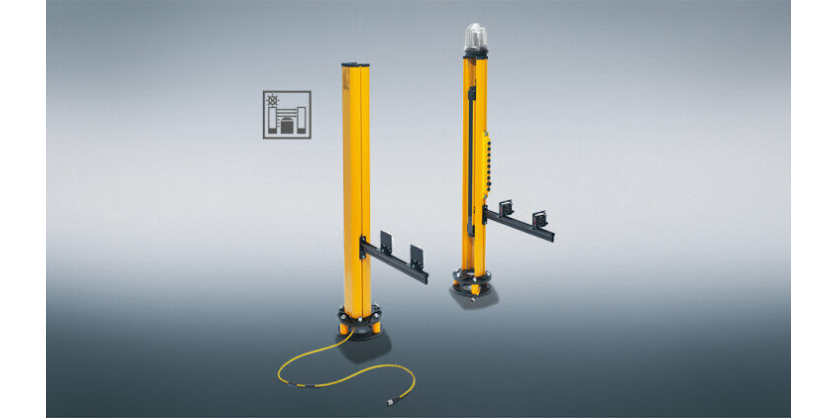 The muting safety function enables a smooth production process when material is fed in and out via a conveyor. With applications such as the monitoring of conveyor belts, palletizing or controlling the outflow of packages, unnecessary downtimes can be avoided, and productivity increased. The muting arms available for the safety light curtains PSENopt II make integration and assembly simple.
Muting arms for muting integration
When combined with the safe small controller PNOZmulti 2, safety light curtains PSENopt II offer the muting safety function. This enables material to be transported in and out of danger zones while production is running, thus ensuring a smooth production process, without unnecessary downtimes. The additional muting arms simplify integration and assembly considerably. Assembly directly on to the safety light curtains saves space and avoids additional installations. You can assemble the necessary sensors along the muting arms in any position – depending on the required application. A complete set is available for L-, T- and X-muting respectively. Ideal for applications in the logistics and packaging sector.
More Information
Safeguarding conveyor belts for material supply/removal with muting
Safety light barrier for body protection
Related Product
Access for authorized persons only!
The best gate safeguard or access control is worthless if unauthorized access to your machine is possible via the network. A holistic safety concept is required here, that takes both machinery safety and industrial security into account. Should any security gaps emerge, loss of quality and unplanned downtimes are two of the possible scenarios for your production. So, it is all the more important to protect plant and machinery in such a way that only authorized personnel have access and tampering with the control systems via attacks from outside is prevented.
PILZ can offer you a coherent machine access concept, which takes into account not only the safety of your machine, but also its industrial security. Here they've compiled a potential solution for secure access control!