Product Release From Advanced Illumination: DCS 400E & DCS 800E Multi-Channel Quad Controllers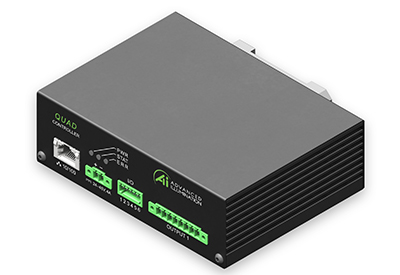 November 26, 2020
Advanced illumination released its new DCS-400E and DCS-800E multi-channel controllers in early August of 2020. The DCS-400E (Quad Controller) features 4 output channels, while the DCS-800E (Quad X2) features 8 output channels. These Quad Controllers are ideal for applications that require multi-channel lights and/or multi-light stations. Multi-light stations are currently limited to a group of identical light heads; a future development will allow the Quad Controllers to drive up to eight different lights simultaneously. Capable of providing sequenced strobing, the DCS-400E and DCS-800E are perfect for computational imaging applications, including photometric stereo; extended depth of field; combined bright field + dark field; high dynamic range; and high-resolution color. The controllers are engineered with Ai's proprietary SignaTech control system which optimizes light performance, delivers exceptional illumination quality, and provides long-term stability for any inspection system.
Along with the capability of being custom-programmed, the DCS-400E and DCS-800E have built-in, pre-programmed sequencing, allowing the controllers to cycle through pre-determined lighting "recipes". This provides users the ability to automatically time a lighting sequence and output a correlated camera trigger, and to do so through multiple pre-programmed routines. As an example, by using the DCS' frame-start signal, it is possible to synchronize a camera exposure to capture each channel as they flash in a sequence. This is crucial in photometric stereo applications where the camera must be carefully synchronized in order to capture multiple flashes.
The Quad Controller family is not limited to computational imaging; the controllers provide sequenced overdrive strobing or continuous-on drive modes, making the DCS-400E and DCS-800E perfect for standard machine vision applications requiring multi-channel lights and/or multi-light stations. By using one controller in a multi-light line, users can conserve valuable space and capital by reducing the number of controllers needed to achieve multiple inspections in one station. And since the DCS-400E and DCS-800E are housed in a compact enclosure with DIN rail mounting, they deliver effective thermal dissipation while integrating seamlessly into vision system applications.
The Ai Quad Controllers are currently compatible with the DF198 MicroBriteTM Diffuse Dark Field Ring Light Series, along with a number of other Ai lighting products. An adapter will soon be available to control all Ai lighting products whose power requirements don't exceed that of the Quad Controllers' output capacity.