Festo Launches the Online KVZA Butterfly-Valve Configurator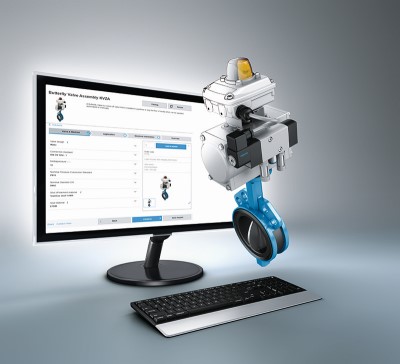 Aug 11, 2021
Festo launches the new online KVZA Butterfly-Valve Configurator.
This configuration tool reduces procurement and assembly time while ensuring the highest quality valve for the job.
The tool helps to organizie the selection of the optimum assembly into a few simple and quick steps.
The new Festo KVZA Butterfly-Valve Configurator lowers overhead by speeding up and simplifying procurement of manual and automated butterfly valves. In only minutes with the configurator, engineers will have the price, estimated delivery date, data sheet, bill of material, 2D CAD data, 3D CAD models, and certificates of the optimum butterfly valve for the application. Units arrive fully assembled and tested.
This new tool, the latest in the Festo series of engineering productivity enhancers, provides support throughout the entire valve procurement process from search to order. All the following are combined into a single tool: configuration, sizing, documentation, request for quotation, ordering, and delivery. In addition to the features listed above, the KVZA tool features a direct link to the Festo Online Shop, a user friendly interface, advice on solutions, and a configuration-compatible bill of materials.
Many actuation and automation options are available through the KVZA configurator, including:
– Many actuation Manual (hand lever) or Automated (pneumatic actuator)
– Open/Closed or Proportional Control (positioner)
– Visual Indicator, Limit Switch, or Puck Sensor
– NAMUR Pilot Valve
Butterfly valves are available in wafer and lug styles, and DIN and ANSI compatible formats. Nominal diameters range from 1 to 12 inches (DN 25 to DN 300). Shut off materials include ductile cast iron with polyamide (PA) coating, stainless steel with PFA (perfluoroalkoxy alkane) coating, and stainless steel. Sealing element materials include EPDM, NBR, and PTFE with silicone.
Quarter-turn actuators can be either double acting or single acting; low, standard, or high temperature; as well as G or NPT threads for the air connection. In the case of washdown applications, there is also an option for epoxy coating to provide higher corrosion resistance.
This wide range of KVZA options enables users to specify a single family of butterfly valves for all their needs, which simplifies purchasing and maintenance. Take the KVZA configurator for a test drive. For information on the 30,000 pneumatic and electric automation products in the Festo catalog, visit www.festo.com/us