Pilz: PNOZ – The Optimum Safety Solution for Each Requirement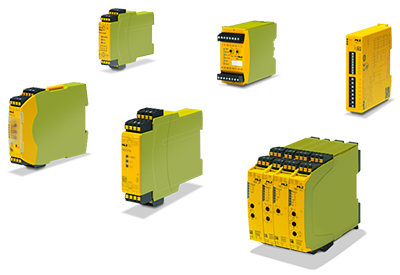 March 18, 2021
The safety relays PNOZ monitor safety functions such as emergency stop, safety gates, light barriers, light grids, two-hand controls, speed, standstill and much more besides. Every day, PNOZ safety relays prove themselves in millions of applications worldwide.
In 1987 Pilz patented the first emergency stop relay to protect man and machine. That was a milestone in safety technology. The safety relays PNOZ quickly progressed to be the world's most commonly used safety relays. The PNOZ brand is now synonymous with safety relays. PNOZ – The original!
Continuous further development has led from simple devices to the modular safety relay myPNOZ and the configurable small controller PNOZmulti, the global safety standard for machines.
Count on the standard in safety technology – Your benefits
– International certification
– High plant availability and short downtimes thanks to convenient diagnostic options on the device
– Faster commissioning and simple wiring through units with plug-in terminals
– Complete solutions comprising evaluation devices, compatible sensor technology and control and signal devices
– Maximum safety, up to performance level "e" of EN ISO 13849-1 and SIL CL 3 of IEC 62061
Decision-making support: How to find the right safety relay
The modular safety relay myPNOZ is easy to operate, individually pre-assembled and therefore easy to install, so it complements our existing range of safety relays. But when do you use myPNOZ and when might PNOZsigma be the right choice?
myPNOZ is the ideal solution if you:
– have to monitor up to 16 safe inputs in your plant;
– need a safety solution individually coordinated to your application;
– want to implement both AND and OR links;
– don't have time to learn a new software;
– are looking for a space-saving solution for your control cabinet;
– also have to flexibly exchange modules following commissioning.
If you only need to monitor one individual safety function such as an emergency stop, we recommend our classic safety relays PNOZsigma or PNOZ X.
If you have to monitor more than 16 safety inputs in a more complex way and need comprehensive diagnostics, we recommend using the configurable small controllers PNOZmulti. They can be freely configured using the configurator.
The features of our safety relays at a glance
Our safety relays are distinguished by a variety of supply voltage ranges, the number of safety contacts, the number of terminals or the ability to plug in terminals. Find out more about the functions of a safety relay in the lexicon article.
Based on their different features and functionalities, our products can be divided into the following product groups:
myPNOZ
– Safety relay with an internal combination logic
– Individual creation in myPNOZ Creator
– Tailor-made in batch size 1
– Quick and easy commissioning

PNOZsigma
– Maximum function in a minimum width
– Adjustable operating modes and times
– Scalable thanks to a modular design

PNOZ X
– Safety for every function
– Electromechanical, floating
– With wide-voltage power supply unit

PNOZcompact
– Square, single, yellow
– Ideal for high-volume series machine manufacturers
– Basic function of a safety application

PNOZelog
– Easy to link
– Wear-free
– Expanded diagnostics

PNOZpower
– High loads from 8 A to 16 A
– Switch motor loads directly
– Modular output contacts
Save costs with push-in technology
The unit types with push-in technology offer a great advantage in terms of both economy and safety. They help you to cut costs due to short commissioning and service times.
The following product ranges are available with push-in, spring-loaded terminals:
– Safety relays PNOZsigma, PNOZ X, PNOZcompact, PNOZelog
– Monitoring relays PMDsigma
– Line monitoring devices PLIDdys
– Small controllers PNOZmulti 2, PNOZmulti Mini, PNOZmulti
Easy to service through simple operation
– Connection of all commercially available cables with or without wire-end ferrule
– Quick and easy wiring
– Double connection option per pole; can be opened individually or both at the same time (beneficial when installing or changing the wiring)
– Cost savings when replacing devices, since no rewiring is required and potential wiring errors during rewiring are eliminated
– Separate opening for voltage testing
– Coded plugs for easy and unmistakeable installation and increased handling safety during servicing
– Maintenance-free due to defined clamping force; unlike screw terminals, no need to retighten regularly; no follow-up costs due to retightening of the terminals
– High contact reliability even against strong vibrations and shocks
– Further looping of potentials possible without any problems
The optimum safety relay for every application
In addition to the classic E-STOP function, the safety relays now monitor safety gates, light barriers, two-hand controls, pressure sensitive mats, muting, standstill, speed and many other safety functions.