NSK Robust Ultra High Speed Angular Contact Ball Bearings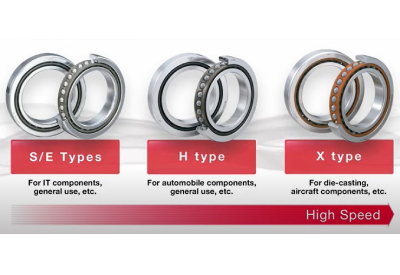 September 23, 2022
The advanced design of NSKROBUST™ bearings reduces heat generated at ultra-high speeds. This lineup features parts with NSK-exclusive materials such as SHX rings and EQTF™ balls to suit a variety of applications.
Features:
1. An improved design reduces heat generation to realize higher speeds and accuracy.
2. The X-type supports ultra-high speeds with heat-resistant, long-life SHX steel, offering 4x longer rolling fatigue life and 20% higher speeds than SUJ2 steel. For even higher reliability, the E-Type with ultra-long life EQTF™ balls further improves seizure resistance and extends bearing life.
3. A wide lineup to match your needs. Choose from two contact angles: 18° for high speeds or 25° for high rigidity. We offer steel balls for S and E types and ceramic balls for H and X types.
Watch this video to learn more about the robust ultra high speed angular contact ball bearings from NSK
{videobox}nKIZAERMziI{/videobox}