New Generation of Clamping Force Blocks with a Wide Range of Variants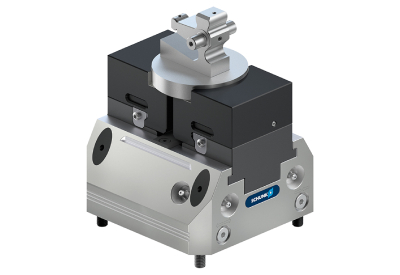 November 26, 2021
Always one step ahead: SCHUNK was the first company to launch clamping force blocks on the market. The TANDEM3 modular system continues the success story: The new series replaces the existing TANDEM-plus modular system and expands the portfolio with numerous variants. This means that SCHUNK is able to offer more solutions and services for workpiece clamping in its standard range than any other company, paving the way for use in automated machine loading.
At first glance, the three grooves on the TANDEM KSP3 clamping force block catch the eye. But it is primarily the inner values that set the first product of the TANDEM3 modular system apart from its predecessor. Because with the new clamping force block portfolio, SCHUNK is replacing the existing TANDEM-plus modular system and supplementing it with variants that have additional technical features. One of them enables the patented monitoring of the base jaw position via dynamic pressure, another one makes it possible to control the air system through the jaw. Monitoring the position of the jaw or the presence of the workpiece was previously only possible with additional effort. Due to the standard integration, SCHUNK is opening up new fields of application in the area of automated machining.
Highest Clamping Force, Numerous Variants
And the KSP3 has another innovation: Due to the integrated spring assemblies in the pneumatic vise, it has a higher clamping force than all previous models. If the air supply is disconnected from the clamping force block, the clamping force is maintained via springs. The clamping force block can be used universally in applications where process-reliable clamping through constant and high clamping forces is required – primarily in automated machine loading. With the aid of console plates, it can be quickly and easily mounted on the machine table or the VERO-S quick-change clamping system, thus saving set-up costs. It is also ideal for 6-sided machining in two set-ups. The 2-jaw vise is available in seven different vise sizes and with standard, long-stroke or fixed jaw. A total of 200 different variants are available. The enormous variety of equipment options characterizes the entire TANDEM3 modular system. SCHUNK has also developed extensive accessories for the new series. They include universal clamping jaws for 3- and 5-axis machining as well as standardized console plates for easy set-up. With the modular system, the clamping technology expert is expanding its already broad standard repertoire to include additional clamping devices for every workpiece. Coupled with its many years of know-how, SCHUNK can thus meet every customer requirement. The KSP3 is laying the foundation for the modular system of the future. It will be expanded with other products such as 3-jaw vises or electric vises.
For more information, visit SCHUNK by clicking here