Noark Electric Introduces New F30 Series Fuse Holders
September 8, 2023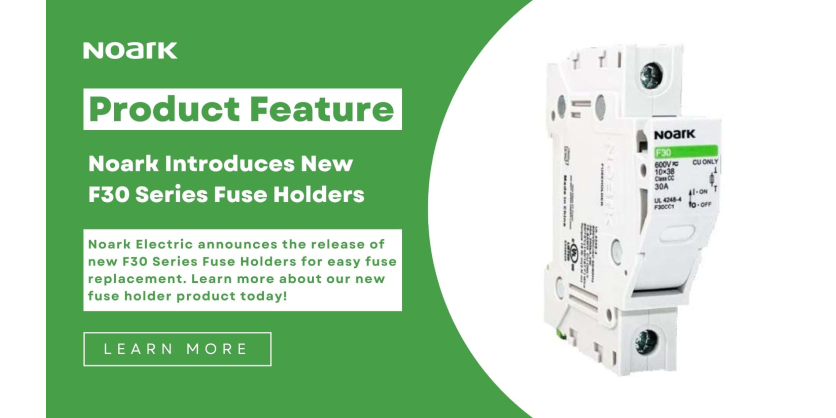 Noark Electric is introduces their new F30 Series Fuse Holders – F30CC, F30M and F30P for CC, midget, and photovoltaic fuse types respectively. The fuse holders, with maximum current of 30A, are available in 1P, 2P, 3P and 4P for the Midget and CC type fuses, while the Photovoltaic type is available in 1P and 2P.
F30 series Fuse Holder can be used in variety of scenarios: F30M and F30CC series can be used for conventional electrical circuit protection, while F30P series is dedicated to the photovoltaic industry. The F30 series is matched with a variety of fuses and has a high interrupting capacity.
Overview of F30 Series Fuse Holder specifications
Noark's F30 Fuse Holders are manufactured to be high quality reliable components that their customers can trust to protect their power systems. These components offer the following specifications:
Max Current Rating:
Operational voltage:

F30CC & F30M: 600Vac/dc; F30P: 1000Vdc.

SCCR Rating:

F30CC & F30M: 200kA; F30P: 50kA.

Operational temperature:
What are the F30 Series Fuse Holder Features?
Moreover, Noark's new fuse holder components are developed to provide a variety of features for electrical power systems. Noark's new F30 Series Fuse Holder features include:
Rated interrupting capacity of 200kA for CC and Midget Fuse holder types and 50kA for PV type.
A device that holds a fuse in place, an essential safety component that protects electrical circuits from being damaged or destroyed by electrical surges or short circuits.
Fuse holders come in a range of sizes and types, and are din-rail panel-mounted.
Optional blown fuse indicator light, convenient for quick inspection and identification.
Keeps a fuse securely in place while allowing for easy replacement when needed.
Crucial for maintaining the safety and functionality of electrical circuits or distribution systems.
Noark's F30 Series Fuse Holders; a New Level of Protection for Industrial Applications
Customers need to protect their downstream electrical distribution components or systems from short circuit faults. Fuse holders house the fuse protection device and provide terminal connection points for supplying incoming cable/wire and outgoing wire to the protected device. Noark's F30 Fuse Holders meet the standards for low-voltage electrical components for a range of industrial applications.
F30 Series Fuse Holders Certifications:
UL4248-1 Listed, File No. E530645 (CC).
UL4248-4 Listed, File No. E530645 (Midget).
UL4248-19 Listed, File No. E522691 (PV).
CSA C22.2 No. 4248, File No. E530645 (CC & Midget).
CSA C22.2 No. 4248, File No. E522691 (PV).
Related Products
CC Fuse.
Midget Fuse.
PV Fuse.
Noark Electric: Your First Choice for Circuit Protection
Noark Electric is a global manufacturer of low-voltage electrical components for industrial applications; their specialties involve motor control and protection for original equipment manufacturers (OEMs). Noark is well known for their world-class manufacturing and rigorous testing of their products that meet or exceed the highest performance standards in the industry. Noark's entire portfolio of products is designed for manufacturing and assembly, and each component is developed in-house by their engineering team to meet the strictest standards and performance requirements and is covered by Noark's exclusive five-year limited warranty.
More Information
If you are interested in learning more about Noark's fuse holder, or their other low-voltage electrical components please contact them today.
Related Product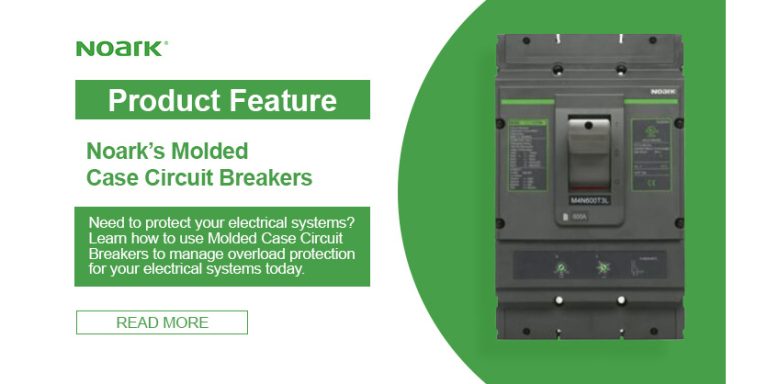 If your business is looking for ways to manage overcurrent faults in your electrical systems, Noark Electric's Molded Case Circuit Breakers (MCCBs) are the perfect product solution.
It is a requirement in electrical distribution systems to have Molded Case Circuit Breakers (MCCB), as they provide both overload protection as well as short-circuit protection. The main power distribution board (MPDB) of a facility is usually equipped with MCCBs, which allows for protection, coordination, associated control, isolation, and shutdown of the entire system in the case of an emergency.