Mitsubishi Electric Automation, Inc. Launches New FR-E800 Series Inverter for Facilities with Only a 120 Volt Source Available
The FR-E810W inverter complements the existing FR-E800 series inverter family by operating from a 120V source – a common voltage source available throughout North America
July 3, 2023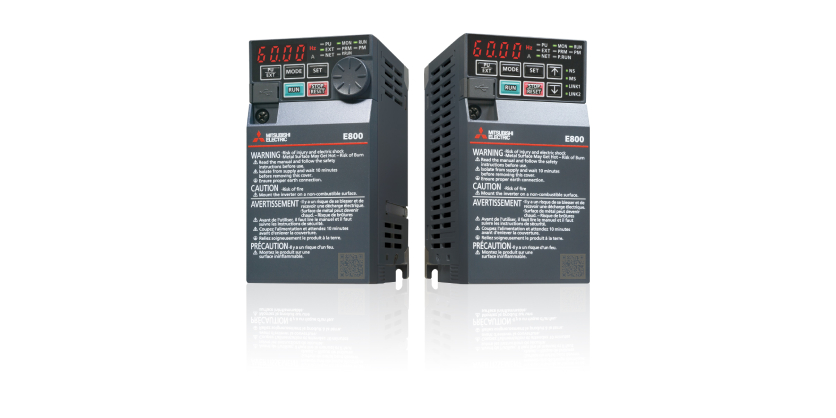 Mitsubishi Electric Automation, Inc. announces the launch of FR-E810W, an expansion of the FR-E800 series inverter lineup providing 120V service solutions. FR-E810W offers the improved safety, energy savings, and operation reliability of FR-E800 inverters to an additional voltage class. Traditionally, customers using Mitsubishi Electric Automation's 240V inverters, with 120V service, were required to purchase an external step-up transformer to increase the supply voltage from 120V to 240V. The FR-E810W provides 120V service solutions, saving on unnecessary added costs.
FR-E810W inverters offer the same capabilities and benefits as the other inverters in the FR-E800 series, including supporting CC-Link IE TSN technology, two Ethernet ports, enhanced predictive maintenance, and AI fault diagnostics. A significant benefit of the FR-E810W is that it relieves customers of the added cost of purchasing additional materials when only 120V service is available.
"With some of our customers only having 120V available at their facilities, it was important that we offer an inverter that would provide them the quality and performance of our other FR-E800 inverters, but with a capability of operating in a lower voltage environment," said Tom Henfling, product manager at Mitsubishi Electric Automation, Inc.

Tom Henfling, product manager at Mitsubishi Electric Automation, Inc.
More Information
Related Product
Mitsubishi Electric Automation, Inc. announces its MELSOFT MaiLab software that uses the company's Maisart intelligent technology to enable companies to easily analyze and diagnose factory data. Through analysis of past manufacturing data, the software makes sophisticated data decisions, akin to skilled workers, requiring less investment of time and expertise in a company's workforce.
As the global economy continues to navigate through the challenges brought by the COVID-19 pandemic, the issue of labor shortages has become a critical concern for businesses and consumers alike. In this context, the use of the software to replace more experienced operator personnel is becoming an increasingly attractive option for many companies.