Festo's VPPI – The Proportional Pressure Regular With the Really Big Display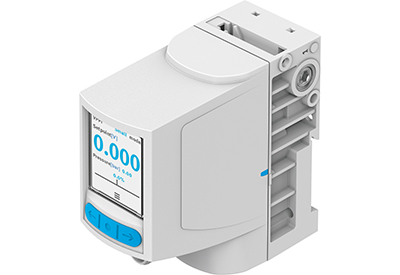 March 8, 2021
When Festo developed its new proportional pressure regular VPPI, it strove to make it as user friendly as it is full-featured and technologically advanced. How do you make a proportional pressure regular user friendly? For one, with a large, high definition display that makes setup and diagnosis that much easier.
The large VPPI interface is a major benefit for users, saving time and simplifying programming and fault diagnosis. A high definition liquid crystal display makes information clear and easy to read. It is large enough to communicate using complete words and not just abbreviations or fault codes, so there is no need to refer to a separate operator manual. The large screen is complemented by three large function buttons, which make the device easy to program and interrogate.
The VPPI delivers outstanding performance in various roles within the electronics, machine tool, assembly technology and food and packaging sectors – such as regulating pressure, testing, dispensing, press and press-fitting. Its quiet operation also makes it ideal for desktop and laboratory applications.
Flexibility is another VPPI strength. It is possible to connect up to five VPPIs together on a common pressure supply without the need for a separate manifold, reducing complexity and space requirements. DIN rail and other mounting options enable mounting flexibility.
Pressure can be regulated via an analog (0 to 10V/4 to 20ma) or digital setpoint. The digital setpoint feature eliminates the need for an expensive analog card, with only 3 standard output signals from a master controller it is possible to select 7 custom setpoints. Four preset performance levels are also possible: for small volumes, large volumes, continuous flow, or custom applications.
The VPPI family offers the speed, accuracy, and long service life performance features required to solve today's demanding applications.
For more information, visit www.festo.com.