Festo's ADN-S Is Another Space Saver for Jobs in Tight Quarters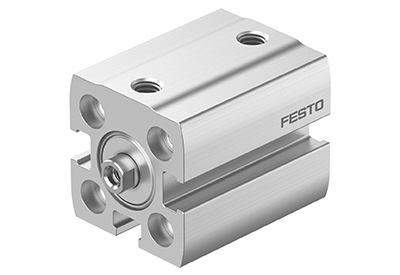 September 27, 2021
Festo adds a new space-optimized product – the ultra-compact ADN-S pneumatic cylinder – for performing small movements in tight quarters and in so doing helping machine designers keep their projects as space-efficient as possible. Festo took the ISO standard ADN double-acting cylinder and shrank the housing length to create a significantly smaller, lighter weight and attractively priced choice for space-critical applications. It's also smaller than other compact double-acting cylinders, making it ideal for such tiny tasks as testing cellphone keys!
ADN-S comes with multiple mounting options and a choice of fixed or no end-position cushioning. A proximity sensor can be added. The piston rod is available with internal or external threading, in diameters 6… 60 mm and in standard strokes 5 … 50 mm.
For lithium-ion battery manufacturing, there also is a variant which contains only trace amounts of copper, zinc and nickel, metals which cannot be the main constituent of devices used in such applications.
The ADN-S joins the DSNU-S round cylinder, a space-optimized version of the ISO DSNU round air actuated cylinder, in meeting the demand for small drive components that can perform with the same reliability, consistency and durability of the larger cylinders from which they are derived. ADN-S, like DSNU-S, ADN and DSNU cylinders, are part of Festo's Core Range, widely used products which are always in stock in North America, ready to ship, to assure fast order turnaround.
For more information, visit www.festo.com.